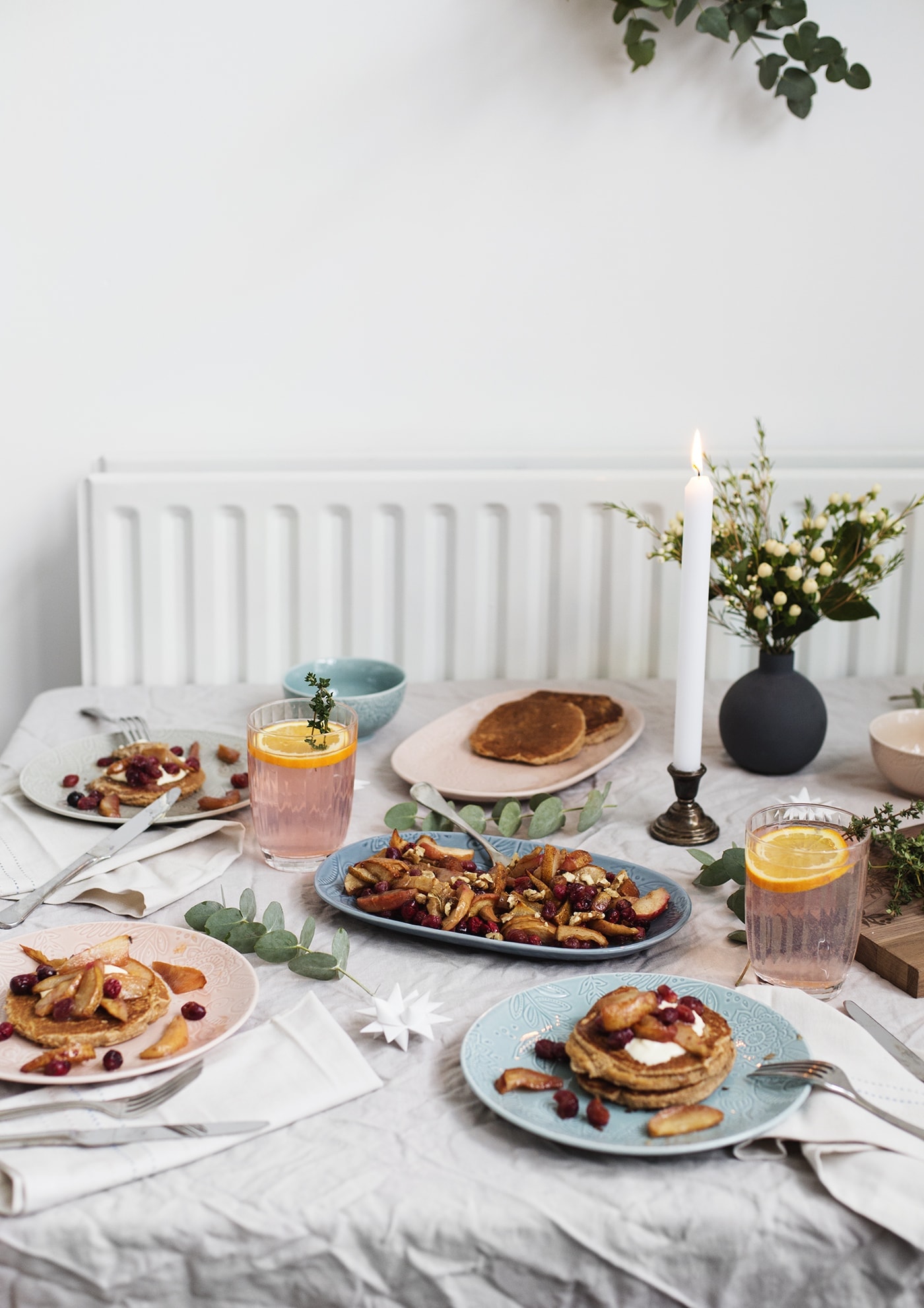 There are so many excuses to gather together and share food in the run up to Christmas. To be honest I don't really even need a green light as it's one of my favourite things to do anyway. So many memorable moments are shared over food so it's nice to create something memorable on the table to match. We don't often get much of a chance to enjoy brunch these days but it's the meal I love the most and one that's so fun to make special. When I was introduced to 'Gather', Denby's new collection in collaboration with Monsoon, I thought it would make the perfect companion for this meal and add a bit of pizazz as after all, Christmas is never about traditional red, greens and golds for me!
The 'Gather' range is made up of six beautiful pieces inspired by Monsoon's fabric archive, brought to life in an intricate, relief texture. It adds something really special to each item, tying the whole collection together. I instantly fell for the muted colours, that inspire you to mix and match the porcelain pieces. You may well know I'm not in the closet when it comes to being a monochrome nut, but I do love adding colour when it comes in the form of soft, dusty tones. The blue, green, pink and grey compliment one another so well and instantly lifts the whole table scape. The overall effect looks special and yet laid back, exactly what we all want at Christmas and with pieces as versatile as this, you can use them all year around without a second thought.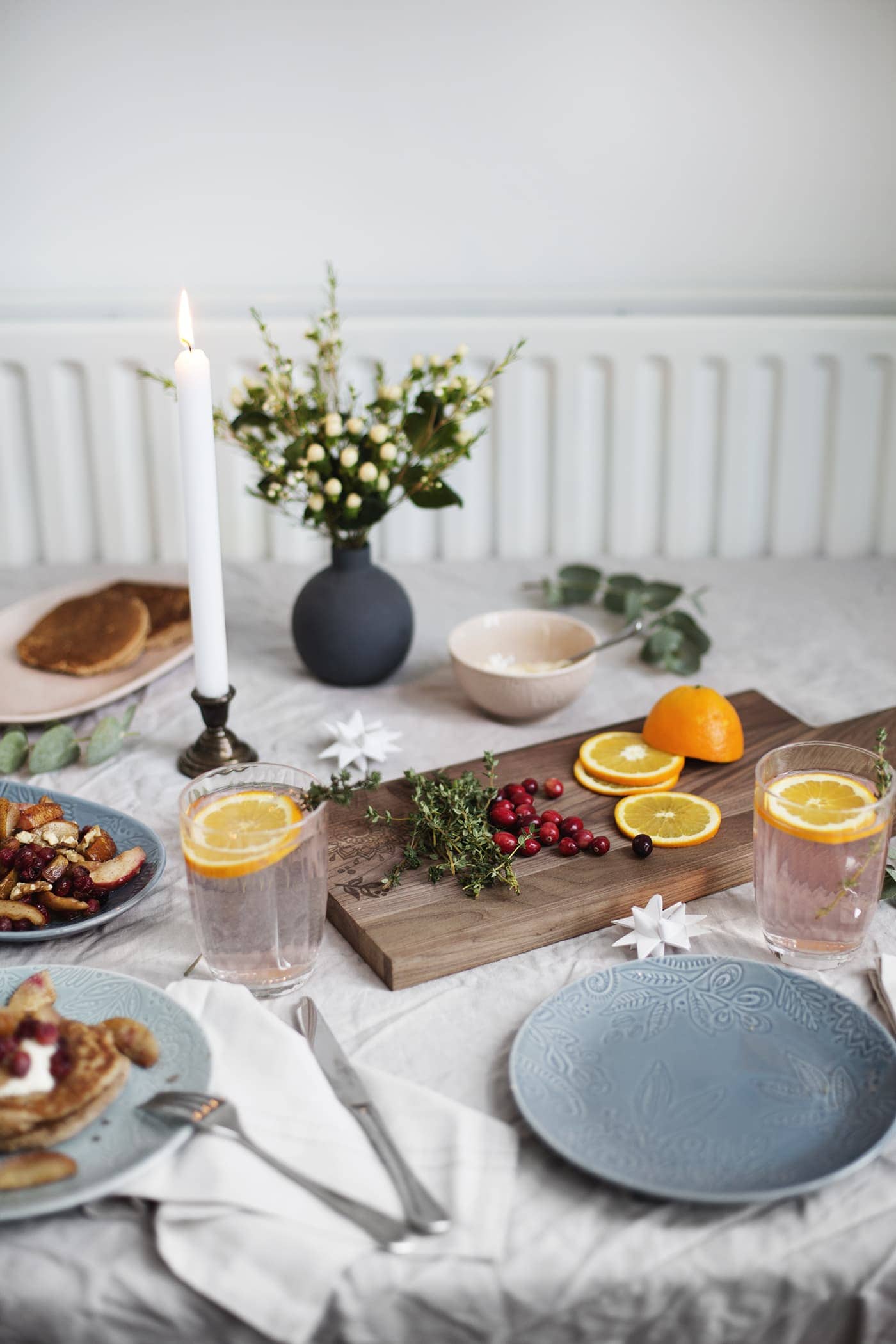 medium plate set of 4 | small bowl set of 4 | small platter set of two | walnut serving board |
I styled the collection with a grey, french linen tablecloth and some festive greenery. The table is scattered with eucalyptus and origami stars to add a little magic and I put together a simple, festive pancake recipe along with some Blackberry Fizz Cocktails because, why not?…it's Christmas after all.
Blackberry Fizz Cocktails
FOR THE BLACKBERRY SYRUP
1/3 cup blackberries, plus 8 more for garnish

1/3 cup water

1/3 cup sugar
FOR THE COCKTAIL
1 bottle of prosecco or champagne
FOR THE GARNISH
4 sprigs of thyme
INSTRUCTIONS
1. In a small saucepan, bring the blackberried, water and sugar to a boil. Turn to low and let simmer for 10 minutes. Strain blackberries and let syrup cool.
2. Add 2 tbsp. of syrup to the bottom of each glass. Top with champagne and add in a sprig of thyme and slice of orange for good measure.
Winter Spiced Fruit Bake
INGREDIENTS
2 cup sliced apples

2 cups pear slices

1 1/2 cup fresh cranberries

1 tbsp lemon juice

1/3 cup coconut palm sugar or brown sugar

1 tbsp maple syrup or honey

1 tsp cinnamon (extra for topping)

1/4 tsp nutmeg

50g melted butter

1/3 cup chopped raw walnuts or pecans
INSTRUCTIONS
Preheat oven to 150C.

In a large bowl, toss your fruit and add in 1-2 tsp lemon juice. Set aside.

In another glass bowl, combine your melted butter, spices, and honey or maple syrup.

Add this sugar/butter mixture to your fruit and coat evenly.

Pour fruit evenly in a 9×12 baking dish.

Pour the leftover sugar/butter/oil mixture on top.

baking for 1 hr.

Chop the nuts and add these for the final 10 minutes, coating a little in the juices.
Grain Free Gingerbread Pancakes
INGREDIENTS
3 large eggs

1 tbsp blackstrap molasses

1 tsp vanilla extract

2/3 cup unsweetened coconut milk

½ cup coconut flour

½ tbsp tapioca flour

½ tsp baking soda

½ tsp baking powder

2 tsp ground ginger

2 tsp cinnamon

½ tsp allspice

¼ tsp nutmeg

Coconut oil for greasing
INSTRUCTIONS
Preheat a pan over medium heat and grease with coconut oil.

In a large mixing bowl, combine eggs, coconut milk, vanilla, and molasses with a hand mixer until batter is smooth and bubbly.

Next add coconut flour, tapioca flour, baking soda, baking powder, cinnamon, nutmeg, ginger and allspice to the wet batter. Beat on low to combine.

Dollop some of the batter into the pan, then gently press the batter down with a spatula in an even layer into the shape of a pancake.

Cook 4-5 minutes or until pancakes appear set. Flip and cook another 3 minutes on the other side until lightly browned.

Transfer the pancakes to a cooling rack and repeat the process for the remainder of the batter.
 These look delicious and I can definitely vouch that they were, indeed delicious! It's always fun when I can find recipes that mean I get to join in with the festive treats. My food restrictions often leave me with a bowl of fruit salad as my sweet treat and whilst I've had some decent ones in my time, it just isn't really that decadent is it?! This isn't your traditional Christmas brunch, neither is it your traditional Christmas serve ware and styling but when it looks this inviting that doesn't matter! Why not inject some colour into your Christmas table with Monsoon's 'Gather' collection from Denby? It's such a perfect collaboration between the two brands. I'm planning to whip this lovely lot out for as many meals all year round as possible!
This post was sponsored by Denby Pottery. All images, ideas and opinions are my own.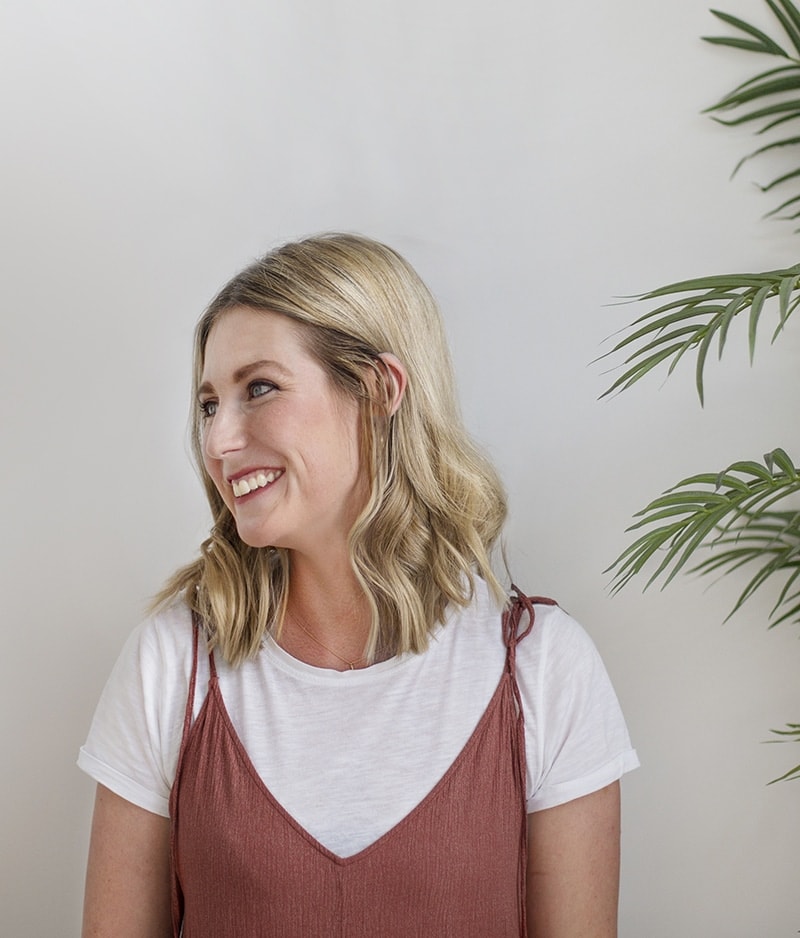 Hi, I'm Teri and welcome to my own creative corner of the internet. I blog about interiors, DIY projects, design inspiration and my general life so stick around have a read and say hi.
Work with Me
The Lovely Drawer is an award winning blog with a loyal audience that has grown over the years. I love working with brands small and large on exciting collaborations that can bring products alive in my own signature aesthetic.