This Christmas we move into a new season as we're no longer celebrating as two but as three. Little Maggie is barely three months old and lacking much clue of what's going on, still far more interested in the milk bar but we obviously wanted to make it a special year and start new traditions together. I can't think of many people who don't love the evening the decorations go up in their home, over a mince pie and a bit of Micheal Buble for good measure, maybe a tacky Christmas film in the background too. We wanted to create our own little, festive haven in our living room where we could cosy up together under blankets with spiced teas and the seasonal aromas of flickering candles or welcome people in to laugh over pretty drinks and sweet treats. As much as I love Christmas trees, I wanted to create a Winter wonderland without one and that meant without all the faff of falling over branches to thread the fairy lights and without the endless pain of pine needles in a patchy green rug on the floor! We kept things simple and effortless, which was a good thing as we left it all pretty late this year and who has the time to do anything that's not effortless, with a three month old? 
Thankfully I managed to scout out some great last minute buys at Homesense, with a fair few items being totally usable all year round, so they don't all have to be hidden away in a dark cupboard for 11 months of the year. In case you don't know of the sparkly home destination that is Homesense then I'm very happy to introduce you. Homesense is in the TK Maxx family so think of the home version and you're spot on. It's a treasure trove of great discounted finds, with new deliveries throughout every week. This means there's new stock to discover each time you go in and all items are up to 60% less than the RRP! As I was scouting around the shop last week, I loved checking out the labels to see the original price against the price I was paying. As a total bargain hunter there is nothing more thrilling! With plenty of stores to choose from you can take your pick and find the one nearest you.
Be warned however, I went in for decorations and got sucked into the drinks and dining section as well as being bombarded by gift ideas at the same time! I felt a bit like a kid in a sweet store, with so much to look at at such affordable prices, making it the perfect one stop shop for a whole umbrella of goodies. They even sell everyday home essentials alongside chic furniture!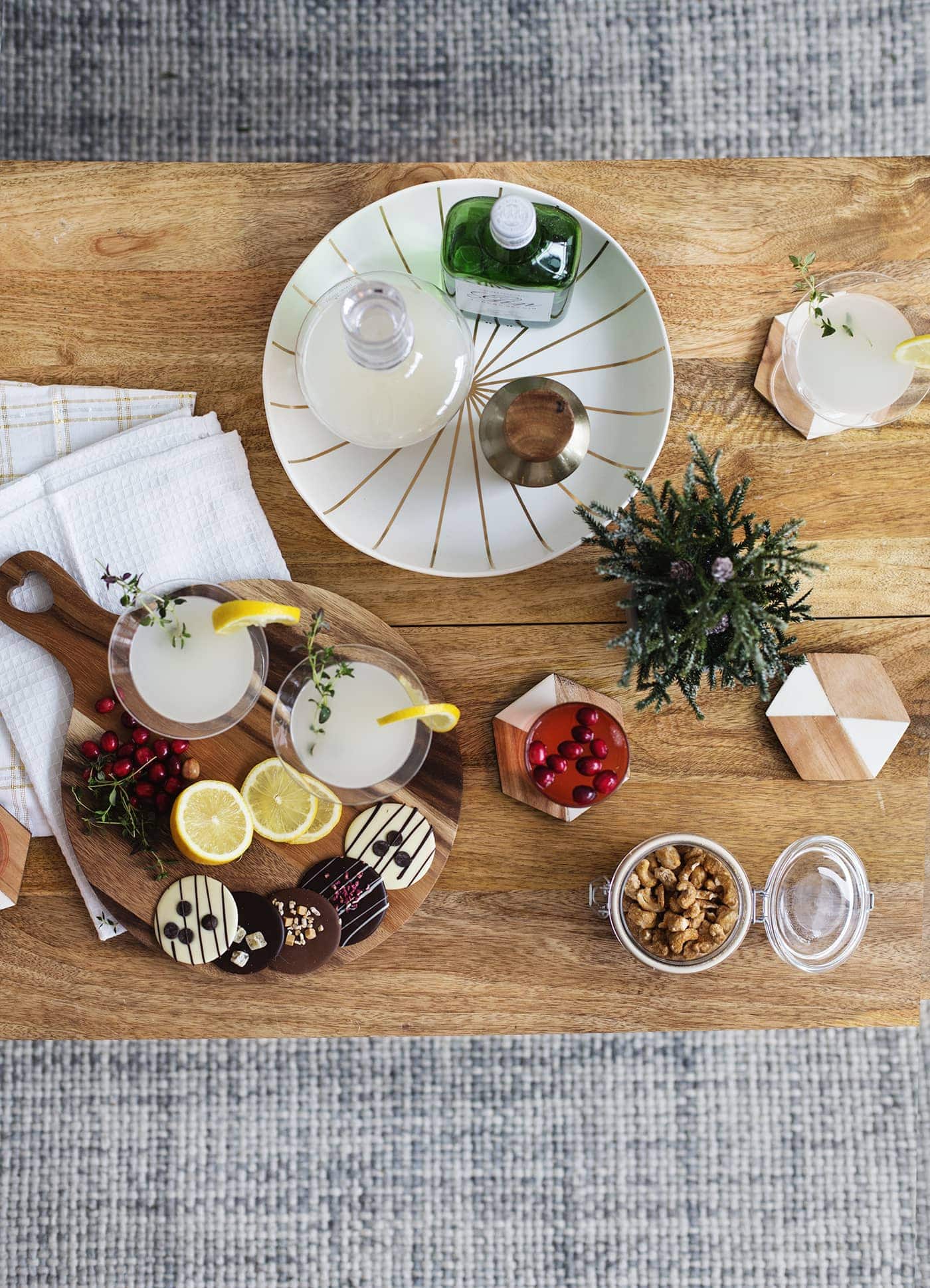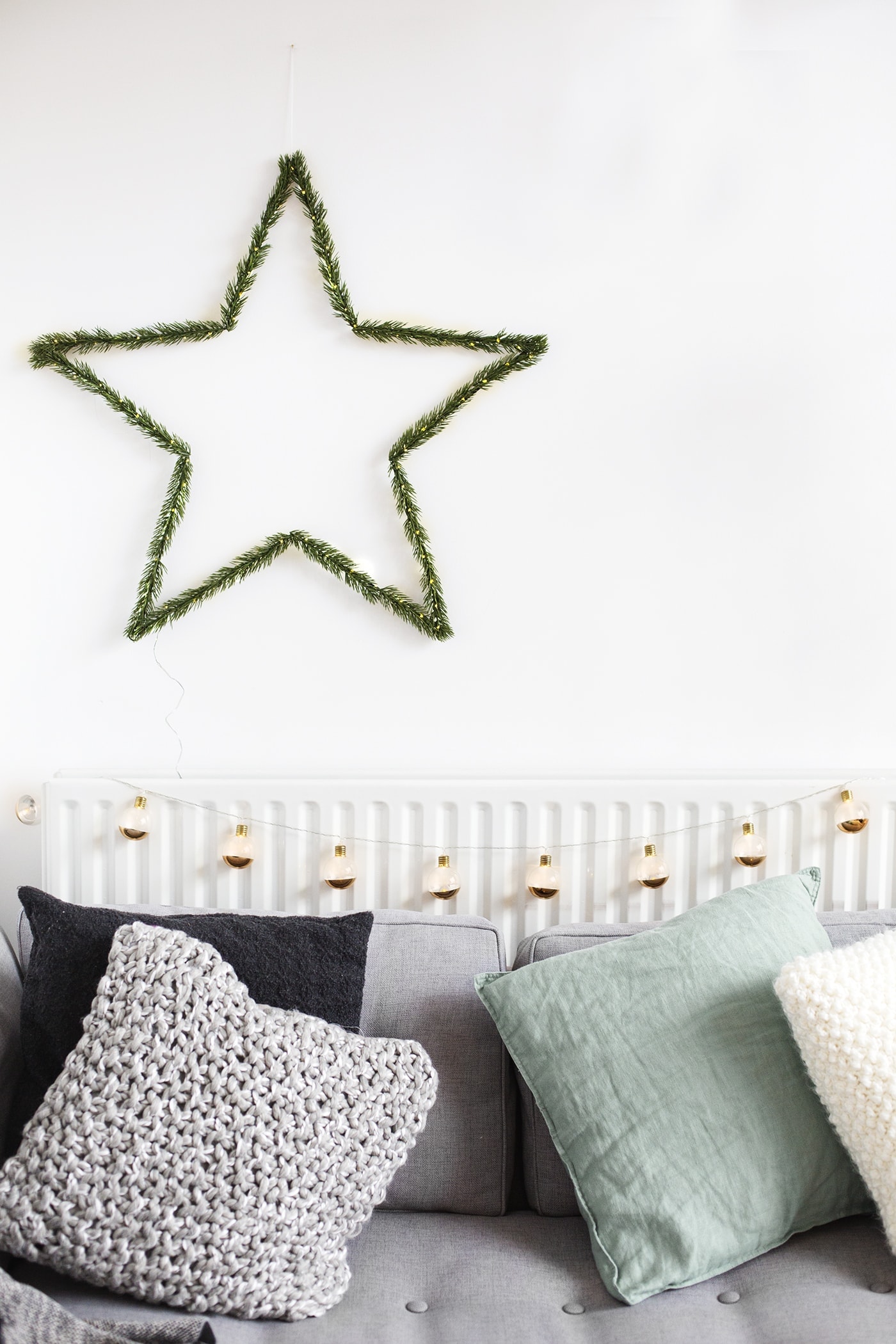 These chunky knit cushions at £19.99 each and the thick reversible throw for just £29.99 make the room feel so cosy!
I'm in love with this teapot and tea cup stacking set for £7.99. It looks so much pricier and comes in a variety of gold patterns. This would definitely make a great gift for the tea lover in your life!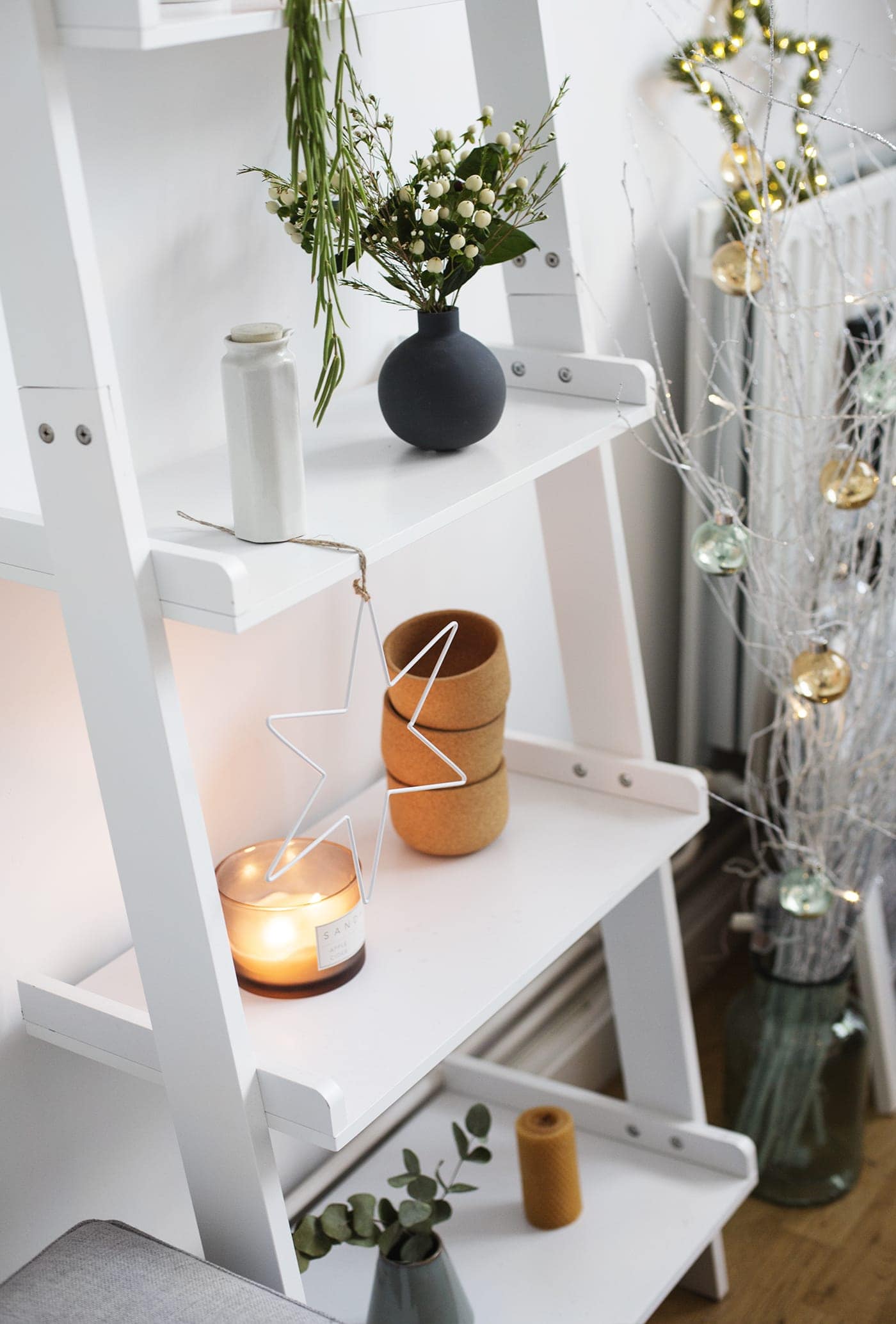 Be warned however, I went in for decorations and got sucked into the drinks and dining section as well as being bombarded by gift ideas at the same time! I felt a bit like a kid in a sweet store, with so much to look at at such affordable prices, making it the perfect one stop shop for a whole umbrella of goodies. They even sell everyday home essentials alongside chic furniture!
It's easy to see I'm a big monochrome fan from just a glance of our flat and whilst I never veer too far away from, that, I wanted to add some pops of greens to make the whole room feel much more festive. The sofa is draped with a beautiful grey flecked throw, along with grey and cream chunky knit cushions, perfect for snuggling up together. In the place of a tree, I bought some white twigs and a fern tree branch to create something a little different. The baubles hung were actually part of string light sets which in true DIY form, I dismantled. The leftover lights can carefully be draped around the twigs to brighten it all up and add some magic. I found some super fine copper wire lights too and these worked perfectly wrapped around the hanging branch with no extra faff or weight. I love coming home to turn on each set of lights, one by one. The star set is a bit of a statement but also great value for money at £19.99 and includes both sizes complete with fully wrapped lights…job done!
It was so easy to find other sweet ornamental touches to add, like the faux mini Christmas tree with a simple grey pot or the Scandi style reindeer tea light holder or the countless candles to bring the smell of this time of year into your home. The candle section in Homesense is quite the experience in itself. There are so many scents to choose from, pleasingly colour coordinated just like a huge candle rainbow. I opted for a pine scent, along with a mulled cider which combined works perfectly to make the whole flat smell convincingly like Christmas at all times of the day. Oh how I love to bombard all the senses! With a smell for every kind of mood or colour preference these also make ideal gifts for family and friends. I nabbed a few for 'Santa' while I was scouting around.
If you're going to get cosy on the sofa then tea is very much in order, but at this time of year I lean heavily towards anything vaguely spiced. I came across / got stuck in the food and drink section and discovered gingerbread tea and almost jumped for joy! Served in this beautiful gold patterned tea set it feels extra special. You may not expect to find a whole rabbit hole of specialty food in Homesense but it's all there and it actually ended up inspiring a fair few gifts. Why not mix and match a bundle of items to create personalised hampers at a fraction of the price you'd pay elsewhere. They even stock great wrapping accessories like gorgeous velvet and metallic ribbons to package them all up.
I turned our coffee table into a little party spot, 'ready to go' with a laid back cocktail station and some nibbles. It's good to be armed and prepared for any guests that might pop by at this time of year and what better way to make hosting easy than with a few ready made cocktails to hand. All you need to do is add the alcohol, stir and shake and the party can begin. This set of six martini glasses were a total steal at £12.99! In fact all of the drinks ware is amazing quality and so reasonable. If you're stuck for ideas then scout out the current cocktail section in store.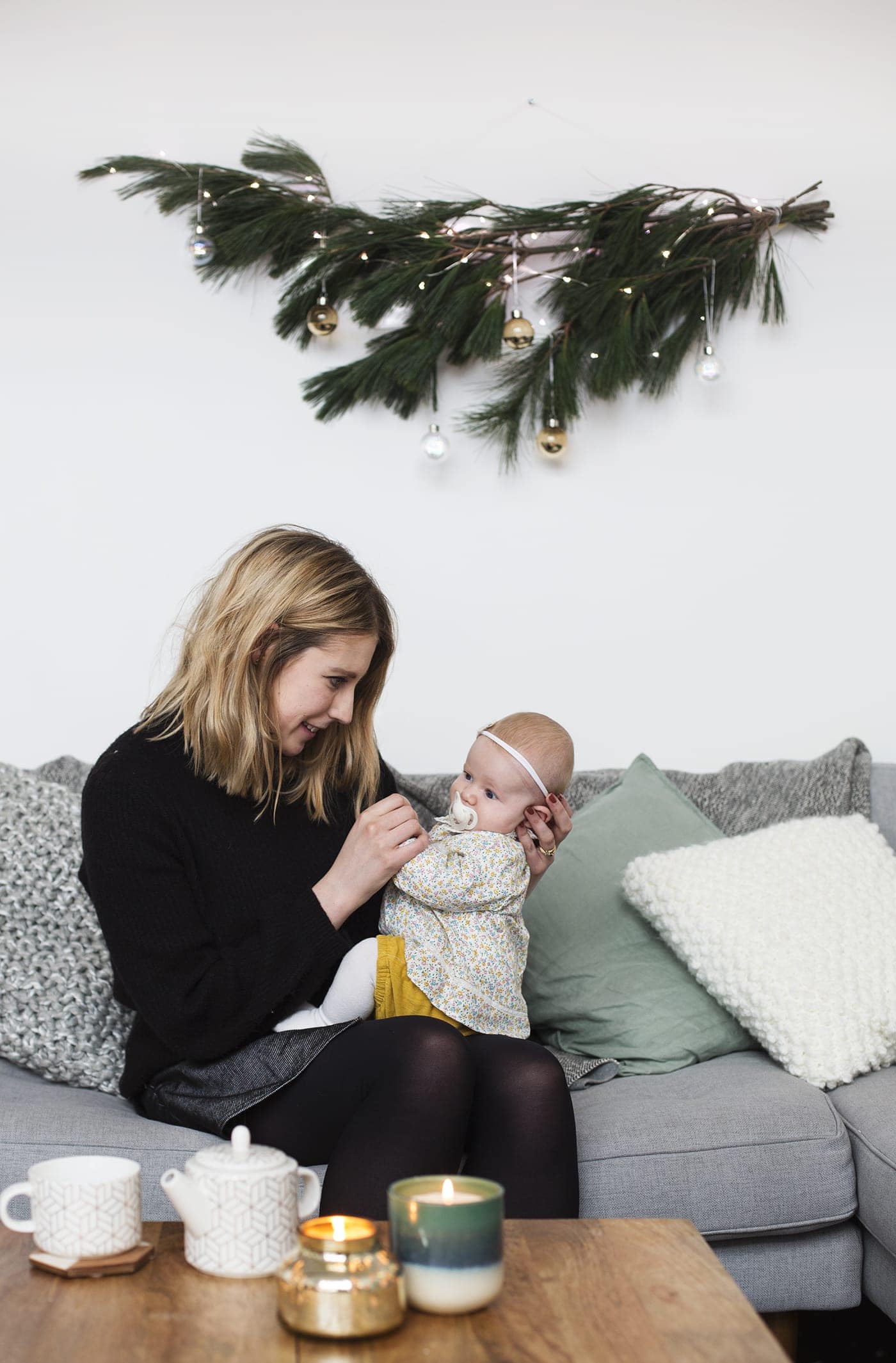 This drinks and nibbles set up looks so inviting and yet won't break the bank. The coasters £4.99 , chopping board £9.99 and gold patterned dish £12.99 create the base for this Christmas spread.
Make cocktails easier with ready made cocktail mixers for just £4.99 for a litre. Just add the spirit of your choice and shake together in the sweetest mini cocktail shaker you ever did see.
Serve your drinks in style with this set of six martini glasses for £12.99 or these gold patterned tumblers for £3.99 each. There's even a matching carafe for £12.99 which instantly makes the drinks look fancy.
Be sure to head to the candle section in Homesense for every scent you could ever hope for! They  currently have a lovely selection of  Christmas scents including the winter pine and mulled cider. I also picked up the beautiful pewter candle that glistens as it burns.
Make your own luxury hampers by raiding the food & drink section at Homesense. They have plenty of delicious treats in suitably festive packaging. The gingerbread tea was just £2.99, the chocolate thins £7.99, Jingle Bells jam £2.99 and caramelised honey cashews reduced from £18.99 to £9.99! finish off your package with these luxury ribbons for just £3.99 or they have a great selection of baskets!
String lights can be pricey elsewhere but in Homesense you'll find an array of styles for £12.99 a pack. Hang them in corners of your home or nestled on shelves or dismantle them to use the glass ornaments as baubles!
This post was sponsored by Homesense. All photos, words and opinions are very much my own.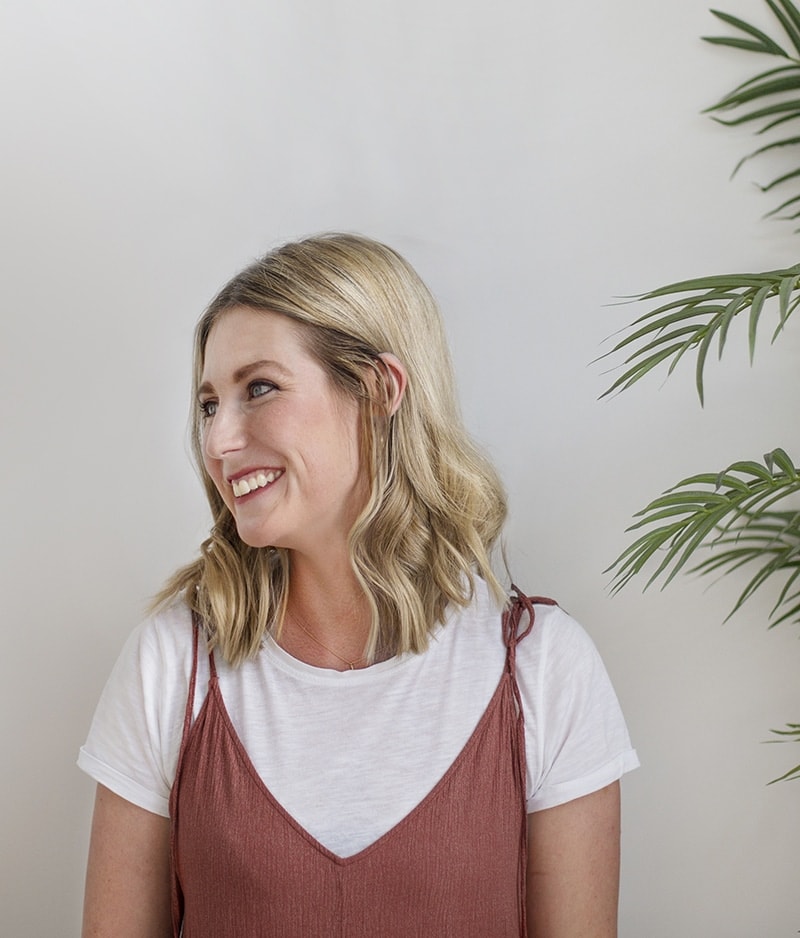 Hi, I'm Teri and welcome to my own creative corner of the internet. I blog about interiors, DIY projects, design inspiration and my general life so stick around have a read and say hi.
Work with Me
The Lovely Drawer is an award winning blog with a loyal audience that has grown over the years. I love working with brands small and large on exciting collaborations that can bring products alive in my own signature aesthetic.