I've been gradually revealing our new flat to you guys as we've conquered each room one by one. The last room to the party is our guest bedroom which is still a huge novelty. We've never had a guest room since being married, always living in one bed flats. This meant we couldn't really offer people somewhere to stay unless they were keen to embrace the blow up mattress on the living room floor and those more open minded of our friends and family certainly did.
It's been such a treat thinking through how to make this space welcoming to our potential guests and I even went a bit wild and added some colour into the space. By colour, we're still only talking muted green and a dusty pink but that's about my threshold in my own home. We've already had three lots of people to stay and make use of this room and it's been so nice for them to have their own space and somewhere comfortable to rest their head, particularly for our friends visiting from Texas who were with us for a whole week.
I actually prefer this room to ours in terms of the windows, light and views but we decided to keep our bedroom on the ground floor, away from our studio workspace. That way we can keep that work / life separation we were after and an added joy is the bathroom is opposite our bedroom, perfect for my pregnant bladder and all those pesky trips to the toilet in the night. Anyway, bladders aside it's been nice for guests to have a space to themselves upstairs, so we're not all on top of each other. In fact my 4 month old nephew slept peacefully up in our guest bedroom while my brother and sister in law partied away downstairs at Nick's 30th last Friday.
I wanted it all to be fresh for Spring and the bed to be so welcoming that guest's wouldn't want to leave! Thankfully we had a little help from Soak & Sleep with this beautiful 100% pure French linen. We have pure linen on our own bed and love how luxurious and breathable it feels whilst still being relaxed and no need for ironing (always a bonus). The Soak and Sleep 'Soft As Down' duvet and pillows just brings added comfort to this slumber party and sometimes I'm even a bit envious because our actual duvet and pillows aren't anything special. You may find me doing a little swap in between guests staying…sneaky.
bed frame | duvet | pillows | french linen duvet cover | french linen white pillow cases | french linen grey pillow cases | pale green cushion cover & monochrome patterned cushion cover both from H&M Home | standing lamp | artificial palm | artificial tree | hanging mirror | cable knit throw | cut glass candle holders | white side table | collection of vases from H&M Home | woven basket | most artwork by me | wall hanging made by me
Tips for freshening up your guest room:
Spend money on the bedding itself. This is the place to invest if you're after a memorable sleep that rivals a top notch hotel for your guests.
Add colour with cushions. These can be changed up over time if you fancy taking the interior in a different direction and it's an inexpensive way of doing so.
Bring easy-care greenery into the room and by that I really mean, buy some artificial plants. Sometimes it's hard to keep plants looking healthy in the home at the best of times. In a room you might not as frequently go into like a guest room, the death toll will certainly be even higher! Opting for fake will mean you don't need to worry and they stay looking fresh and green!
Keep the room feeling bright. This room already had fitted blinds to help block out the light when guests need to sleep but during the day the light weight curtains we picked to go with the blinds, soften the window frames and diffuse the light beautifully.
Add mood lighting into the mix. There's nothing less inviting than clinical lighting so adding some string lights and coloured tea light holders help to give the option for a cosy ambient light in the evening.
Cater for all temperatures. Some people are warm blooded creature, which makes the linen bedding perfect but some of us really feel the cold so make sure you leave a throw at the end of the bed so all bases are covered.
Thank you to Soak & Sleep for gifting me the bedding and linen.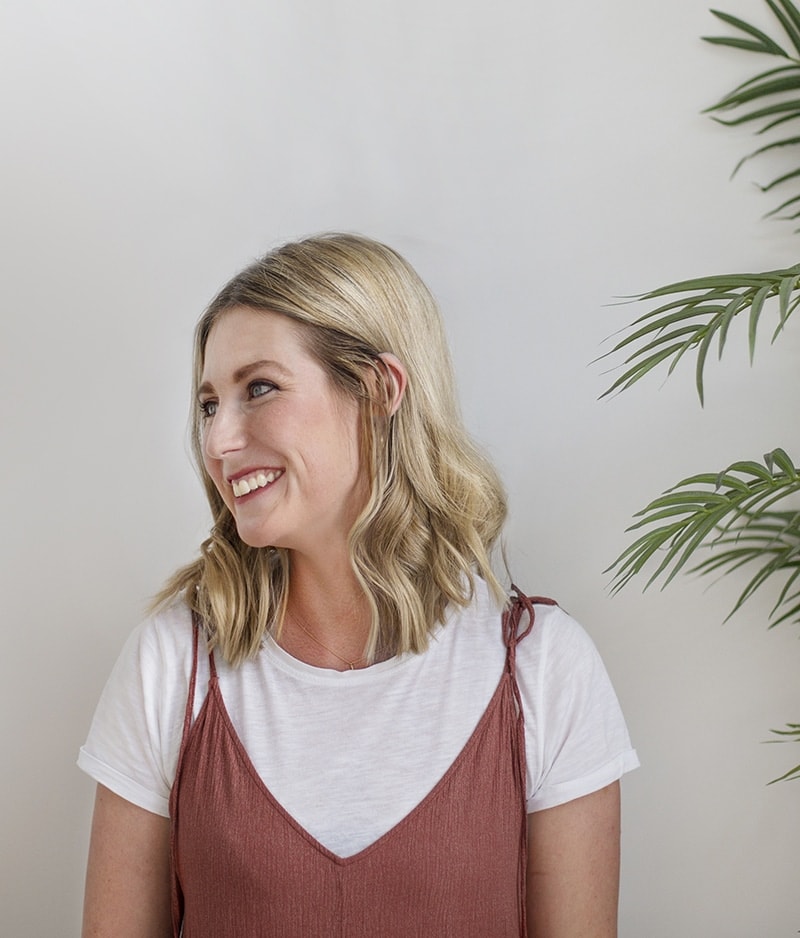 Hi, I'm Teri and welcome to my own creative corner of the internet. I blog about interiors, DIY projects, design inspiration and my general life so stick around have a read and say hi.
Work with Me
The Lovely Drawer is an award winning blog with a loyal audience that has grown over the years. I love working with brands small and large on exciting collaborations that can bring products alive in my own signature aesthetic.