Last time I talked about how I trained in art and design and what I learnt along the way.  I said that next up would be how I made the jump to freelance but when I sat down to write I realised that I couldn't really go there without having first talked about blogging. I wouldn't have even considered freelancing if it wasn't for blogging and I certainly don't think I would have had the same opportunities come my way! 
I recently celebrated 3 years of blogging. This was strange because on one hand I'm wondering where the time went, and on the other it feels like I've always blogged. Born blogging… that's a funny concept! I never thought I'd be 'a blogger' and in fact it took me a year and half to really register that's what I was. Sounds obvious, right?! 
The reason why I have a blog is really down to my Husband. When we got married in 2011 I discovered blogs for the first time. I was a bit late to the game but I started with wedding blogs and then realised there was one for everything! I was glued to them. I' was sucked in for hours feeling drenched with inspiration. I'd been in a bit of dry patch creatively, not feeling inspired by my work at my job and having stopped drawing and craft projects outside of work. Suddenly I was so inspired I thought I might burst, I was full to the brim with ideas. So I got creative again, drawing, painting, styling for the first time, getting crafty and I loved it.
Nick told me I needed to start a blog so I had a place to put all my creative projects and inspiration. I knew that made sense but I fobbed him off many a time saying I didn't have the time (how about all the time I spent reading blogs? Eh?).  To be honest I was also a bit worried about getting immersed in that world where things become about you and this amazing 'life is perfect' facade. I was worried about finding my identity in it when as a Christian my identity is and should always be in Christ. So I sat on the fence for a while longer and finally went for it, whilst trying to be mindful of why I'd started in the first place. Ironically, thinking back I actually started the blog at one of the hardest points in my life, so things certainly weren't perfect but it gave me a creative outlet that had been previously shelved.
So why the name? I remember agonising over it for ages feeling the weight of carrying it with me forever. My final uni project had been on the idea of 'one man's trash is another man's treasure'. I loved taking old objects or ideas and making them beautiful again and was particularly inspired by all my Mum's hoarded goodies that are piled up in our loft. Dad hated all the random things that clogged up our upstairs but I loved rummaging through all the drawers of trinkets and fabric offcuts and thinking up lovely projects to put them to good use. Hence The Lovely Drawer. I really wanted my blog to be as inspiring as opening one of those drawers, having a rummage and coming away full of ideas. I realised recently the the word 'drawer' when written down, could be mistaken for someone who draws. I would like to clear this finer point up and say I'm not calling myself a lovely drawer!! I'm not that arrogant friends!  Anyway, I'm creatively quite a fickle soul and change my mind about things often so I'm glad that I've been happy with this choice ever since and even happy that my whole freelance business is under this name too. Phew…otherwise that could have been awkward.
I didn't start blogging with a plan. I didn't know anything about social media (I was only on facebook), I didn't care about stats, I didn't have a content schedule or a cohesive look. I basically just wanted to make pretty things and curate inspiration all in one place. Although I was totally naive or perhaps clueless is a better word, in a way that worked in my favour. Laying the ground work for any blog can be slow and probably frustrating if you're aiming big but I was just content making nice things so I had the chance to develop it without any pressure. I pretty much forgot that people read it. 
Nick set up all my social media accounts and set my blog posts to automatically post to them (not advisable). I'd never actually been on my Twitter account to just over a year ago. I'm literally laughing as I write that! He was the one that would inquisitively check my stats and tell me when other blogs would link to my posts. It's mega embarrassing!
Meanwhile I'd decided for no concrete reason that I would post twice a week, which is something I have pretty much kept to ever since. I'd make things at the weekend, draw on my train commute home, and would edit photos and write content in my lunch breaks at work. The more I did it, the more inspired I was to do more and so I just kept on plugging away. 
I can't explain how much the fast paced discipline of blogging helped in growing my design skills. Unlike working in a design company or publication you can turn things around at such a speed. If you have the time you can even dream something up one night and execute it and have it on the blog the next day. Short snappy projects helped me to stop that crazy over thinking issue I talked about in my last post and trying new techniques all the time meant I was growing my design skills and honing my style. I totally cringe when I think back to my early posts, in fact I could probably say that about posts I did this time last year. The important thing however, is it shows progression, getting better at what you do. In the spirit of things and partly to encourage you guys who think your blog needs to be all singing and dancing and super sparkly straight away, you'll find some of my earliest posts below. I can't tell you how hard it is for me to post that. Cringe!!!
At some point I realised that people were actually reading my blog…I'm a bit slow on the uptake you see. It was then that I became more deliberate about what I was posting and thinking about my audience. I didn't just want to randomly do things I like, instead I wanted to tailor my ideas so they gave readers something useful, inspiration, tutorials, free printables.
Instead of limiting me it actually gave me more of a framework to be intentional. I came to realise that DIY posts were way more popular than anything else I did. My first crazy exciting moment with lots of hits was from this geometric necklace DIY. I posted it in the August but it wasn't actually until the December that it went kapow and I didn't really know what had hit my teeny blog!
I guess blogging is made up of those moments that suddenly drive you to a different level. It just takes one superstar blogger pin, a fabulous feature or mention somewhere on the web or even a magazine or a brand that decides to collaborate with you. Soak it in and don't worry when the fuss goes down as you'll be somewhere new you haven't been before.
I wasn't someone who started blogging for community. I was never against meeting like minded people but that just wasn't so much on my radar. It made a world of difference when I started engaging with my readers properly and making time to meet other bloggers. Suddenly I understood readers better and found out what they liked, things they associated with and creative encouragement came from other bloggers as well as collaborations. Sure, online friends can't replace friends in the flesh who live the day to day grittiness of life with you but I was missing out on this creative community before and what it adds to my blog. I've met so many lovely and inspiring people through it. 
Engaging with that community came mostly from getting into social media. Step one was using my accounts. Shock horror…actually using your social media streams regularly increases your following and general interest. Perhaps even more importantly it also gives you valuable feedback. I still wouldn't say I'm the most social media savvy gal there is out there but I've seen how it has an impact on my little blog. Instead of acting like a pensioner fighting technology, I finally embraced it and I'm glad I did. Obviously I don't want to become obsessed with it but it is the way the majority of our world works and does business today so if you can't beat em', join em'.
It's probably obvious but out of all the social media channels, I definitely click most with Instagram. It's probably not surprising as its so visual which is the way I best engage with things and I've heard lots of bloggers say the same. It's such an inspiring space from the stunning studio set ups to the snapshots of the everyday made beautiful. I feel like I get the most feedback from people on Instagram which works for me and it's clear that my enthusiasm for it has made it my most popular social stream. I guess you get back what you put in as a general rule. The best piece of advice I've had on the topic was don't worry about growing your audience on every social platform. If one seems to work better for you and you more naturally want to engage with it then put your energy into that. There's nothing wrong with trying to work on growing an area that's weaker but don't get hung up on it or overwhelmed at trying to juggle all of them.
People worry about how much of their life they should share on Instagram particularly and often end up getting a separate account for personal posts. If you think that's important or you're worried about posting photos of your kids etc then go for it. Personally it was a bit of a turning point for The Lovely Drawer when I started to combine a bit of personal life with my business on Instagram. It is primarily a business account but I realised along the way that showing a bit of who you are, behind the scenes and snapshots of every day life help to remind readers that you're a real person. My blog is not about my general every day life and what I've been up to each weekend so it's harder to show a personal side. However when I've done this in my posts I've received the biggest responses and I genuinely think Instagram provides a really easy easy way of doing that in briefer snippets on an ongoing basis. It also means that people trust you a little more if you're selling a service or products. So much business is done online now, especially as a freelancer and so it helps customers get a sense of who they're buying as you become more than just a faceless machine. Gone are the days when all trade was done locally with people you saw regularly and had face to face conversations with throughout the week, so I guess this compensates a little. 
Blogging really has brought so many collaborations and opportunities that never would have happened otherwise. I've realised your blog is essentially a regularly updating portfolio for all to see. If you want to get into something like designing, cooking, craft, workshops, travel advice, event planing etc etc then any potential clients or employers can see that you're active and constantly churning out work. It's easier to trust you as you make your work public and it's reassuring to see that you're consistently good at your craft.
There's so much more to be said on blogging and I also won't pretend I'm the fountain of all knowledge but I'll summarise some helpful tips. 
Just start – If you're thinking of starting a blog then just do it. Don't hang around sitting on the fence like I did. It doesn't have to be perfect straight away!
Forward thinking – If you want to start your own business at some point then blogging is a great way to create an audience that you can engage with and get feedback from.
Focus – Decide what your the main focus of your blog is. It doesn't have to be really narrow and it shouldn't feel super restricting but it will undoubtedly help you to focus and plan content. It's not just about giving readers a clearer idea of what kind of blog you run but it really does also help you!
Start small – and don't pile on the pressure or waste time trying to be just like other bloggers. Think about what you naturally love and what gets you excited and writing and creating content will then come easily.
Look the part – I'll speak more on branding in another one of these posts but if you can't do your own then it's worth paying someone for at least a logo. Keep it simple and focus on using a maximum of 3 colours in your branded bits and bobs. You want people to remember your branding and associate it with you so simpler is better.
Invest in the site – If you don't have a web designer as a husband or want to pay lots for custom design then there are some great templates out there, my favourite being from Blogzilla. A blog that is user friendly and looks clean and fresh will enhance your content rather than distract from it.
Images are key – Even if you're a write rather than a crafter, designer or chef, you still need a striking image at the very top of your post to draw readers in. You need something that immediately shows people the purpose and feel of the post so that people actually take the time to read on.
Quality over quantity – Quite honestly quality images are the difference between a good blog and a great blog. Make sure images are the right resolution so it's not pixelated. I recently found out that the best results come from 144 ppi resolution and sized to double the width of your blog feed. Just saying! Better images are what people are more likely to pin on Pinterest. Maybe look at the ones that get the most pins to direct how you create image in the future.
Create content that people can engage with – Whether that's tutorials, helpful hints, giveaways, sharing your own personal experience. It's fine to post lots and lots of stunning photos but it's beneficial to have an added pull or an interesting angle, basically a reason for people to read on.
Share some of yourself – You don't need to hang your dirty laundry out to dry across the web but blogging started as something more personal than a glossy magazine and so retain that charm. Each person brings something a little different to the table.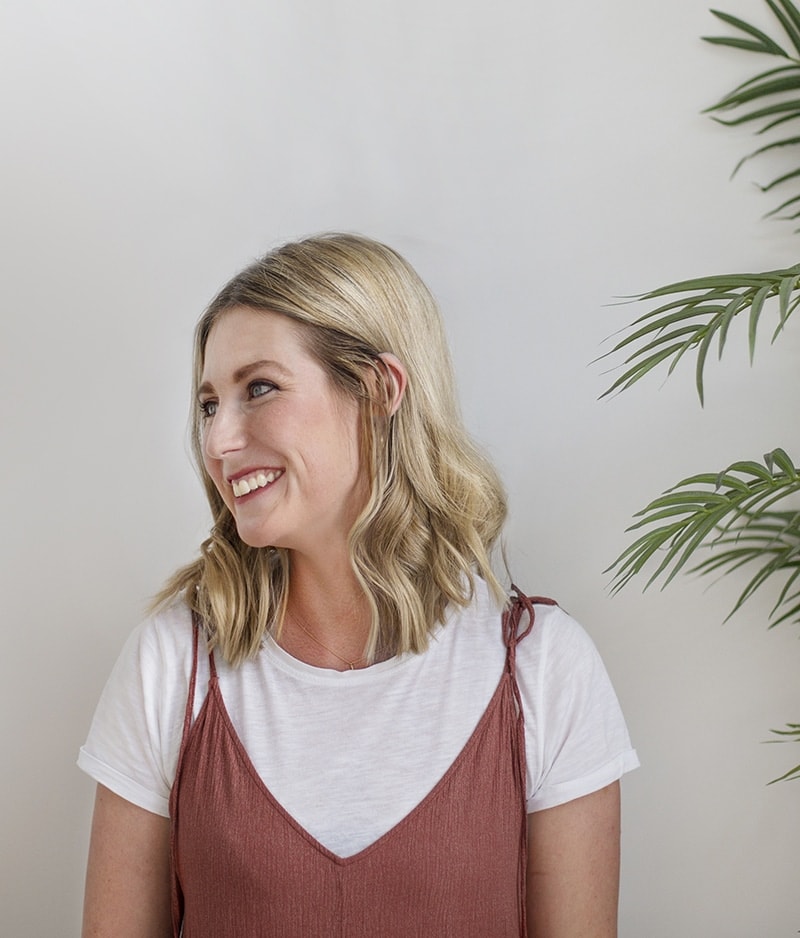 Hi, I'm Teri and welcome to my own creative corner of the internet. I blog about interiors, DIY projects, design inspiration and my general life so stick around have a read and say hi.
Work with Me
The Lovely Drawer is an award winning blog with a loyal audience that has grown over the years. I love working with brands small and large on exciting collaborations that can bring products alive in my own signature aesthetic.