Pizza Stone | 5 Piece Pizza Set | Pizza Plate | Topping Bowl Set | Pizza Plates | Colourful Life Tumblers
This is a sponsored blog post with Villeroy & Boch. All words, ideas and imagery are my own.
It's officially Summer, the parks in my neighbourhood are in full bloom and the light hours are far more generous than at any other time of the year. Life feels somewhat more laid back in these Summer days and I'm constantly looking for any excuse to get outdoors. Ironically last Saturday wasn't the sunniest day of recent weeks but it was still warm and dry and therefore fair game for a picnic. I desperately wanted to put to use the new 'Pizza Passion' range I'd received from Villeroy & Boch to conjure up a sweet brunch pizza.
The 'Pizza Passion' range is great for creating a meal to share with family and friends, complete with lots of clever additions to make life easier, as well as the food looking and tasting even better. You can create authentic tasting pizza with the help of the Italian style Pizza Stone which heats as the oven heats up. Sadly I can't eat conventional pizza dough as I'm grain-free (hello problematic over here) but I used a recipe I love and can safely say it tasted all the more crunchy with the addition of the stone. I also love the 5 Piece Pizza Set with handy tabs on each edge for easy grabbing, as well as the Pizza Plate with markers for slicing your pizza evenly and the Topping Bowl Set, with bowls that nestle in their nooks ready to serve some added extras up to the party. The Pizza Plates themselves are a very healthy size, so you can avoid that inconvenient over-hang you get with standard plates. All in all a pretty nifty take on serving home cooked pizza.
We had a brunch time picnic so I decided to create a sweet, fruity pizza for something a little different. Brunch is such a great time to get people together as firstly, who on earth can get a proper meal ready in time for breakfast and secondly brunch feels far less formal than lunch or dinner so it's the perfect laid back choice. Plus brunch time food is obviously the best! There's something quite therapeutic about the different stages of making your own pizza from scratch and the smell of it baking in the oven transports me to the winding streets of Italian towns, lined with pizzerias. Dreamy!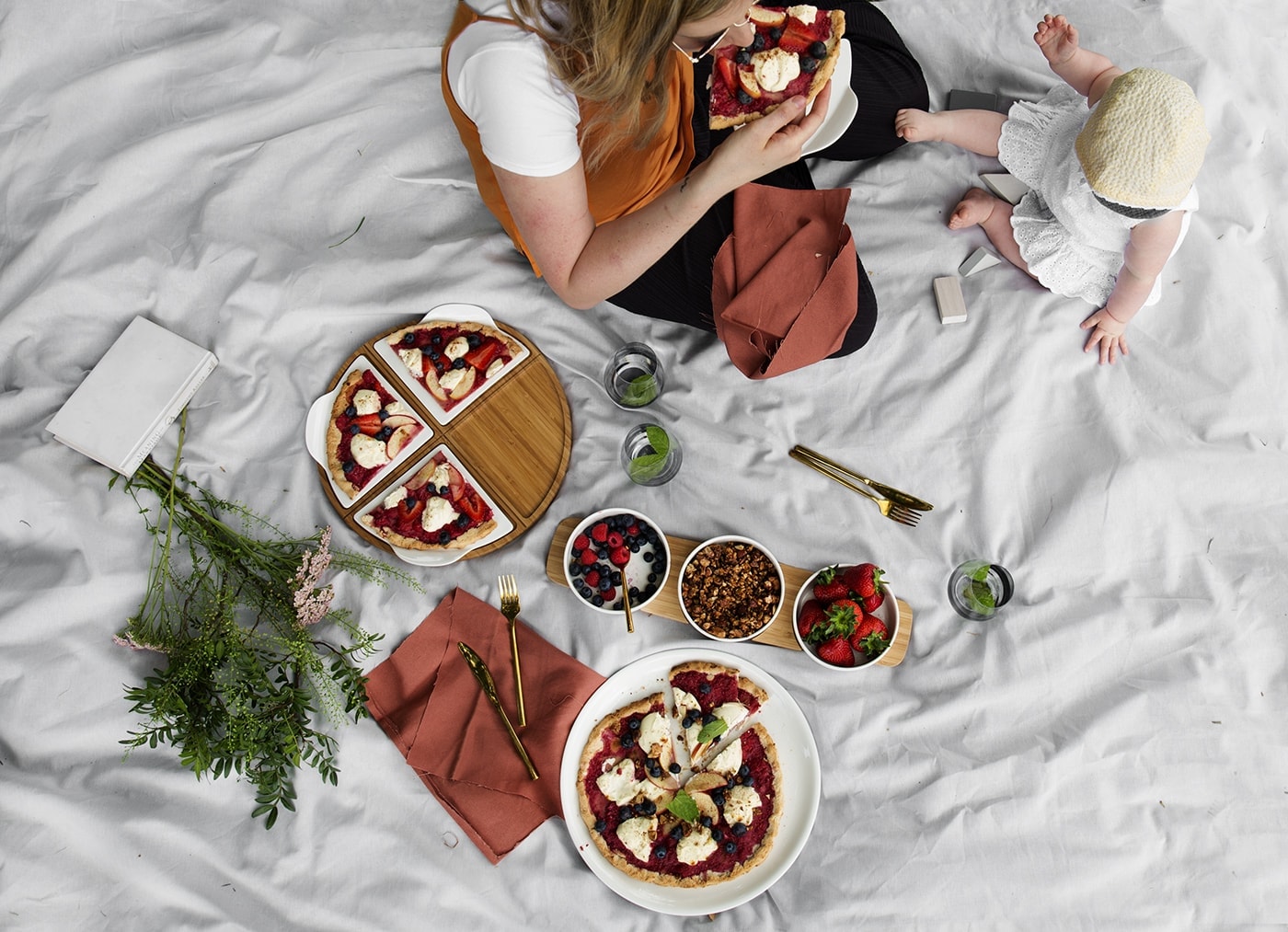 Grain Free Sweet Brunch Pizza
Makes one pizza
BASE
1/2 Cup Almond Flour

1/2 Cup Tapioca Flour

1/4 Cup Coconut Flour

3/4 tsp sea Salt

1 egg

1/4 melted coconut oil or melted butter

1/3 almond milk

1 tsp honey / maple syrup

1 tsp cinnamon

1/4 tsp nutmeg
TOPPINGS
1 punnet raspberries

3/4 strawberries

250g mascarpone cheese mixed with 1tbsp maple syrup & 1 tsp vanilla essence

1/2 an apple

Handful of blueberries

1 tsp cinnamon

Drizzle maple syrup

Fresh mint
EXTRAS
More berries

Mixed nuts (pulsed and then mixed with some melted butter, maple syrup, cinnamon and nutmeg to taste and baked at around 110C until golden, leave to cool).
Method
Preheat the oven 230C and place the pizza stone inside to heat up with the oven.
Put all your dry ingredients in a bowl or blender and mix well.
Then in a separate bowl mix together the egg, coconut oil, almond milk and honey. Then make a well in the centre of your dry and ingredients and mix / pulse together.
If the mixture is too sticky then add more coconut flour until you're able to work it with your hands.
Using some baking or greaseproof paper on the top and bottom of the dough, roll out into a circle shape, pinch up the edges to form crusts. Carefully transfer onto the pizza stone.
Bake for 5-10 minutes until it starts to crisp and go slightly golden. Meanwhile heat your raspberries in a pan until they turn to more of a liquid. You can add some form of sweetener if they are too tart.
Remove your pizza base from the oven and spread the raspberries mixture across the base and then take spoonfuls of the mascarpone and dollop on top. Live the apple thinly and lay these around the pizza. Sprinkle the whole thing with cinnamon and a drizzle of maple syrup and place back in the oven and bake for a further 10 minutes.
You can then finish off with sliced strawberry, a sprinkle of blueberries (these can be added pre-cooking if you prefer) and some mint.
I have to say a picnic in a garden would be far easier than in the park in terms of transporting everything but such is London life! Plus our buggy doubled up as a trolly so we are really getting a money's worth! We ate, read, sipped refreshing mint water from our Colourful Life Tumblers and generally enjoyed a morning together in the midst of a pretty hectic week.
You can get creative with your pizza toppings to your hearts content. I'm imagining banana with crispy bacon and maple syrup would be pretty spectacular! Either way be sure to up your 'pizza game' with the Pizza Passion range from Villeroy & Boch. Bring on the pizza parties!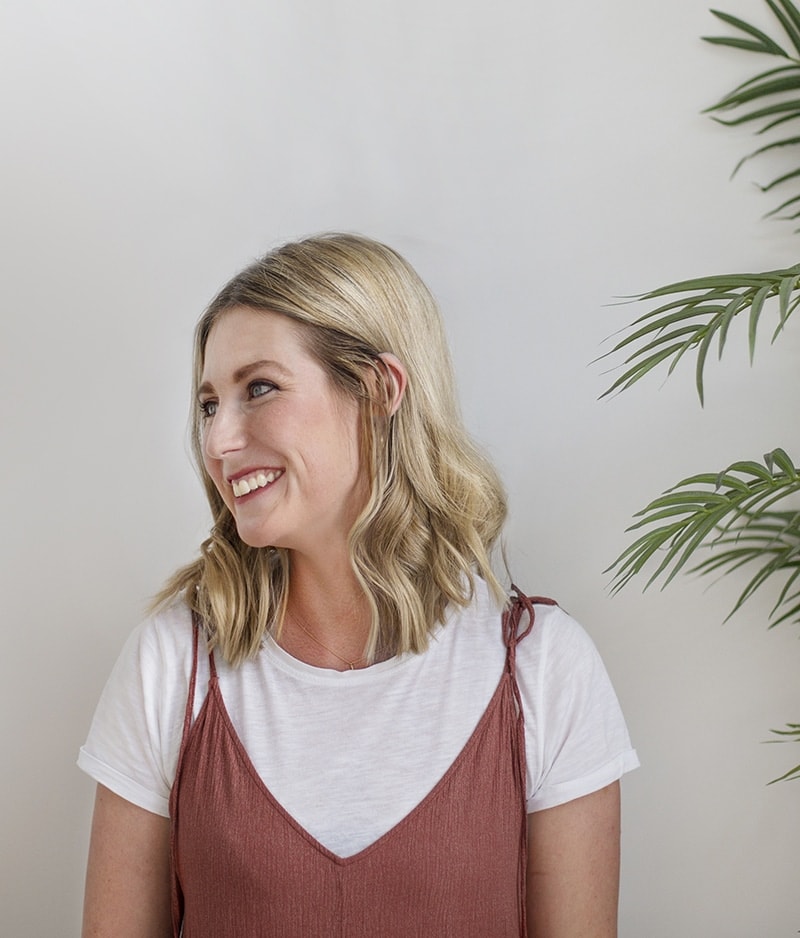 Hi, I'm Teri and welcome to my own creative corner of the internet. I blog about interiors, DIY projects, design inspiration and my general life so stick around have a read and say hi.
Work with Me
The Lovely Drawer is an award winning blog with a loyal audience that has grown over the years. I love working with brands small and large on exciting collaborations that can bring products alive in my own signature aesthetic.