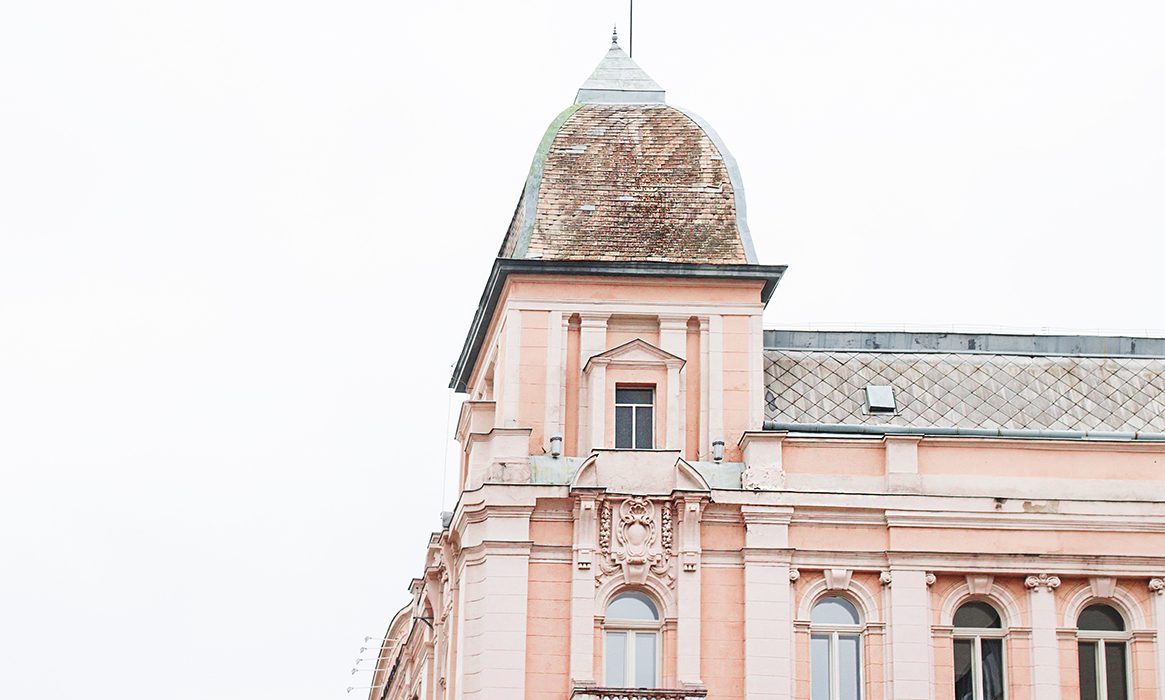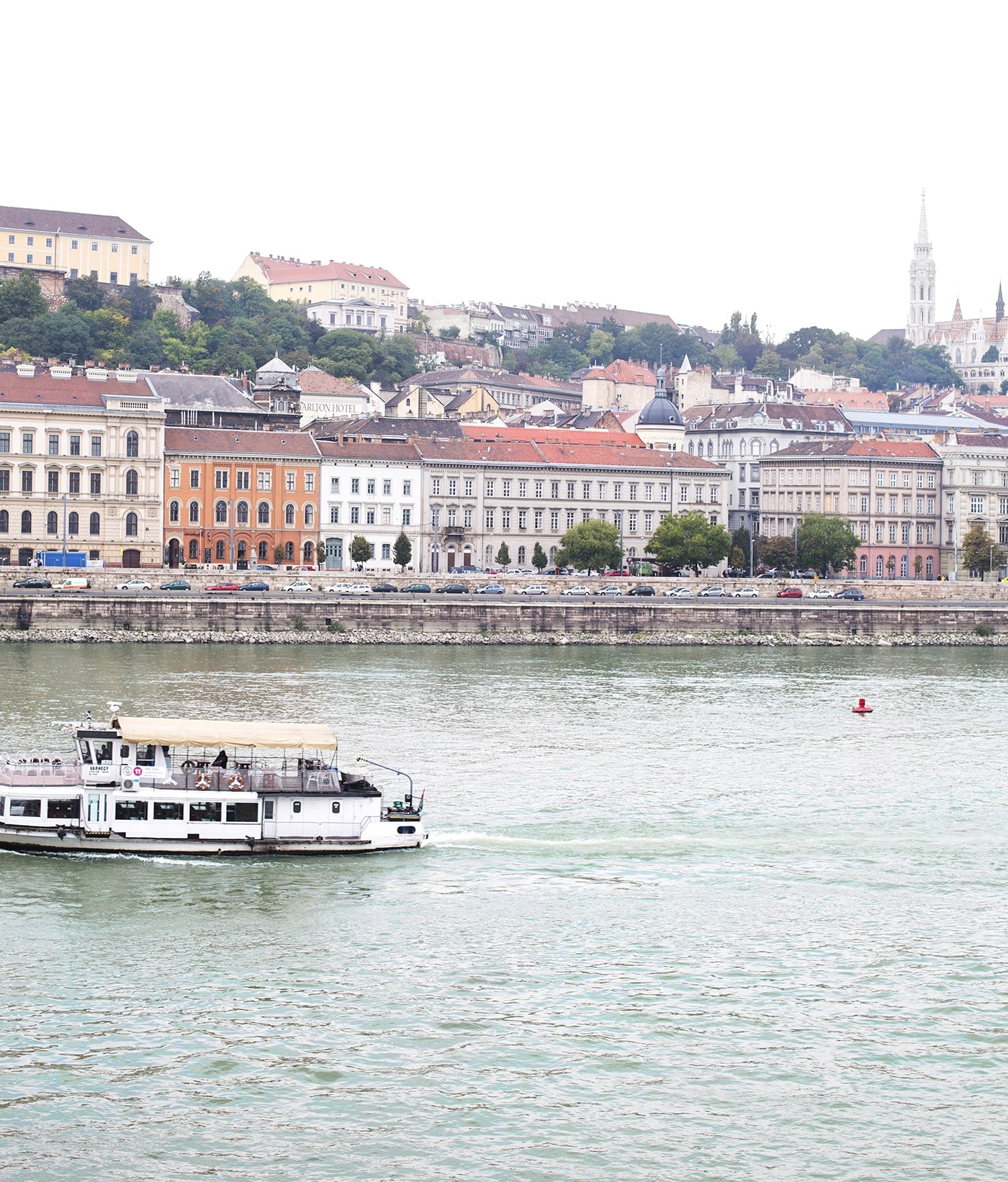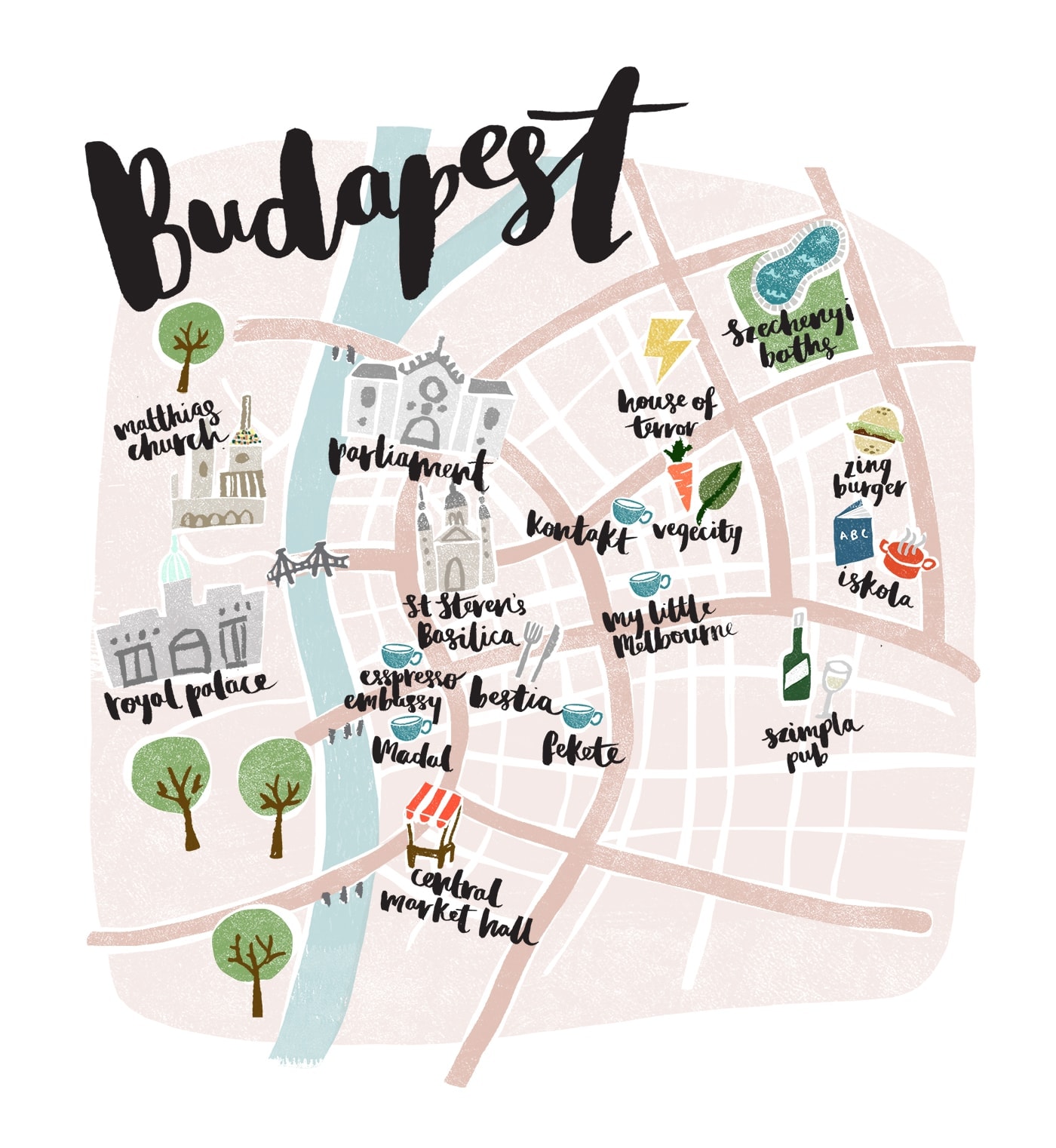 Budapest definitely stole my heart, even in the bitterly cold and on / off drizzle. I think the thing that first struck me was just how beautiful the architecture was. Everywhere I looked there was another regal looking building, each in an array of soothing pastel tones and there I was with the camera glued to my face, staring upwards to the point where my neck hurt. I loved all the grandeur that was left a little rough round the edges telling the story of the city's fall from grace in war time after it's sparkling hay day. I literally had no clue about the history of this city before I arrived but I loved getting acquainted with it. The first thing I think to do in any new city is to take a free walking tour. These tours are led by locals and take you on a route throughout the city to tell you all about the history and the quirks of the place and are usually pretty amusing at the same time. I've taken one in Berlin, Bath, Brussels and now Budapest (apparently my city break criteria is it must begin with the letter 'B') and I haven't been disappointed yet. Take one near the beginning of your trip so you can get your bearings in a new place.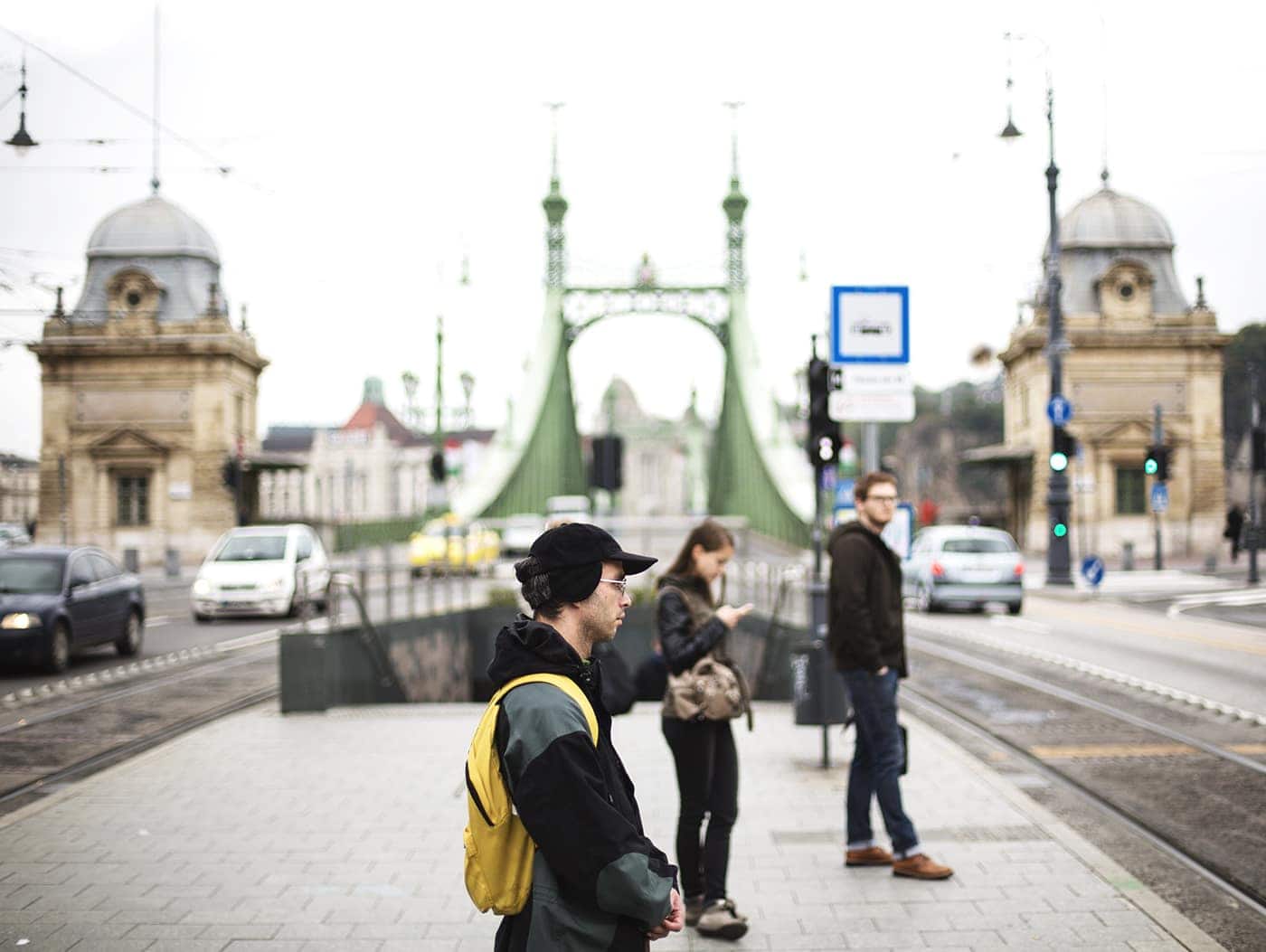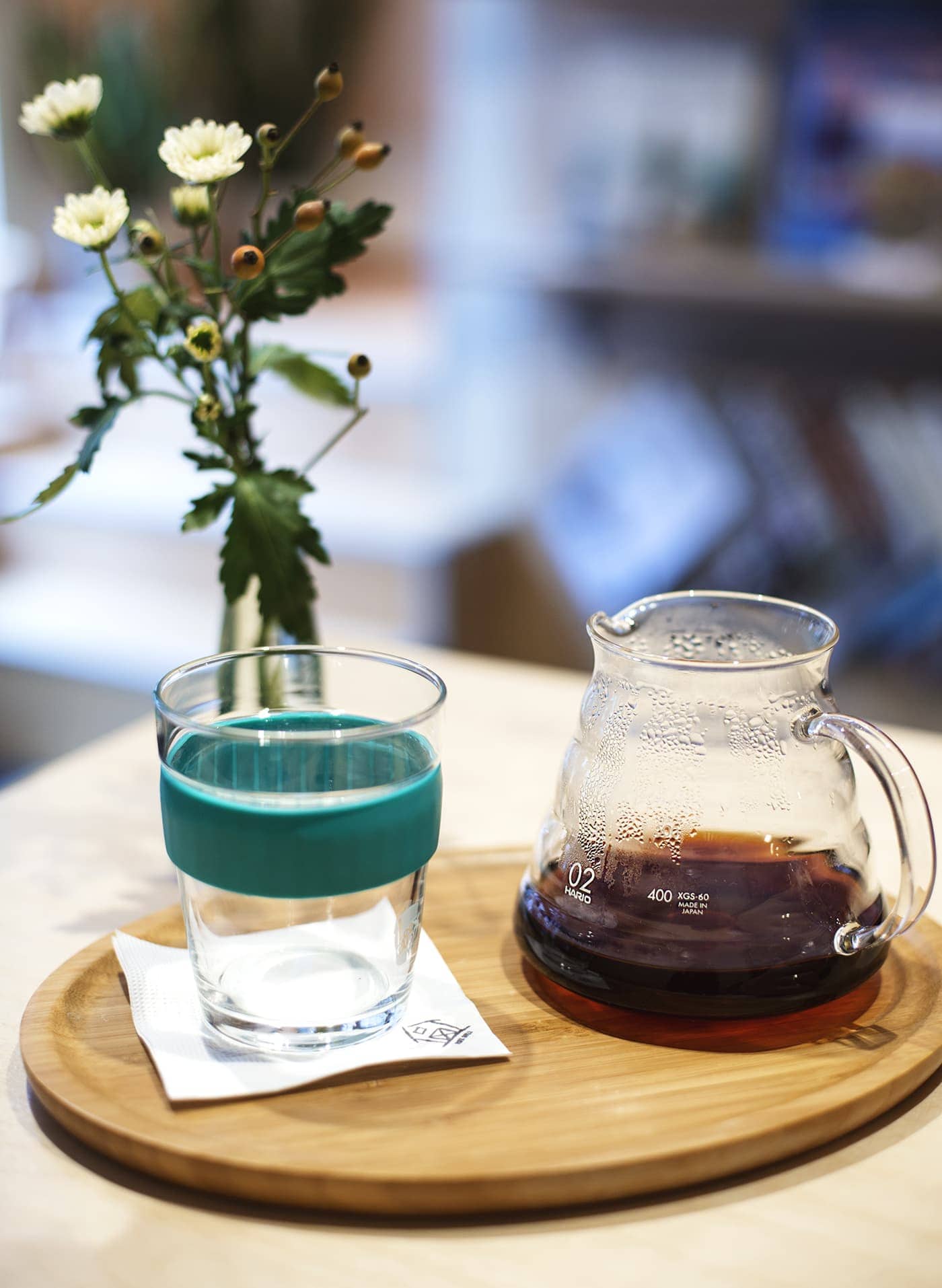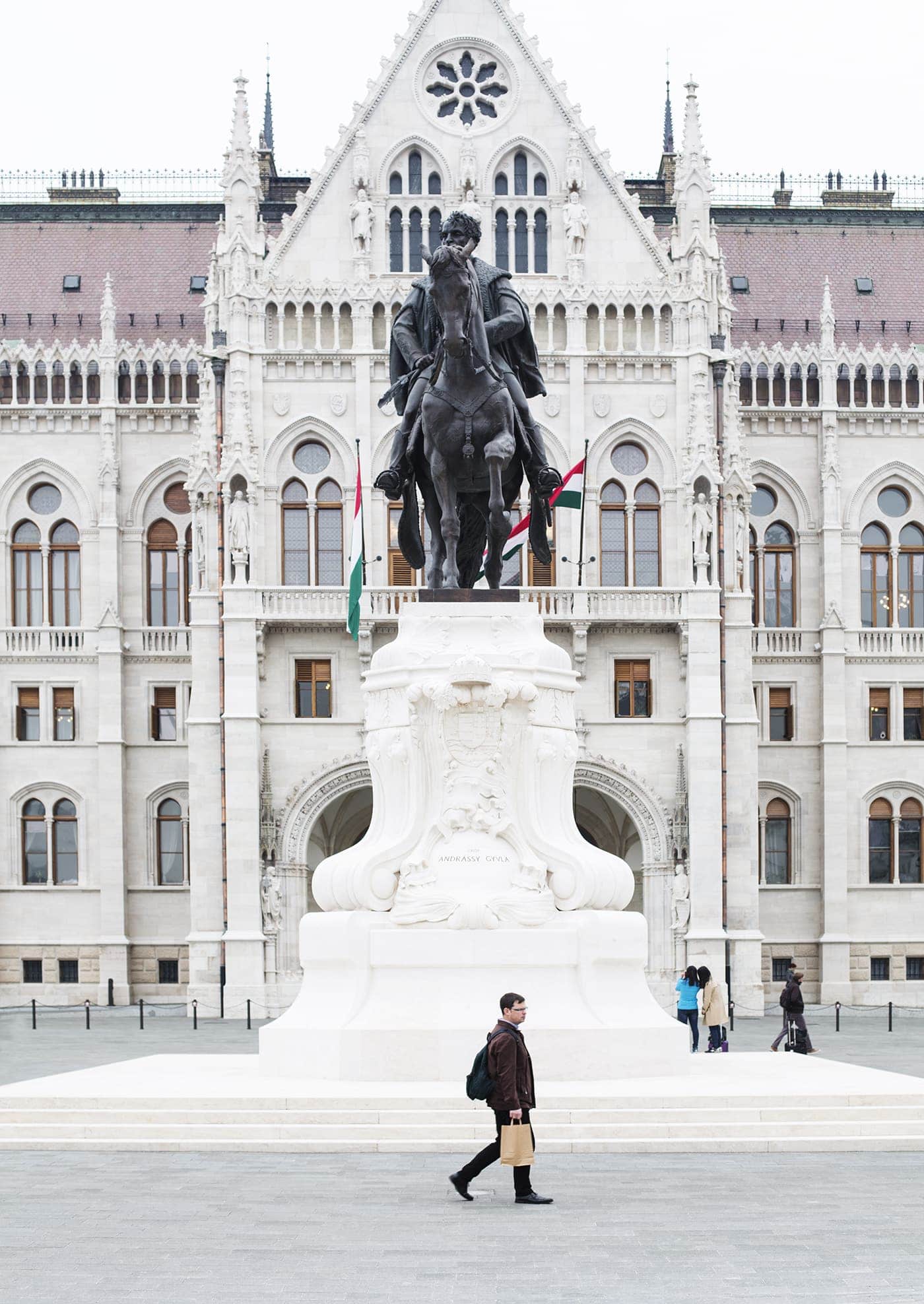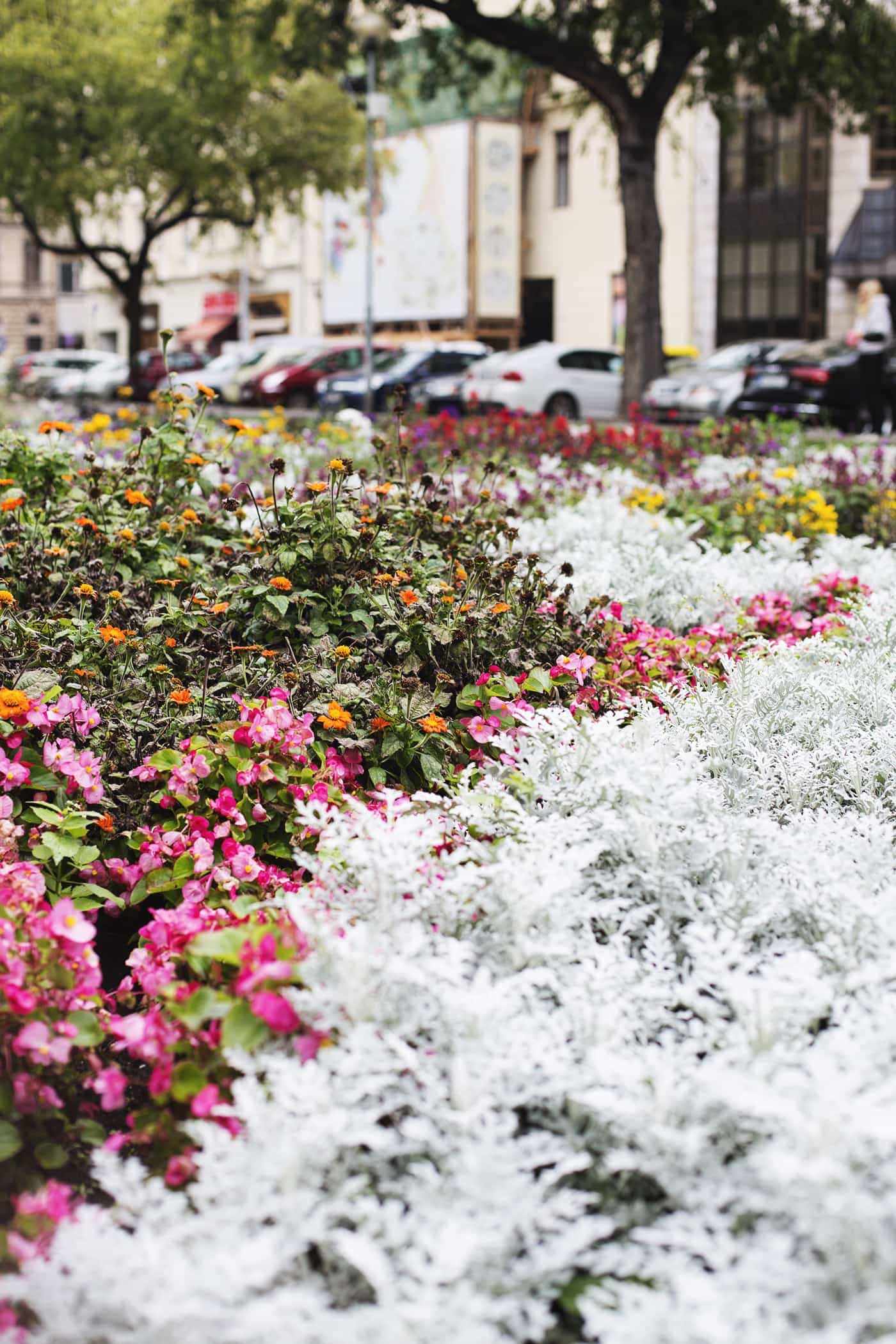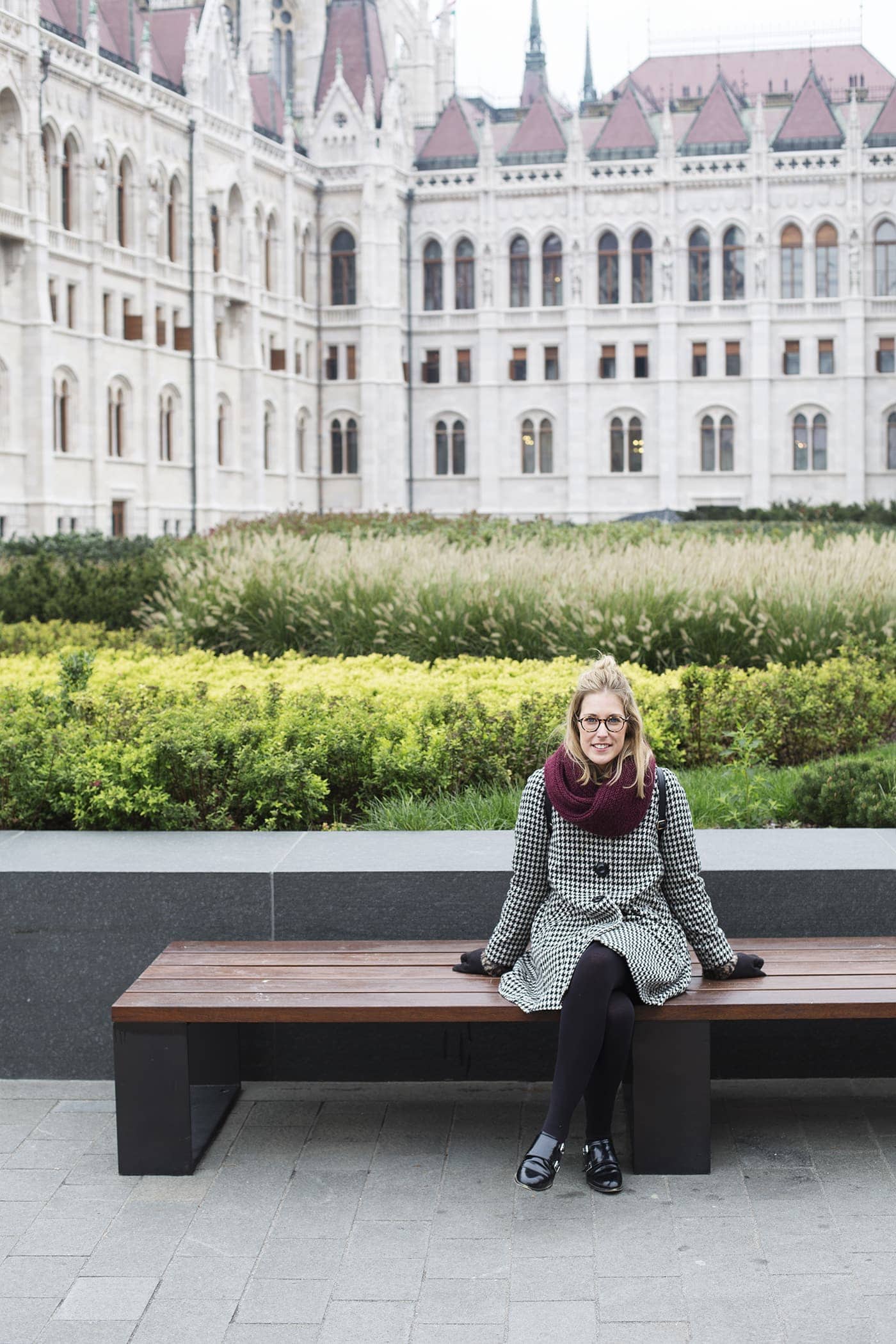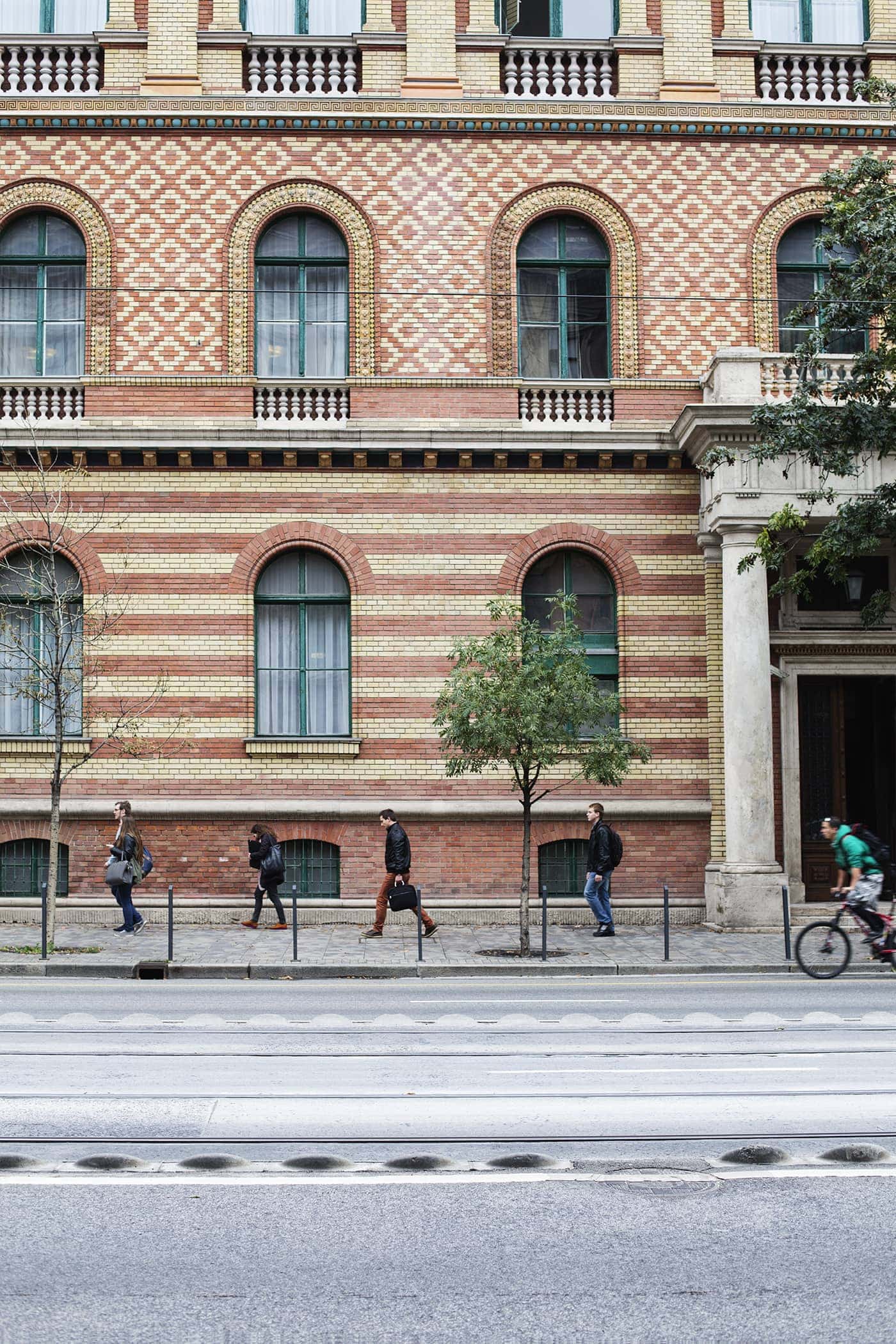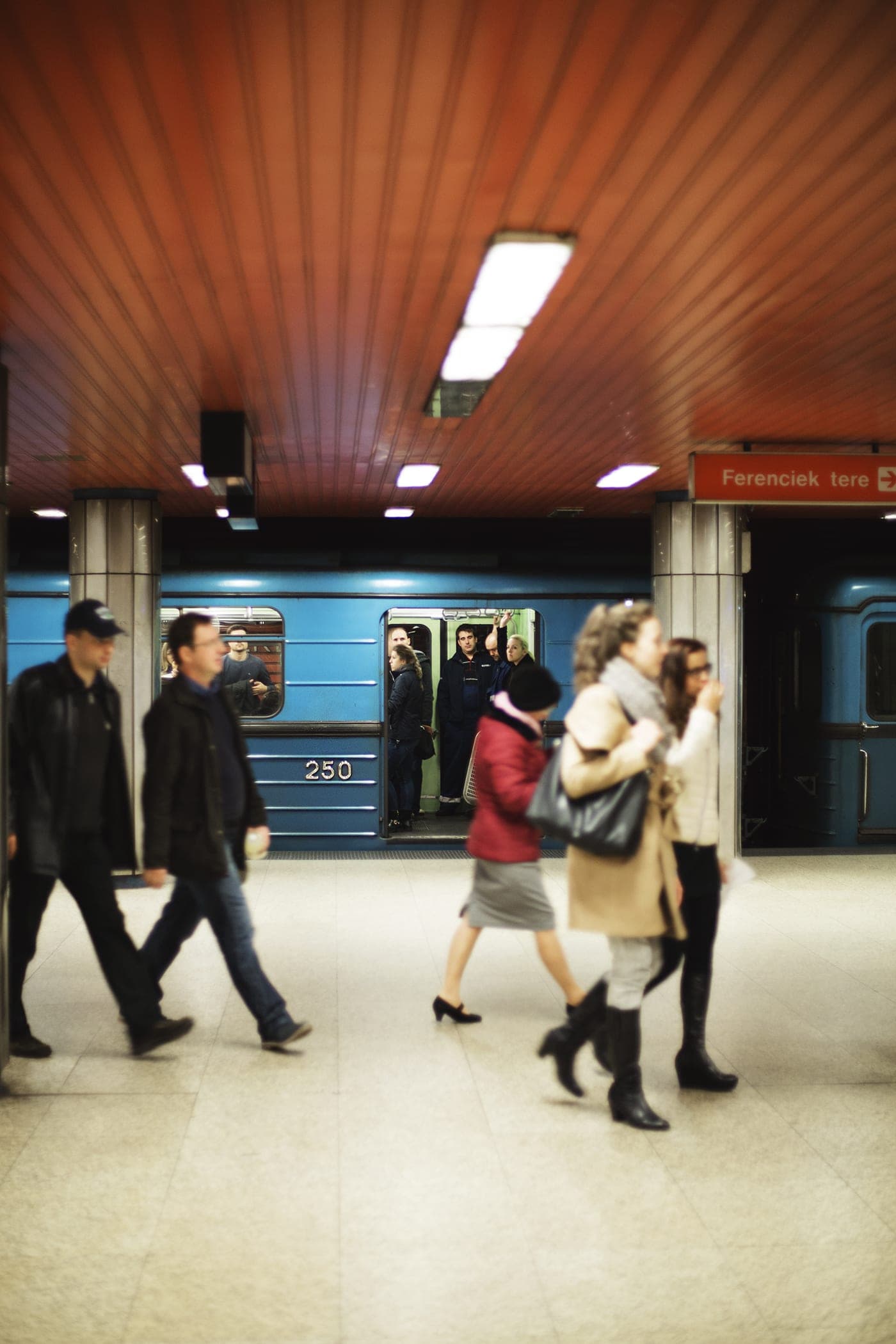 I can't believe I didn't realise the city was split in two by the Danube river. I only found that out on arrival which was a fun fact to learn, not to mention kind of essential for having any idea what was going on. The hilly, leafy side is Buda and the more urban side is Pest. We stayed in Pest and spent most of our trip there. Even though it's not as 'posh' as it's sister I still thought it was stunning and had so many interesting places to visit. One part of Buda I can really recommend is the view from the hill where the palace is located. You get amazing panoramas on both sides and the cobbled roads leading to Fisherman's Bastion were so pretty, particularly with all the autumnal colours lining the streets. If you go on the original walking tour you'll head up this way, across the chain bridge. Oh and you can watch the strangest changing of the guard I've ever seen. They did some kind of crazy ballet jump half way! It's worth it just for a giggle.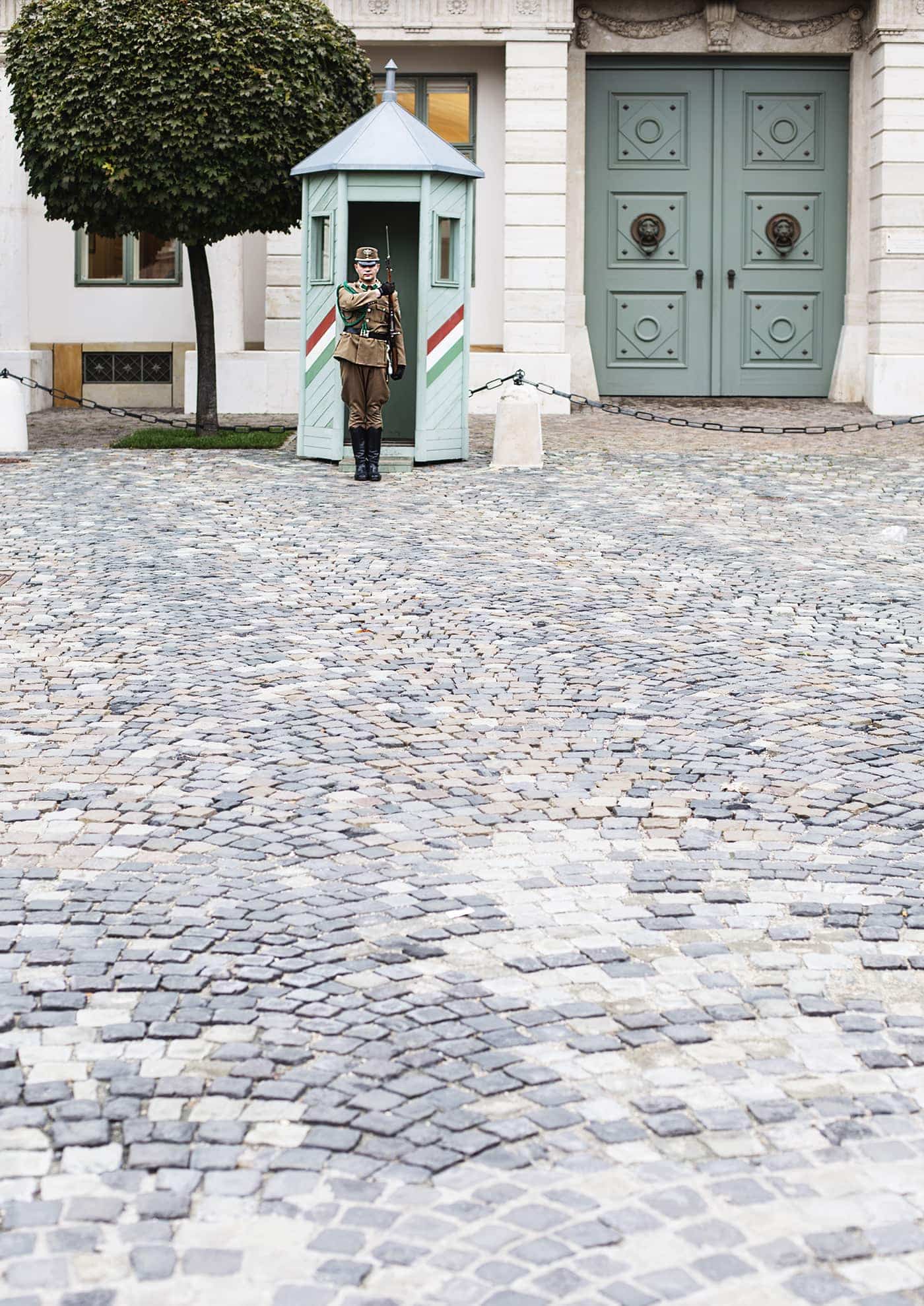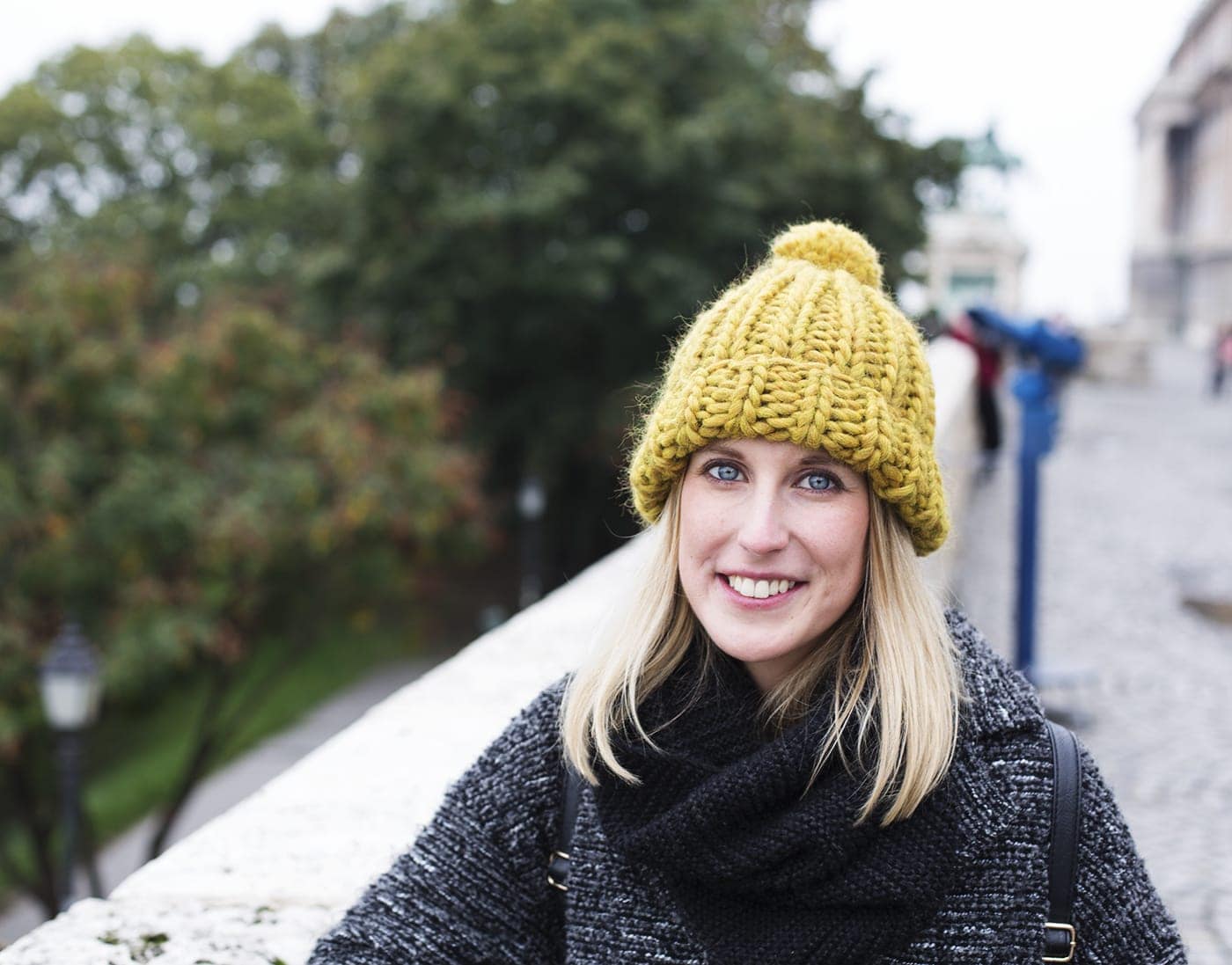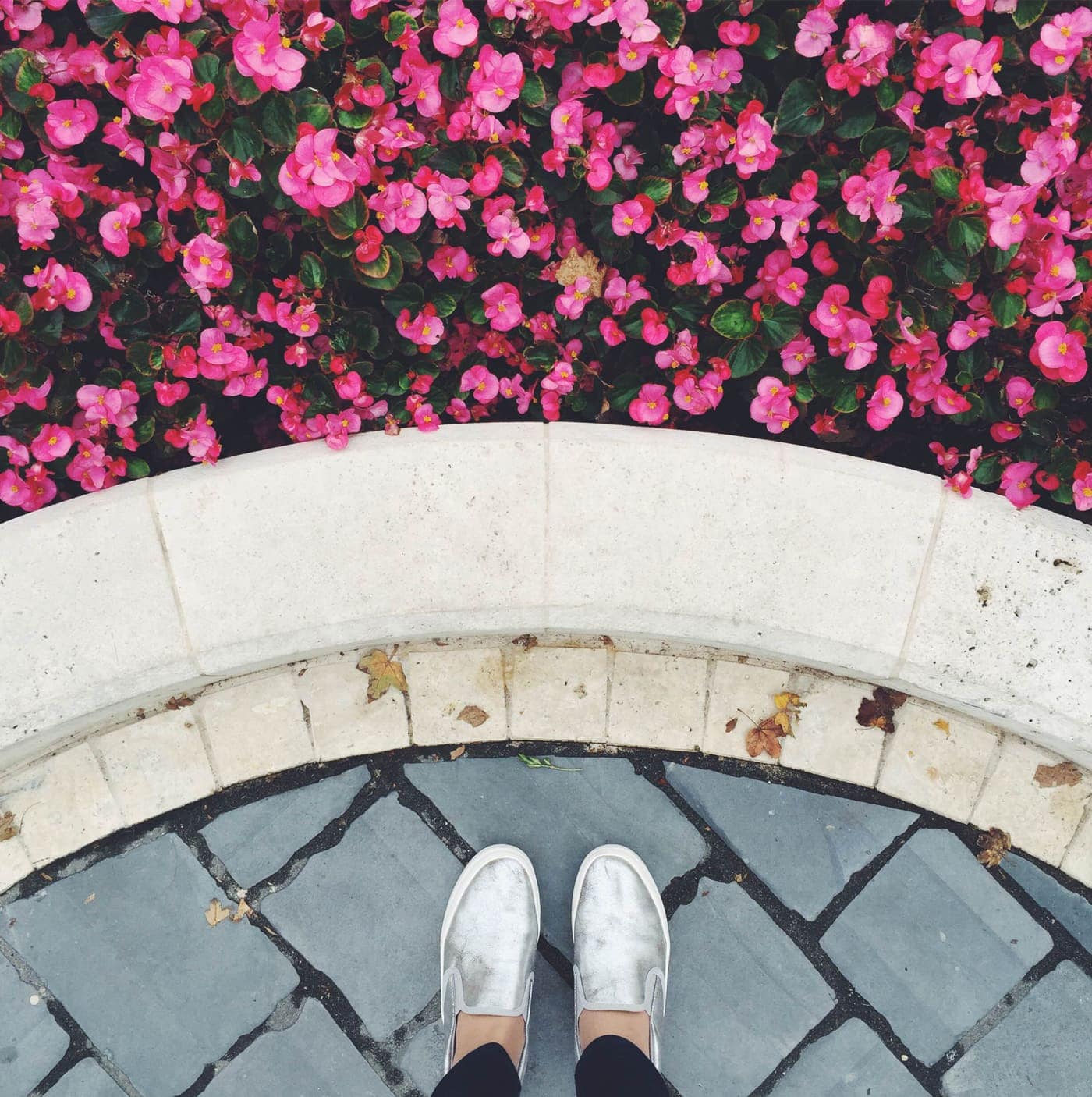 We ate really well in Budapest and people aren't lying when they say it's cheap there, so it's a great place to visit if you have a tighter budget…or you can get fancy and live like a Sloan ranger and spend no more than you would in the UK. The first day we arrived we were exhausted. My sprint to the finish line with work, plus a plane ride on top had left me like a limp doll. We headed round the corner to Zing Burger for something easy and experienced fast food at it's best. Those burgers were pure gold and you could definitely taste they were 100% beef unlike the usual patties we get in the UK. Zing Burger can also be found at some of the street food courtyards selling their yummy cow produce. On a totally different end of the spectrum there's Vege City, a wonderland of healthy, vegan treats that cater for all those dietary requirements you might find tricky. Their cold pressed juices were less than £2.00 and you'll be spoilt by a huge array of salads, hearty meals, bean burgers and naturally sweetened desserts. Who said Budapest was all meat laden Goulash?!
Obviously we did need to try the famous local dish and even though I wasn't massively excited about my first encounter it was actually really delicious. I really enjoyed the falvoursome pork goulash served with their pasta like dumplings. Take a trip to Market Hall and head to the top floor where you can find lots of these local dishes to tuck in to. You may laugh at the intimidating portion sizes but just say no to extra potatoes, pasta, cheese and cream. They know how to pile on a warm layer for winter that's for sure! The market also has an abundance of fresh fruit, veg, meat and preserves. I was struck by the rows and rows of perfumed local honey everywhere you looked. If I'd had a bigger allowance I would have been stockpiling that stuff to take home for the months ahead.
For those of you who don't know, my husband is a total coffee snob and as soon as he found out there was a whole trail of good independent coffee shops in Budapest, he suddenly seemed much more up for my holiday suggestion. We started with Fekete which was probably my favourite of them all, mostly because I was obsessing over the interiors as well as my moist, poppy seed plum cake. I can't vouch for the coffee in any of these places as I recently stopped drinking the stuff but the husband approved and I can safely say the tea was top notch for my amateur standards. Don't miss this peaceful gem, tucked away in a courtyard. We spent hours in there reading and brainstorming ideas for what's left of my website update.
Some other great places for those coffee fiends out there were Espresso Embassy, My Little Melbourne brew bar, the small but perfectly formed Kontakt and Madal. I definitely rate the perfectly tasty iced tea from Kontakt, served in a glass that shot me straight back to year 9 chemistry lessons. Nick was left raving about their nitro cold brew which did look pretty impressive I have to say.
As I said before we were staying right near the ruin bar district tucked away in the Jewish Quarter, which is great for fun nights out and cheap and cheerful meals. These buildings were ruined by bombings during the wars and have been transformed into quirky watering holes, with crazy decor and all manner of randomness around every corner. Szimpla Kert is probably the most well know of the ruin bars and is well worth a visit although I semi regretted not heading there in the day to snap some of the fun interiors in the light. If it's quirky atmosphere doesn't do it for you then a glass of wine at 60p sure will!
There are also a few street food courtyards around this area with too much variety to make any kind of informed decision. I was drawn to a van totally devoted to all things cheese, sweet and savoury and it was gooood! We also checked out Iskola, an old school that's been turned into a restaurant and bar. The walls are plastered with old pages from kid's books and the place is kitted out with school tables and chairs to match. We had some typical Hungarian grub which also went down well and 2 courses cost £2.80!!! That's insane! You can tell I get overjoyed at the sign of a bargain.
For some speedy meals that aren't so Hungarian but equally tasty, try Hummus Bar which does what it says on the tin. We also love Burrita for their generous portions of spicy Mexicana and delicious salsa selections. We tried Pad Thai Wok Bar a healthy Thai food haven once and loved it so much we had it as our departing lunch too. You can choose each element of your dish; grains, protein, sauce, herbs and extras. It's totally delicious, particularly the pad Thai which is probably why it's named after it.  Along with that the Hungarians are big on pastries and you can pretty much grab one on every corner. I missed the buttery sweet smell wafting through the air when we got back home.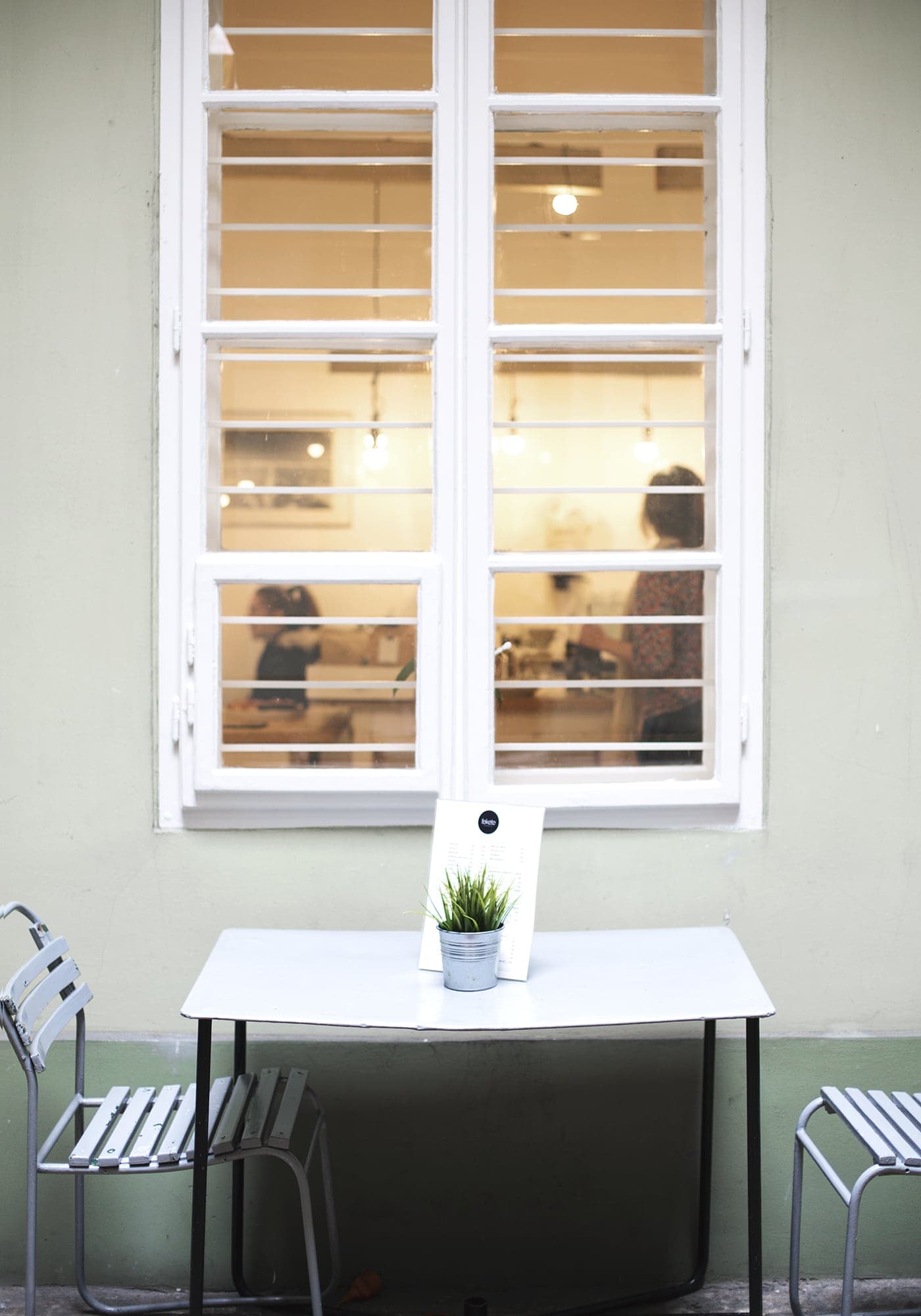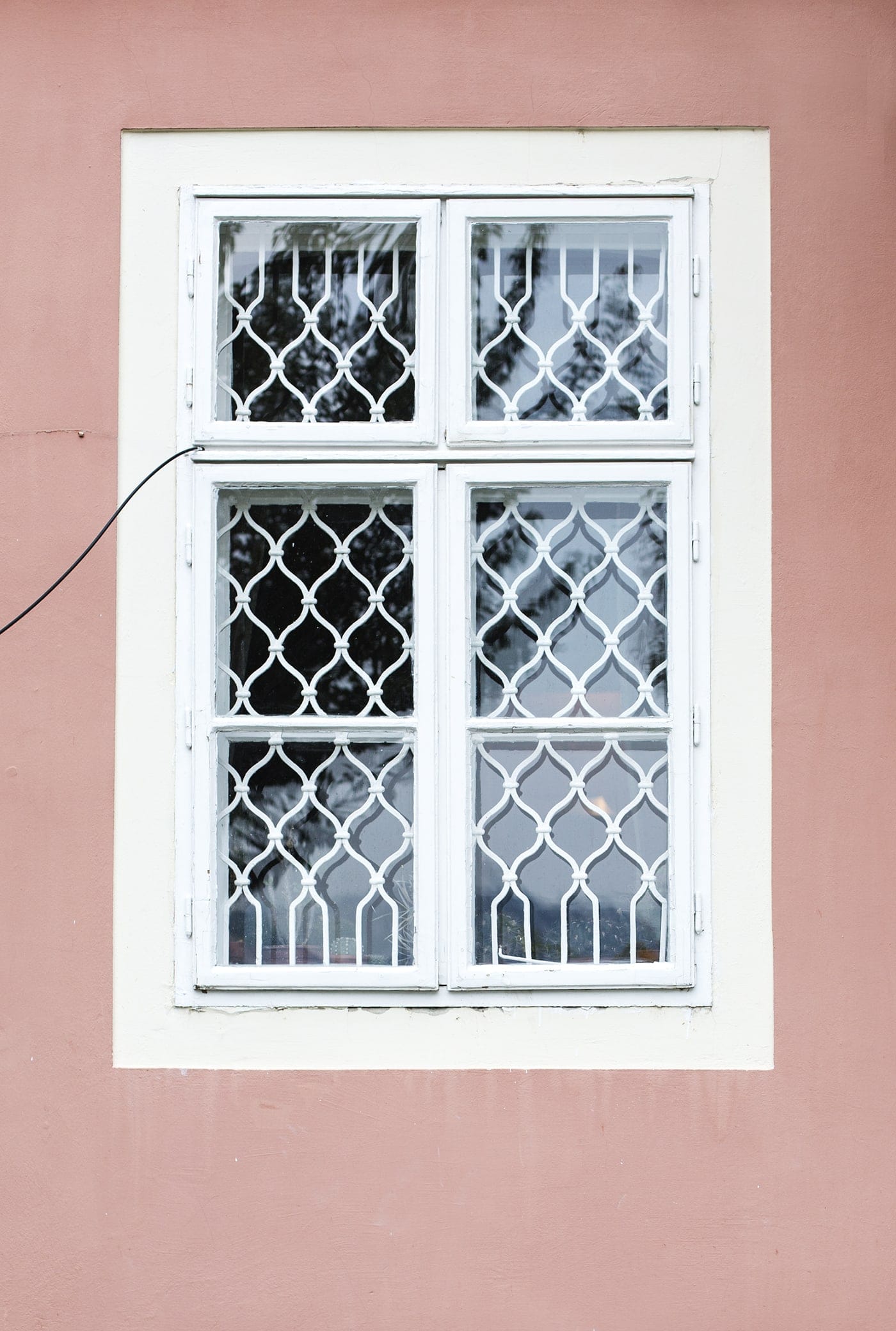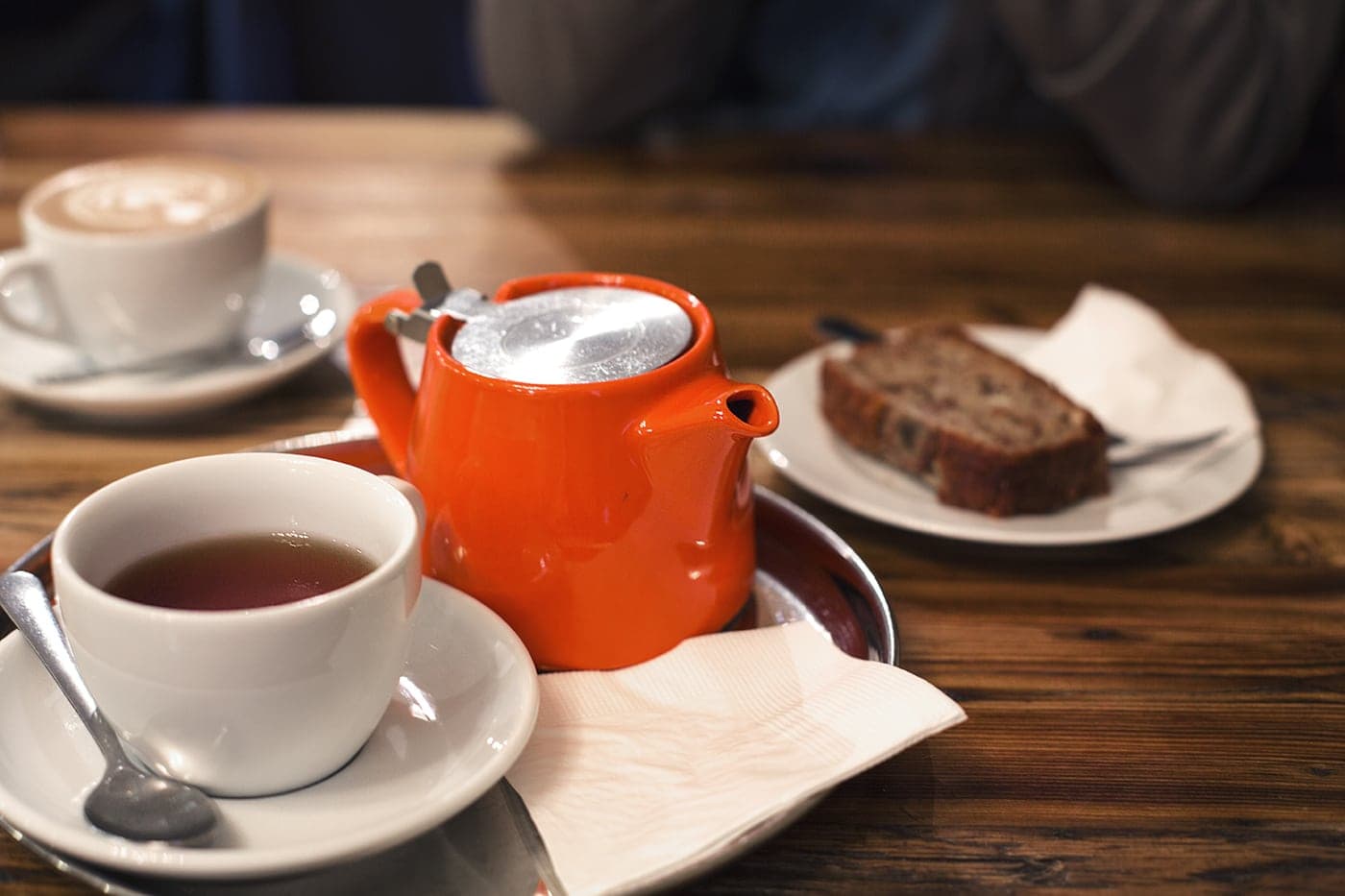 You can walk most places in Budapest if you're fit and healthy and up for that sort of thing on your holiday but you can also buy a weekly pass for the metro and trams which is really reasonable and unlimited. You might want to take the famous scenic tram 2 route along the river to get some nice views on the move as well. We tried but sadly some of the line was closed when we went.
The parks are a great place to make your way to as there's often things going on. We stumbled across an open air photo exhibition in one all about food in different cultures which was a welcome surprise. There's even a fairytale castle to ignite your childhood, princess dreams in the City Park. This is the biggest of all the parks and also houses the Szechenyi Baths. There are quite a few bath houses through out the city, tapping in to the natural spas, but we chose this one as our relaxation for the day. There are outdoor and indoor baths, all heated at different temperatures and even the outdoor pools keep you warm on a chilly day. I didn't believe it until I tried it! There's also all sorts of treatments you can indulge in if you feel so inclined. It's the perfect way to soothe aching legs after a few days exploring the city.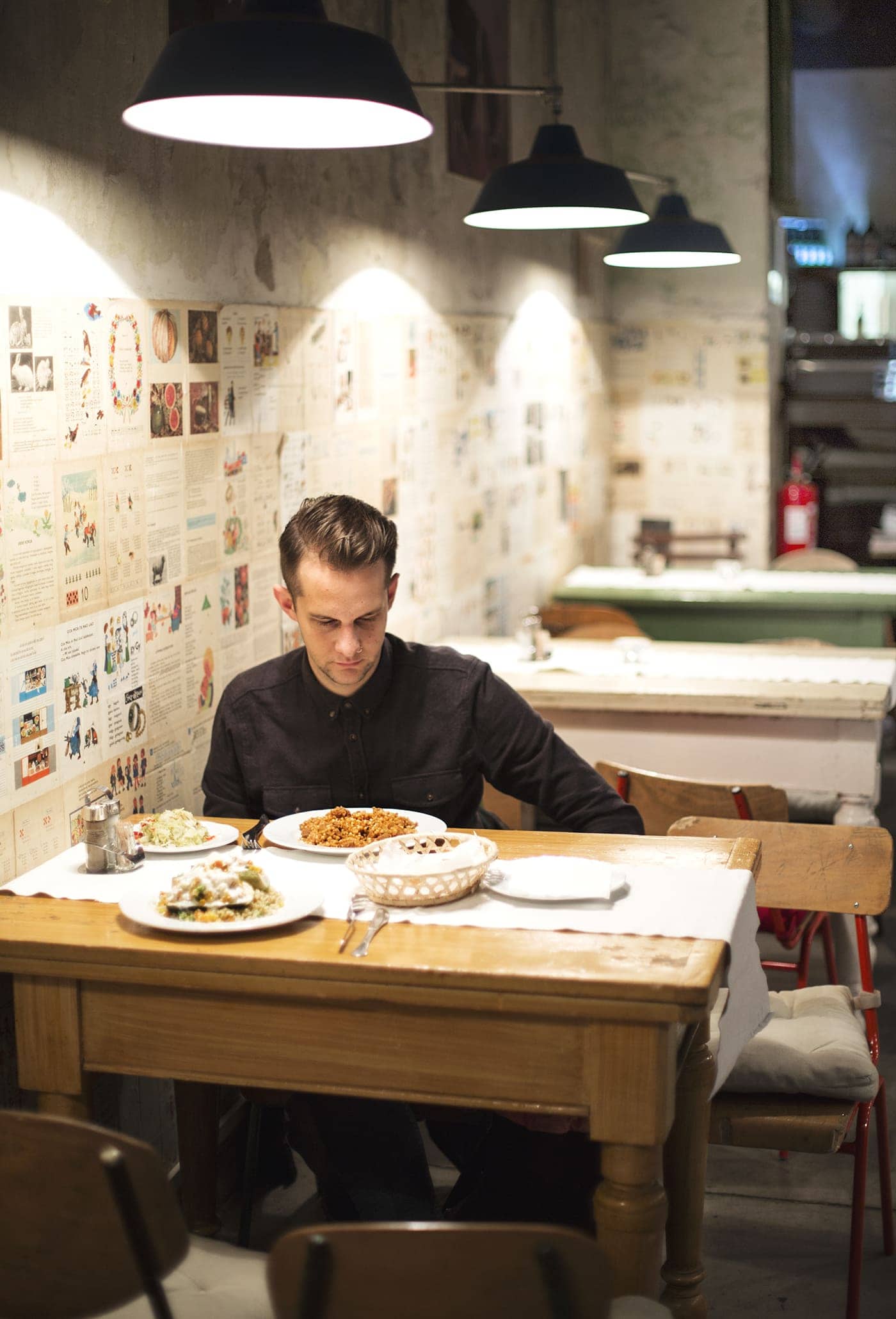 We mainly soaked in the sights wandering the streets but there's plenty you can pay to get into. We were happy to admire St Stephen's Basilica and parliament from the frosty outdoors but one thing we did pay to get into was the Museum of Terror. It was actually round the corner from our Air bnb and may sound less than appealing by the name but it was such an interesting few hours spent. The museum tracks the Fascist and Communist regime's affects on Hungary throughout the 20th century, uncovering a whole world of suffering at the hands of dictatorships. There are some eye opening stories and accounts showing the grip both had in Budapest and throughout the country with the actual building serving as a memorial to those that were interrogated and tortured inside. I advise paying the extra for the commentary otherwise an extreme amount of reading lies ahead. Unfortunately we arrived at the same time as an enormous stampede of college students who successfully cleared the whole place out of English headsets, booo!
There's also Ecseri flea market which I've heard is worth going to if you're a magpie for a bargain but we didn't end up getting there. I've come to realise that Nick gets bored pretty quickly in places like that. I don't think his brain can fathom why I'm rooting through old 'junk' piles. I settled for marvelling at all the colourful flower stalls dotted around the city, scattered with a seasonal assortment of mini pumpkins in between blooms. 
I was sad to say goodbye to this beautiful city but so happy to have had the opportunity to explore. I always come away from city breaks super inspired by what I've seen. It was great to relax but it also gives me the little creative burst I need to set in motion future work projects. Having been really unwell in the run up to the trip I was dreading being stuck in bed clutching a bowl but I was so thankful to only be unwell one night and totally able to get out and about on adventures the rest of the time. Praise God!
I hope I've inspired you to take a trip to this lovely place. I can see how it would be a totally different experience in Summer too, with lots of outdoor eating and clearer views. I know it can get quite hot from friends and family that have been, but I enjoy wrapping up in warm layers and defrosting in cosy coffee shops for city breaks. Oh and don't worry about speaking Hungarian as every one speaks English and I didn't feel so guilty about it with so many Hungarian's saying what a ridiculously hard language it is to learn!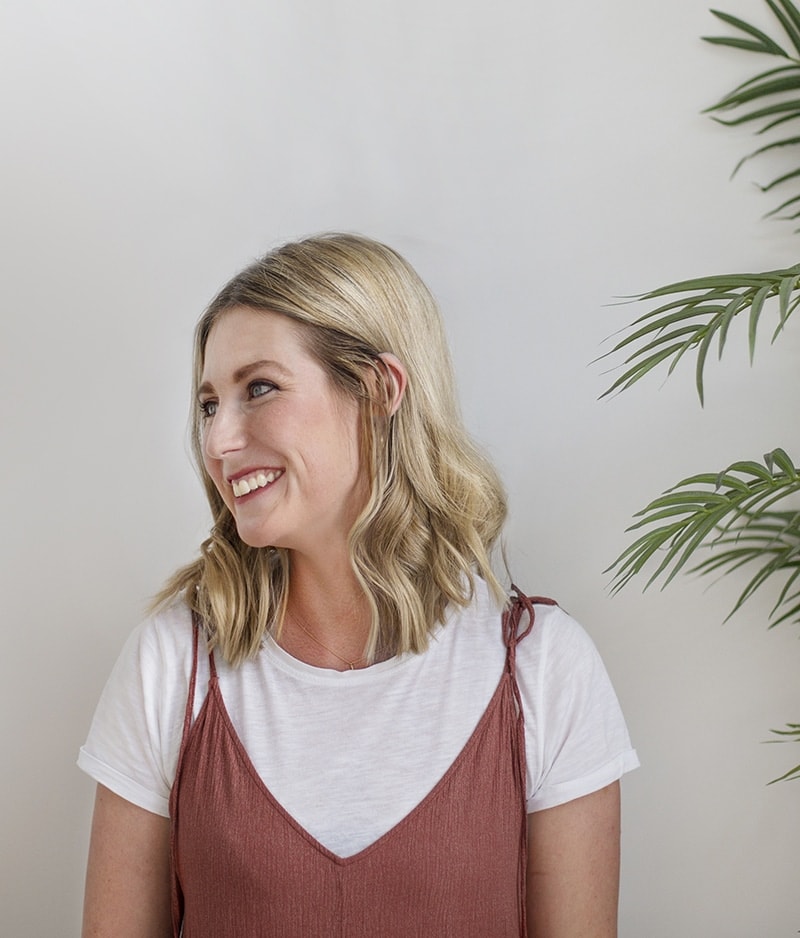 Hi, I'm Teri and welcome to my own creative corner of the internet. I blog about interiors, DIY projects, design inspiration and my general life so stick around have a read and say hi.
Work with Me
The Lovely Drawer is an award winning blog with a loyal audience that has grown over the years. I love working with brands small and large on exciting collaborations that can bring products alive in my own signature aesthetic.