We really weren't sure what to expect when it came to how Maggie would adjust to a baby brother taking up permanent residence in our home.We were reasonably sure she'd love him, having watched just how much she's always adored babies. She's so gentle and affectionate with all the babies she's met in her lifetime, it was looking pretty positive but there was still going to be an all encompassing little life, crashing into our world that would be here to stay! As most parents seem to do, we decided to get Maggie a gift 'from Lars', hoping to make the first meeting a positive one. She had been very keen on the dolls house in her book 'Goodnight Moon', pointing and saying 'you' (me) every time she turned the page, so it seemed like a good choice.
We managed to find this gorgeous Ollie Ella wooden dolls house selling for cheap on Ebay and knew it was the perfect blank canvas to get creative. Can you tell I had so much fun doing it up? Possibly more fun than she's even had playing with it! Here's some simple steps I took to transform this pad…
Get some colour on the walls
Make it feel more homely by painting each room. I used my left over Grand Illusions Vintage Paint which is great as it's a chalk paint that comes in lots of lovely colours and is plastic and VOC free. You could also buy a few tester pots instead, as you won't need much. I painted two coats in each room and voila! Try cutting some card to fit and protect the floor of each room while you paint if you want to leave them bare.
Adorn the Walls
I had a great time decorating the walls. Firstly I found an embossed tile paper to use in the bathroom, toilet and kitchen. Just cut to size and stick in with some all purpose glue. Then I recreated my own wall art by printing out my artwork (is that weird) teeny tiny and laminating each one to give the illusion of glass. I then measured and cut out cardboard frames using a scalpel and stuck them over the top. The wall hangings were simply made by tying embroidery thread around a matchstick, cut to size. Easy peasy!
Bring the cosy
No home is complete without soft furnishings! I kitted out the house with this super simple wooden bundle of furniture. I then attacked my drawer of fabric scraps to add a little extra. The duvet was cut from an old linen napkin and the cushions were hand sewn and stuffed with some wading.  The rugs were made with a suede scrap and then a section of a textured cushion I'd been saving. All really easy but effective.
Wheel in the Greenery
Just like our home wouldn't be complete without an abundance of faux plant life, this house is no exception. I ordered a few pieces from Etsy. One was a bargain but I hated the pot so I simply wrapped some more of the left over suede around and stuck at the back to create a nicer pot. I found these teeny plants from a gorgeous Etsy seller too. They're totally adorable! You could equally make your own from offcuts of any faux greenery you have knocking around your home, glued into wooden beads.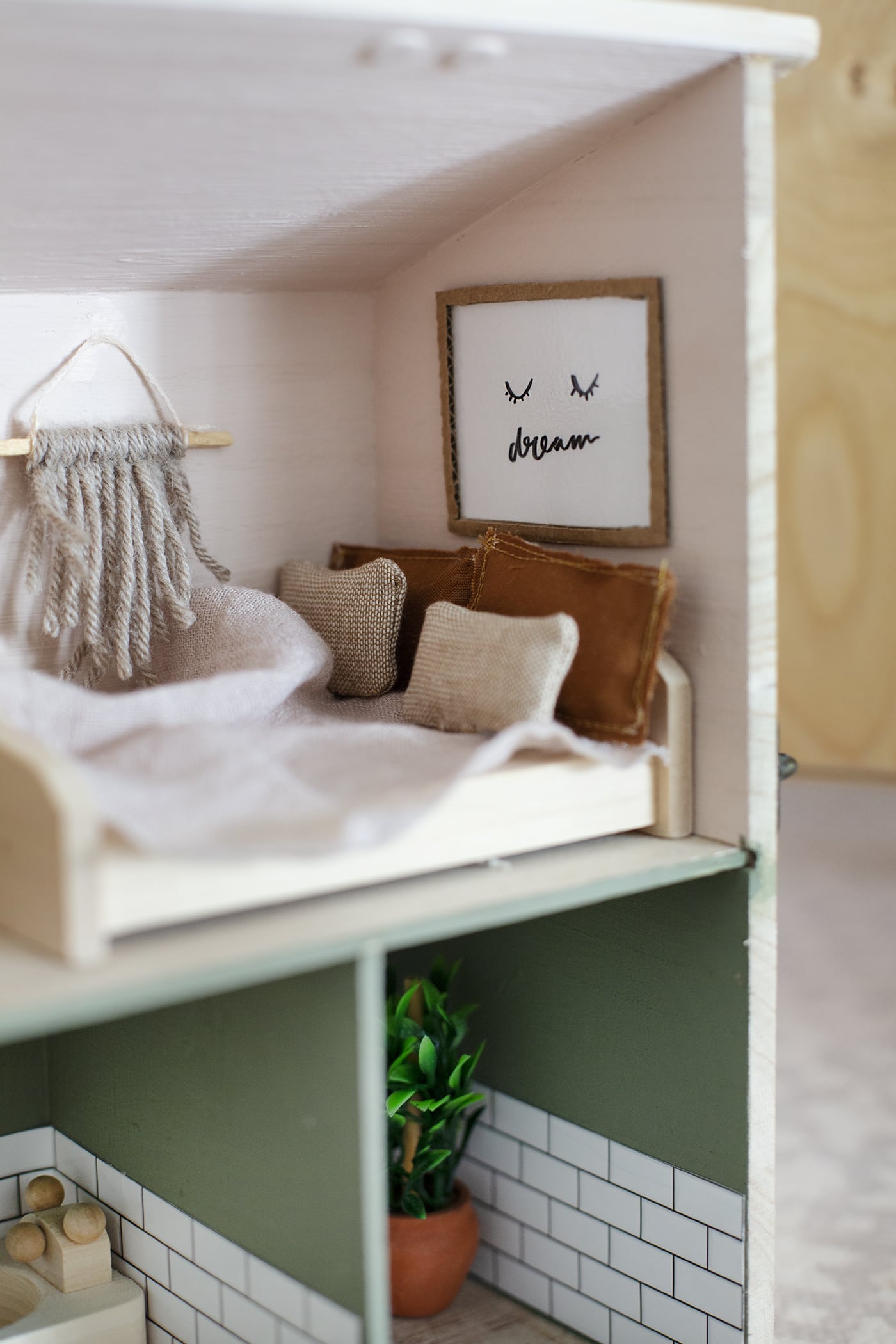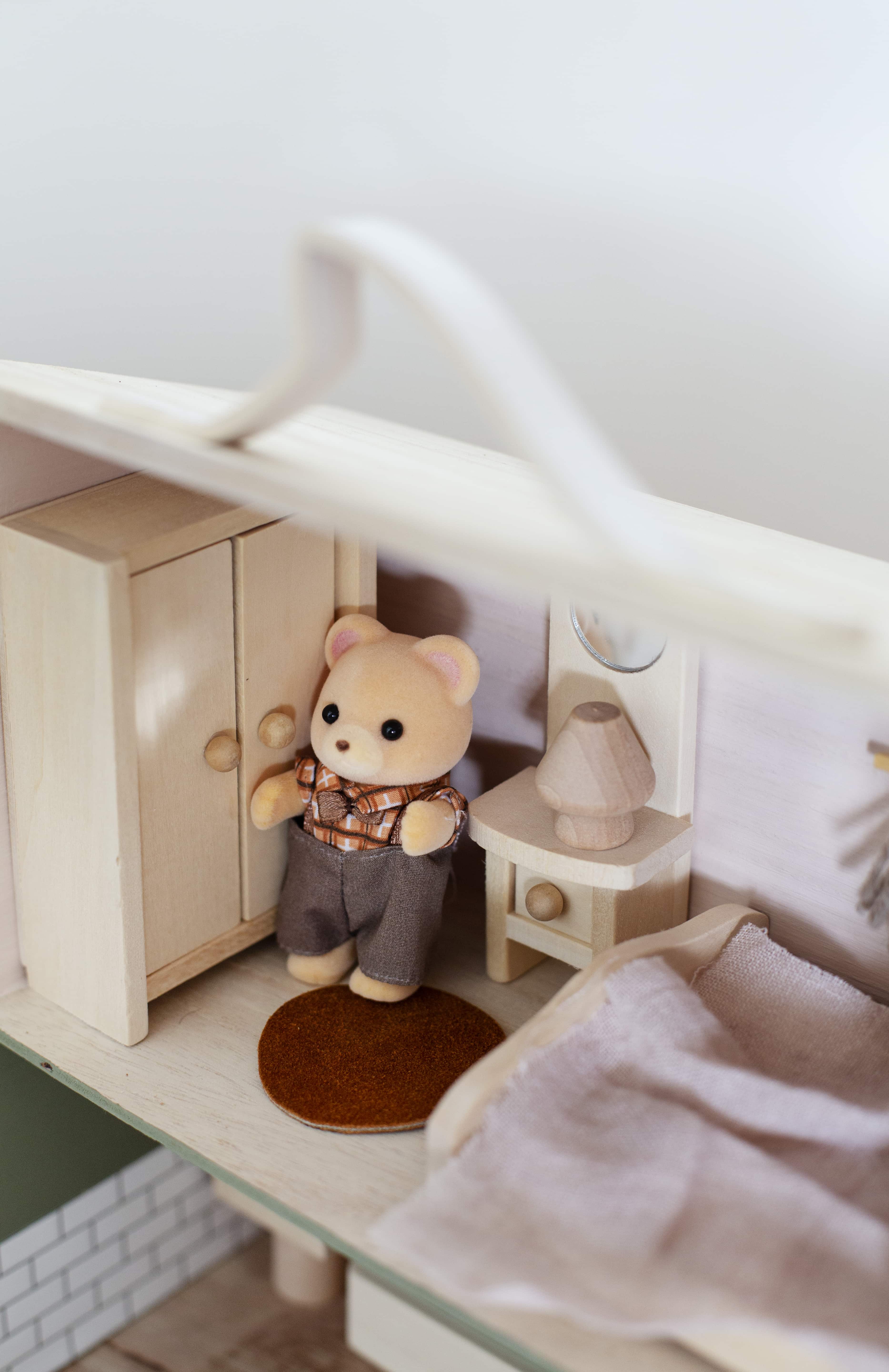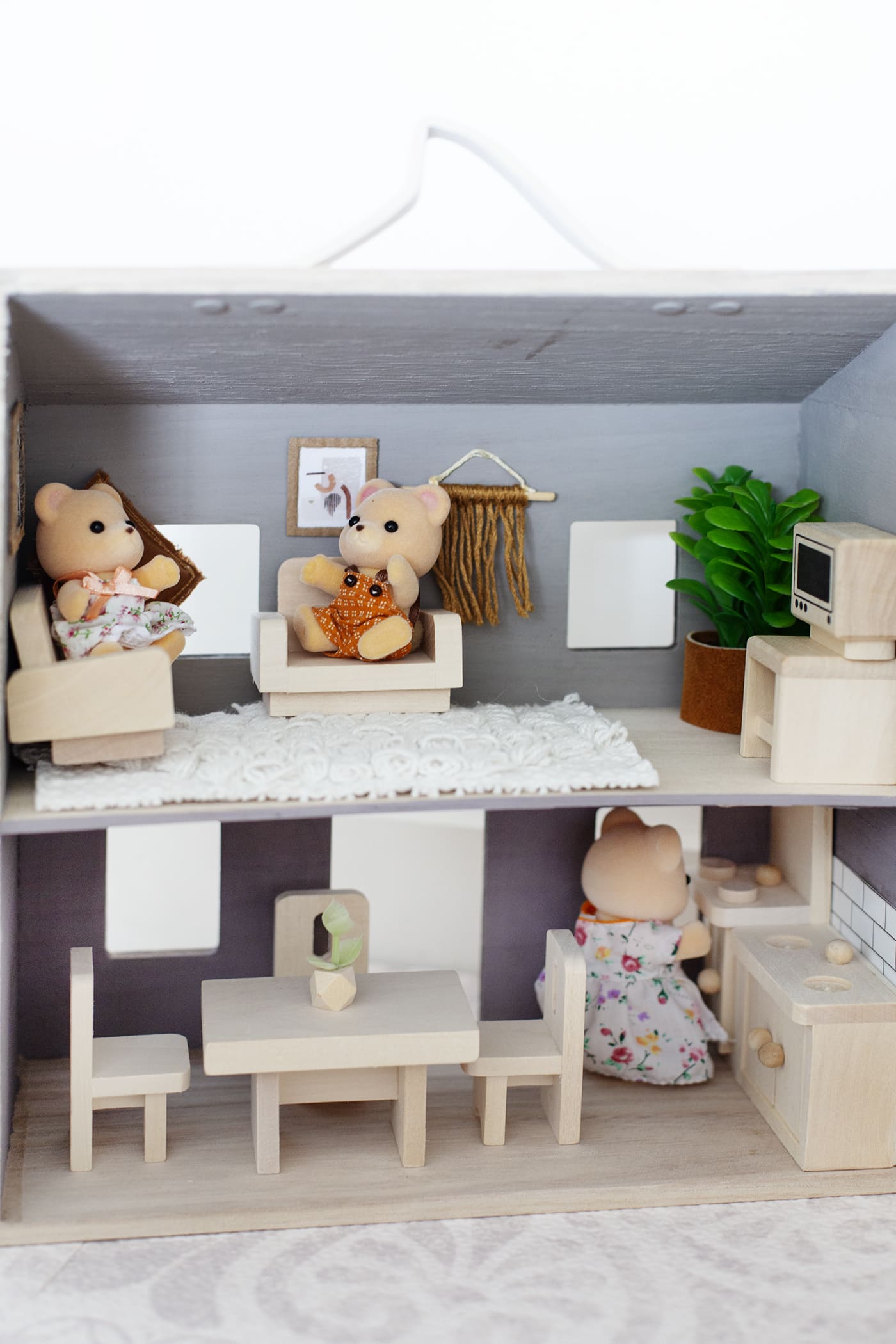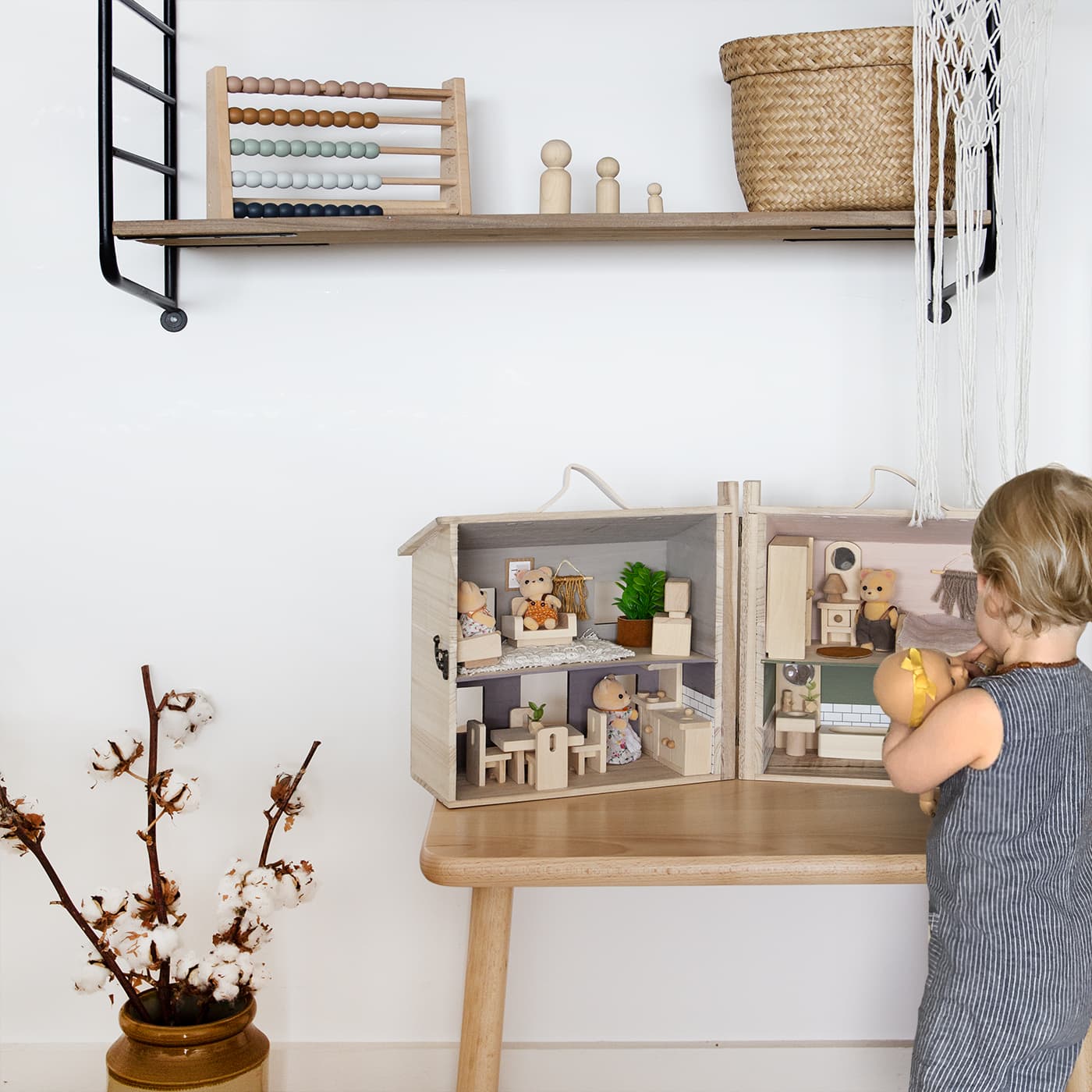 Well Maggie is certainly finding the adjustment to having another member of the family really tough but she's taking it out on Nick and I rather than little Lars. She really does love him and spends most of the time wanting to hold him, kiss him and stroke his feet. We had the dolls house all wrapped up, waiting for her when she arrived with Granny and the look on her face was priceless! The house is one of my breast feeding entertainment tactics, hoping she'll stay occupied while I feed the littlest.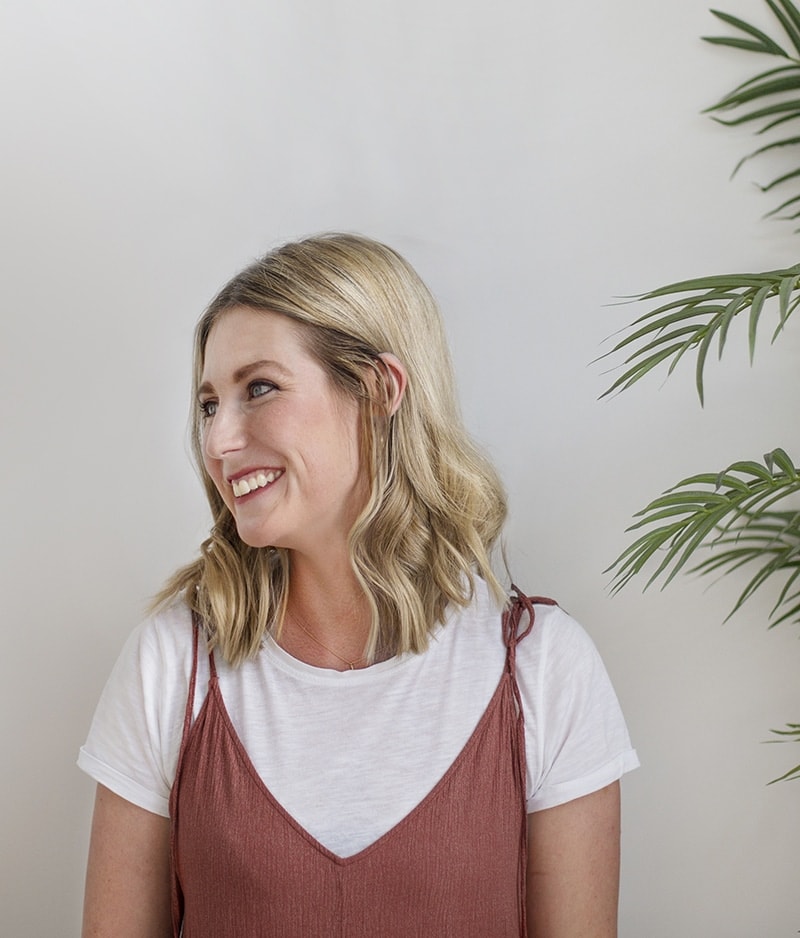 Hi, I'm Teri and welcome to my own creative corner of the internet. I blog about interiors, DIY projects, design inspiration and my general life so stick around have a read and say hi.
Work with Me
The Lovely Drawer is an award winning blog with a loyal audience that has grown over the years. I love working with brands small and large on exciting collaborations that can bring products alive in my own signature aesthetic.