These were another Christmas present make but could easily work for any gift during these chilly winter months. I made the mugs a bit more fun with some blackboard fun. Warm your insides and get doodle happy at the same time, lovely. You'll need the following to make up your kit….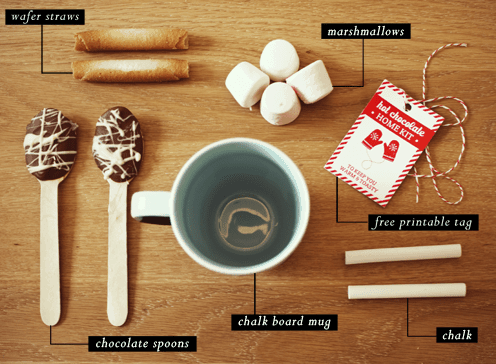 They are really easy to make…
First melt white and milk chocolate. Pour the milk chocolate on to your wooden spoon and chill for 10 mins. Then drizzle the white chocolate over the top and leave in the fridge to set completely.
Then take a plain mug and mask off half off the top half. Paint with two layers of blackboard paint, leaving it to dry in between. It smells pretty pungent! Peel off the tape when it's completely dry.
Download the tag here. Print and cut out your tag. I printed the front onto card and the back onto paper and then glued the two sides together with spray mount. Use a hole punch to create a hole to thread your string through.
Now you can put everything together. Fill the mug with your goodies and then you'll need some cellophane to hold it all in as a package. You can buy this online or try my trick and ask a florist…they might give  you some for free! Pull together by tying a bow that holds both your tag and chalk in place.