This is a paid post in collaboration with We Are Knitters
Sooooo…knitting. People always expect me to be a pro, you know seeing as I was a textile student and all that.Oh how wrong they are. I tried it in one of my BTEC textile classes at college and hated it, mainly because I got so frustrated with myself constantly forgetting what I was doing. I was calling the teacher over every 2 minutes needing a reminder as if I was suffering from a serious case of short term memory loss. I gave up half way through the class, laughed about how terrible I was and resigned myself to just not being a knitter. That was 13 years ago! 13 years of avoiding knitting like the plague but also kind of wishing I could do it at the same time. It's one of those things that looks quite relaxing on the right person; something you can pick up and put down as and when, not to mention actually being able to make things you can really use. The idea was appealing but I was very much of the mindset it wasn't for me.
When We Are Knitters got in touch about working together I laughed at first! I thought they'd 100% come to the wrong girl but then I looked through their many different knitting kits and realised they produced all sorts at various different levels I wondered if I might be able to give the total novices out there a little window into using the kits to get started. I bypassed anything on the website that wasn't labelled 'beginner' and came across this adorable baby bonnet kit. I was assured that each pattern comes with instructions and most of them lead you to videos on their website which for me is a much better way of learning rather than reading a bunch of instructions over and over. I thought perhaps this was my route in to the world of knitting, starting very small and hopefully producing a bonnet for our little baby boy on the way.
I don't know about you but I'm really bad at just doing one thing at a time. If I'm working, I'm usually listened to podcasts at the same time or if I'm watching TV I'm usually catching up on emails, scrolling instagram & replying to DMs on my laptop or phone or doing the online food shop. I was hoping knitting might become the thing I do when watching TV. Mindless enough once in the flow that it's easy to really focus on what we're actually watching but also something to do with my hands to stop me from getting all restless.
So how did it actually go?…well I'm going to be honest I was in a complete fluster at the beginning and was ready to throw my needles across the room (ask Nick)! The kit is beautifully designed and comes with your wool, needles, sewing needle, thread and instructions which made me feel confident to start at least. I got the videos I needed up and had them on half the speed, repeating them over and over. That was the amount of repetition I needed to really get a sense of what I was doing, but it made me realise just how impatient I can be with certain activities. I like instant results when it comes to crafting and this just isn't that sort of activity regardless of whether you're good at it or not. So the instructions should probably also read 'BE PATIENT'.
After a couple of hours of me totally raging that I wasn't getting it, post casting on, I realised that writing each part of the pattern down was going to help un-jumble my head sand give me a clear idea of what I was doing. The instructions do tell you to circle the pattern size you're working on in each step so you don't get confused and at first I'd ignored that so…you know, top start Teri! I ended up writing each step out from casting on to each individual row plus each row which needed two knitted together on either end to casting off. That way I could use it as a sort of tick list and mark each row off when I was done it. I'm not the sort of person that can hold a lot of info in my head so this was great and I'd highly recommend it if you're a fan of working your way through a to do list.
Once I got into a flow I did actually start to enjoy it and I could even catch a glimpse of why people find the action of knitting therapeutic. Every now and again I'd get a bit stuck and have a crisis moment wondering what the heck I'd done but then I just had to go over what I'd learnt and keep on going. I took it with me on our little baby moon to do in front of the TV each evening and then it was even handy to have on the train with a podcast in my ears, particularly useful when our train was really delayed on the way home. In the same way I love brush lettering, knitting gets you away from being totally absorbed in screens for work whether on a phone or laptop. It really did help me to switch off from all the work buzz and relax.
I can see it's one of those things that really does get easier the more you practise and whilst my bonnet is by no means perfect (don't look too closely), it's given me the confidence to understand the process and now I'm eager to make another one, perhaps one that looks a little more polished.
If you look through the website there are soooo many gorgeous kits on there and some particularly amazing jumpers which I'd love to be able to make one day but are currently just a tad out of my league. It's really nice to have something to pick and put down once the technique is in your head and the approach that We Are Knitters takes with providing videos to help you learn makes life so much easier. You can easily find all the video tutorials on the site as prompted by your instructions.
So here's to giving knitting a go and to hopeful getting better and more confident! For all of you who already love knitting then why not head over to We Are Knitters to try their more advanced kits. I love that I genuinely want to own the garments from each kit. Definitely something to work towards and that satisfaction when asked about where your scarf or jumper is from and you get to say 'oh I made this'. Unbeatable!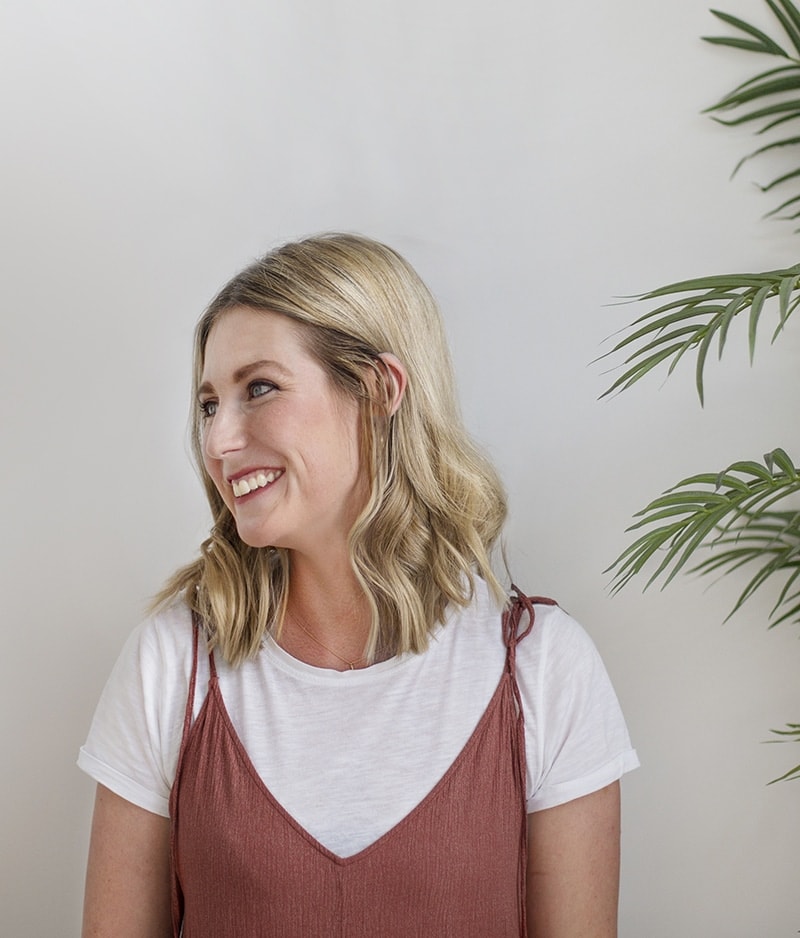 Hi, I'm Teri and welcome to my own creative corner of the internet. I blog about interiors, DIY projects, design inspiration and my general life so stick around have a read and say hi.
Work with Me
The Lovely Drawer is an award winning blog with a loyal audience that has grown over the years. I love working with brands small and large on exciting collaborations that can bring products alive in my own signature aesthetic.