This post has been a long time coming! For a while I've had a lot of very sweet people asking where Maggie's clothes are from on Instagram and whether I'd do a blog post on her style. It has to be said I have a lot more fun dressing her than myself and I'd be lying if I said it wasn't one of the first things on my mind when we were told we were having a girl. Ooo the outfit possibilities!
I have to confess this may be a bit of a disappoint as I'm not really going to introduce you to lots of cool, unheard of brands. Sadly she doesn't have many clothes from small indie boutiques, much as I wish that was the case. I had all these grand ideas of how my baby would be dressed in gorgeous, organic cotton outfits, hand screen printed with chic patterns but when it comes to reality we probably wouldn't be able to eat with the amount we'd have to spend, churning through clothes at the rate she grows! I'd love to be able to support more of the smaller businesses in this area of life, but sadly when it comes to clothes we just can't at this stage of life. But hopefully some of these affordable ideas will give you some inspiration on how to dress your bubba stylishly without having to sell an organ and then you can save a little towards the occasional indie item to treasure. I tend to scout the sales when it comes to independent brands, nabbing a bargain and then invest in items with more longevity like toys, accessories, muslins and blankets.
As you know I'm a lover of monochrome and very limited colour so I've spent most of my energy trying to find lovely outfits for girls that aren't pink, lilac and more pink. I didn't however, quite realise how much of  a uniform Maggie had until I put this series of images together. It's pretty much black, white, grey and mustard on repeat over here! If you're that way inclined then a handy tip is to always have a peek in the boys section too. When you wade past the cliche nautical patterns and embroidered monsters and trucks, there can be some really nice basics in a muted assortment of greys, charcoals, navy's and mustards. I love steering away from super girly outfits but accessorising with a headband just to clarify that she is indeed a girl. I just get frustrated with people asking otherwise. To begin with all of the headbands I had waiting in the wings were comically too big for her, more like neckerchiefs! That's when my set from Evie Michelle came in handy. She stitches sweet little bows onto soft elastic headbands and fit her right from birth but also stretched a lot for when she grew. If you get annoyed at headbands falling down then these are for you! 
I have to confess that this post has taken longer than i would have liked to put together which means we are now transitioning into a new season in the shops and therefore most of these items aren't available any more or at least have slightly different versions. I would go and have a little look in each as most of them have much more to offer in store.
My favourite bargain place to shop for Maggie is H&M. If you don't have one near you with a big kids section I've found ordering online great, with possibly even more choice. They stock lovely simple patterns and usually veer towards a pretty muted colour palette. If you're a fan of leopard print then you must get down there as they always seem to offer plenty. They also do accessories really well with sweet hats, scarves, booties, headbands and socks in colours that aren't 6 different shades of pink in one pack. They also work in 2 month blocks for sizing which is so handy, particularly in those in between phases. We struggled at around 2 and a half months as Maggie was starting to grow out of so many of her 0-3 month clothes but 3-6 months totally swamped her.  We ordered a whole bunch of 2-4 month clothes from H&M and they were perfect! 
If you want some mega bargains then make sure you check out supermarkets. You may have to do a bit more rooting around but there are some lovely things out there for super cheap! Maggie's well loved cloud pramsuit which is literally like a cuddly marshmallow was just £10 from George at Asda. My favourite selection is the 'Nutmeg' range at Morrison's! They constantly surprise me with how many lovely pieces they have. My most favourite socks came from there and I even had them in two sizes I loved them so much. They were a pack of mustard, grey and white in an assortment of polka dots and fox faces. So sweet! The only problem is you have to shop the range in store so scout out your nearest Morrisons. 
I have to say I picked up some great buys in Mothercare which surprised me. I had assumed that lots of their stock would be a bit naff and some of it is but I found some things that I was so sad for Maggie to grow out of. My favourites included a gorgeous monochrome patterned dress and headband set (the first piece of clothing we actually bought for her ourselves) and a monochrome (again) pair of patterned joggers. I have another pair nestled for her in a drawer for the next size up! They have blowout sales so if you're prepared the take some time to scout through you're laughing! Those repurchase joggers were £2!!
Marks & Spencer's is a classic choice but I once again was very impressed with their general colour palettes. I found their baby grows generally too busy but they really come up trumps on dresses. We've enjoyed some very sweet cord and denim pinafores as well as smarter dress. Two of my faves were in grey (obviously) and made with such soft, quality fabrics! The checked one is pictured below. I would say in terms of sizing M&S seems to come up quite short in the body so Maggie's grown out of them quicker. Just a tip for any fellow babies who sport a long torso. 
Next in the other hand has been a great fit each step of the way for Maggie. She has both a long body and long legs as she very much takes after her Dada, so if your bubba is the opposite then the fit might not be as joyous. Next have really excelled themselves lately with a whole section called 'monochrome & mustard', yaaas! There are currently a lot of things I'm lusting over and whilst you will have to sort through an abundance of things embroidered with 'mummy's special cherub' on them, there are certainly some gems to be had. We've enjoyed some lovely dresses like the monochrome striped and gingham numbers pictured as well as the sweet little monochrome, animal print romper pictured bottom right. She was just a month old here *swoon. 
All of the clothes pictured are from the above shops apart from the floral top and shorts set from Boden, the 'sleep thief' T-shirt from Rousso & Blossom, the mustard wooly hat from Etsy, the jazzy, monochrome patterned socks from Scout & Co, the yellow striped bodysuit that came in a pack of two sweet wrap style from Uniqlo and finally the grey knitted cardigan and jumper were knitted by talented friends.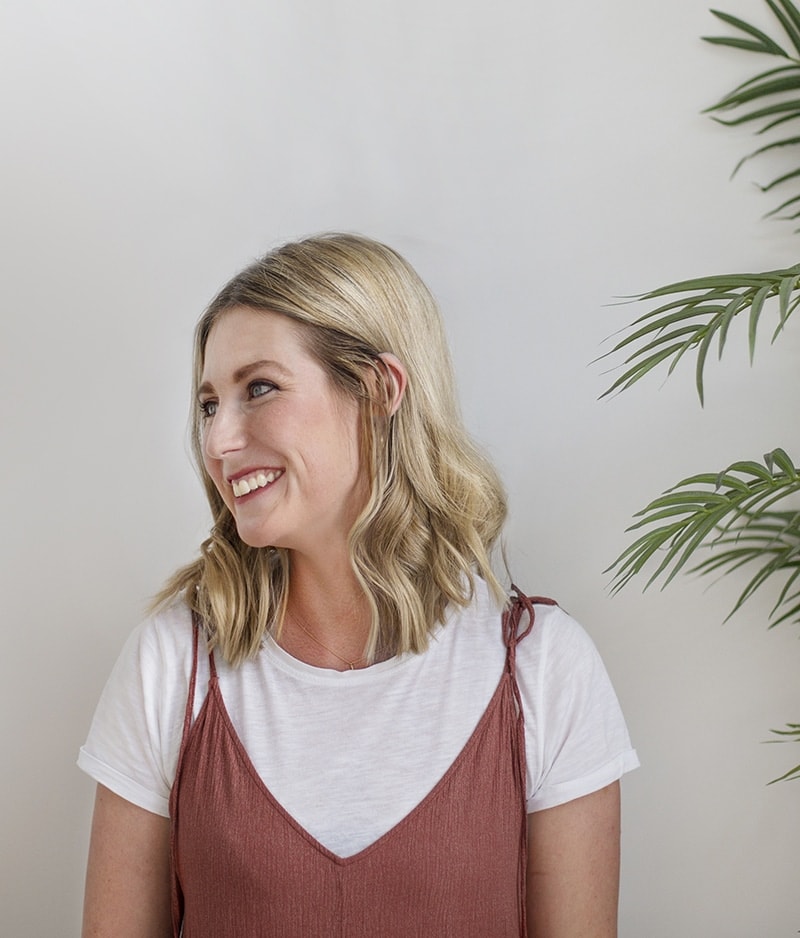 Hi, I'm Teri and welcome to my own creative corner of the internet. I blog about interiors, DIY projects, design inspiration and my general life so stick around have a read and say hi.
Work with Me
The Lovely Drawer is an award winning blog with a loyal audience that has grown over the years. I love working with brands small and large on exciting collaborations that can bring products alive in my own signature aesthetic.