How often do you open your home to people to enjoy good food and conversation? It's something we love doing but always make a point of keeping things simple, otherwise we wouldn't feel like doing it as much and after all it's mainly about the company and getting to chat over food. Being sat around a dinner table has this God given power to help us get to know each other and deepen relationships. I was so happy to be invited to an event a few weeks ago that was totally inspired by this whole notion. The event was to celebrate the launch of the new Jackson & Levine collaboration with Habitat and stems from their cook book and love of supper clubs.
They took us through the new range of textiles includes table runners, aprons, tea towels, place mats and napkins and each one is printed on woven cotton khadi from India. It feels a little like linen but is more tactile and pairs perfectly with their laid back style of entertaining. I love the signature stripe that runs the whole way through the collection, which makes it easy to pair with anything along with the botanical inspired prints which are simple and yet organic.
To go with the overall vibe we had a floral arranging workshop to make table decorations which as you can imagine followed this loose, laid back approach. We weren't trying to create perfectly formed bridal style table centres but instead had permission to go a bit wild and ditch symmetry. Then we enjoyed a mini supper club hosted by Jackson & Levine where we enjoyed some delicious treats from their cookbook and just got to know each other a bit. We were so immersed in the whole experience that we didn't realise it was an hour after the event was meant to finish, not to mention way past my bed time!
Tips to make dinners with friends a part of life
Keep the food simple. Simple can still be delicious, honestly. Get a little list of recipes together that have quick prepping times, the kind that you can mostly get ready before friends arrive. Then add some speedy flourishes to make it all look a little bit jazzier than it really is. I often thinking about using colour to make food plates look appetising or sprinkle with crushed nuts, herbs or sprouted greens to finish a dish off. Trying to cook something complex will only put you off having friends over often and will probably leave you hot and bothered and unable to enjoy the time with people.
Decorate your table in a few steps. Once again, no need to go crazy, just wheel out a table runner and placemats and you're already halfway there. These ones are perfect as it doesn't matter much if they crease a bit. Who on earth has time for ironing these days! Then grab a collection of jars or mix 'n' match vases or glasses from around the house and fill with some flowers or foliage. You could just have a few in each container to make it look pretty with minimum effort. If you have a garden or a wooded area near by you could pick some to use there for no pennies at all or just stop by the florist buy a bunch of eucalyptus to decorate the centre.
Create an ambience. Lighting can change the mood of a setting so easily. If you're dining during the day then natural light is great but if the suns gone down steer clear of overhead lighting, particularly strip lighting which feels so clinical and more like a hospital than an optimum time to unwind. Instead opt for turning on any floor lamps you have and light some tea lights on the table. The warmth of this lighting will add warmth to your evening and will undoubtedly help everyone to relax and have fun.
Make a playlist. Fun times like these are always better with music. Keep it really chilled and get your guests to add to the playlist so you can all get to know each other a bit better through music tastes too or reminisce about the classic tunes from your past.
Drink & be merry. It's lovely to crack open a bottle of wine or clink a G+T or two but even for those who aren't on the hard stuff, fill bottles with sparkling water and chopped fruit and mint. This is so simple but makes a non-alcaholic beverage feel ever so fancy.
Put yourself in your fiends shoes. If you're worrying that everything isn't quite right and not completed to your 'schedule' then just think about how you feel when you get invited to someones house for dinner. Are you really pulling apart what the table looks like or analysing if something is perfectly cooked or even keeping track of the time? I know I'm not. I'm just thankful to have been invited into someone's home to enjoy a meal with them.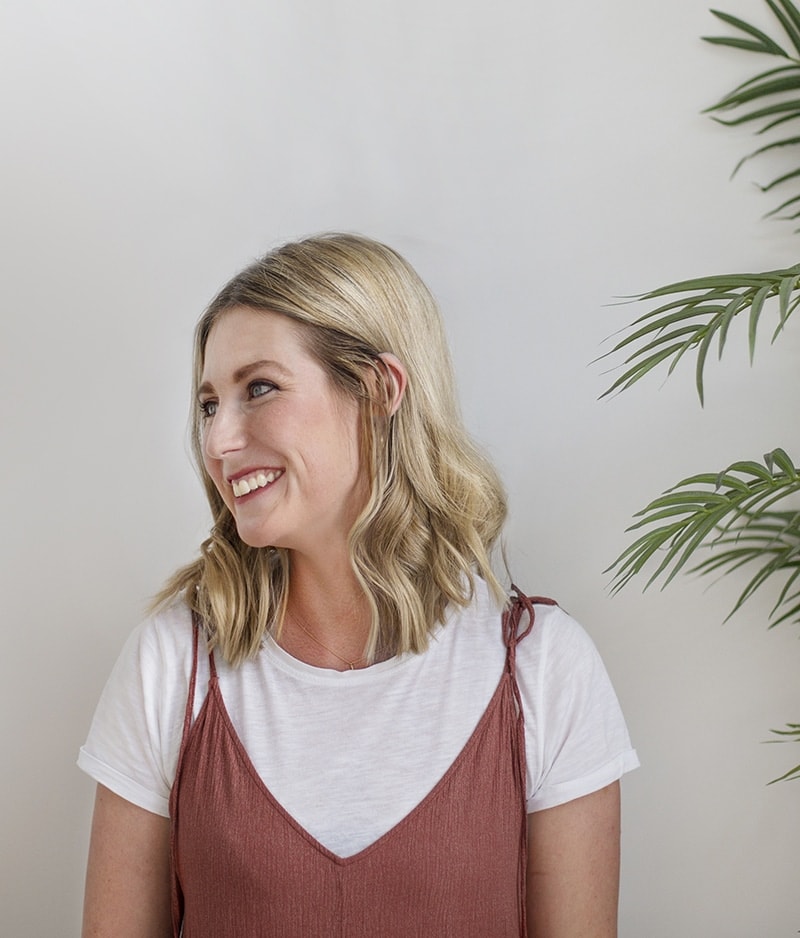 Hi, I'm Teri and welcome to my own creative corner of the internet. I blog about interiors, DIY projects, design inspiration and my general life so stick around have a read and say hi.
Work with Me
The Lovely Drawer is an award winning blog with a loyal audience that has grown over the years. I love working with brands small and large on exciting collaborations that can bring products alive in my own signature aesthetic.