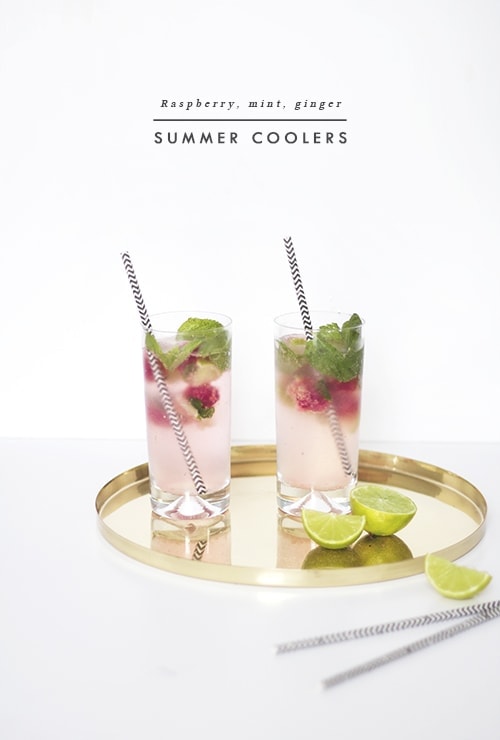 We've had a real Summer over here in the UK! Who would have thought?! I've actually forgotten what it's like to wear a cardigan and have become accustomed to sleeping with our bedroom doors wide open every night. All I can say is I'm very thankful for no longer having to commute each day. As 28 degrees on a tube is less than funny. Although there have been moments I've missed our arctic office air conditioning which I never thought I'd say. We recently invested in two sealable ice cube trays which were actually more to realise my husband's cold brew dreams but I've also got plenty of use out of them myself. Here's an easy drink to keep you cool in the hot hot heat. Add rum for a little kick to unwind as the sun goes down.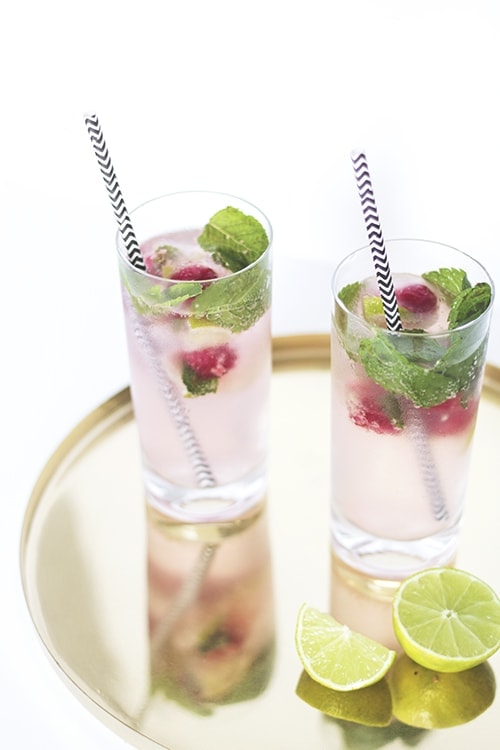 Some of my favourite flavours all in one drink with a big dollop of Summer on top. I promise you it's very refreshing.
To make…
Place a raspberry, torn mint and quarter lime wedge in each ice cube indent and top with grated ginger. It's very much up to you how much spice you want to add.
Then squeeze lime juice into each section and drizzle agave nectar over all to cut through the acidity.
Then fill with water and leave to freeze.
To make up the drink simply pour one measurement of white rum into a glass and add a good number of your flavoured ice cubes.
Tear off some mint leaves and add those to the glass and finally top up with lemon and lime sparkling water.
Add a snazzy straw and maybe an paper umbrella if you're feeling decadent, recline and sip to your hearts content. It would work really well for a garden party too. You might just need an abundance of ice cube trays.