This is a paid post in collaboration with Tick Tock Tea
I've been pretty open about how hard I've found this pregnancy.It's not dissimilar to the last in that I have much of the same, less than lovely symptoms but I've found it much more of a strain this time around, which may (read: definitely) have something to do with taking care of a toddler at the same time. Suddenly all the things that you've been told first time around like, 'don't lift heavy things' or 'make sure you get enough rest and food to fuel your growing bubba', can easily go out the window. Then throw running your own business into the mix and I'm essentially a hot mess rather than a dreamy picture of calm. I'd love to be the earth Mama sauntering through a field, laughing with her firstborn but in reality that isn't the case.
I'm not naturally one to slow down and rest so any positive steps in that direction are usually inspired by a stern chat from the husband when he's seen how exhausted I make myself, sometimes unknowingly. I've really been trying to introduce some positive steps to help with my general pregnancy wellbeing and some of those things have been inspired by Tick Tock Tea's new wellbeing range of tea. A reason to pause in the busyness of life and enjoy their caffeine free infusions that supply what you need to for various points in the day.
I'm a big tea fan but then again if you've read my blog for a while you guys will know that! I love being introduced to new, interesting blends and the Wellbeing range from Tick Tock Tea is just that with an additional positive effect on your body! Tick Tock Tea's story began with Benjamin Ginsberg who pioneered rooibos over 100 years ago, before his son built it into a thriving tea producing business. Today it's still a family affair which I totally love, with Benjamin's great granddaughter proudly taking the baton.
It's refreshing to buy from a family company that really believes in integrity and sustainability throughout their process. They never use artificial additives, GM crops or chlorine-bleached teabags which is music to my ears and fairly important when thinking about drinking tea to support wellbeing. They are committed to trading fairly with all their tea suppliers to build lasting relationships by encouraging environmentally friendly agricultural practises so that the heritage of these tea-growing areas are protected for generations to come.
I've been loving using the Wellbeing range of teas which are 100% natural with scientific research increasingly backing up the multiple mental, emotional and physical benefits of tea. These herbal blends have real power as rich antioxidants, warmers and cleansers so I've been filling my cup for bright days and peaceful nights! Here's some small tips for pregnancy wellbeing throughout the day….
Rise & Shine
I'm usually one of those really annoying morning people who spring out of bed early, ready and raring for the day to begin. The morning is usually my most productive time by far and I love nothing more than getting out and about to make the most of the start of a day. In both pregnancies I've been shocked at how this side of me has completely disappeared into thin air. I physically can't wake up that early. In fact at points I could probably have slept through a hurricane, I've been so out of it. It's therefore taking me longer to feel awake but with a toddler to sort out, I've been starting the day in robot mode, getting her changed, dressed and fed before I even have a moment to think about myself. I know so many people aren't 'morning people' even without pregnancy as an excuse so it's so important to try and start the day right, asserting some balance at the beginning rather than letting the morning run away.
1. Know how much sleep you need…
Everyone's different aren't they? I know that realistically I need mini lie ins whilst pregnant so I've stopped feeling the pressure to wake up pre-7am even if Maggie is already awake and decided to be kind to myself. Thankfully my husband gets up before me these days so he can deal with anything major that happens before I wake up but even if you don't have the luxury of no alarm clock then working backwards to know your curfew for bed at night will only benefit your mornings.
2. Start the day in the mindset you mean to continue…
As a Christian the first thing I do, all be it pretty blurry eyed is to spend some quiet time with God, reading the bible and prayer journalling. It focuses my mind on what I consider important and by the end I feel refreshed and much better prepared for the day. My phone is on charge in the other room so I'm not tempted to reach for it and get lost in a rabbit hole of emails and social media first thing. I realise some people do this in the form of meditation or some kind of mindfulness which is essentially the same kind of thing, just with a different focus. It's good to be deliberate about what you fill your head with first thing in the morning.
3. Fuel your day…
I've always been a firm believer in a decent breakfast, probably because I'd be on the floor by about 10am if I missed it. Food and drink will help fire up your body and brain for the day so pick foods that won't leave you running on empty after an hour. High sugar foods won't leave you full and energised for long. We used to start the day on Maggie's current breakfast of eggs and avocado (lots of healthy fats for our brains) but since her arrival we needed something quicker with less fuss so we now have a nut based, banana, protein smoothie packed full of fat, protein and carbs which is surprisingly filling. At the weekends things are a little more laid back so we can have a cooked breakfast or I make my favourite grain-free banana bread, only sweetened by the banana itself. My Balance tea is the perfect accompaniment to a balanced breakfast with it's warming spices and earthy aromas. I helps gently bring body and mind into the day with natural poise.
4. Get moving…
I'm definitely an advocate for exercise in the morning. Personally it really helps to wake up my body. I love heading for a swim first thing or just doing a Youtube workout and when I say 'love it'…what I actually mean is I never feel like it but when I make myself do it I never regret it! Pilates and yoga have been particularly helpful for me throughout both pregnancies and are a much more calming way to work out my entire body. In all honesty I'm not concerned with getting ripped in pregnancy *laughs*. I've been so happy in exercise since finding ways I genuinely like to workout, that doesn't put unnecessary stress on my body. So long British Military Fitness Training of 3 years ago and adios running sessions in the gym. My body groans even thinking about it, but whatever makes you feel good workout wise.
The Afternoon Slump
It's a familiar feeling for lots of us but I've found it particularly hard in pregnancy. It's usually around 3pm that my body starts yelling at me to take a nap. Ironically that coincides with the time Maggie usually wakes up from her nap. I will have just been working hard while she sleeps and suddenly feel overwhelmed with heavy eye lids and limp muscles. At various points I've found it's been worse and usually that means 'Hey Duggee' is on the cards while Maggie has a snack and I lie with her on the sofa, completely zoning out!
1. Pre-empt the fog…
If you recognise a pattern time wise then be prepared with a snack and 'Bounce' tea for a little 'pick me up'. Bounce tea has a blend of lemongrass, ginger, cinnamon and fresh green rooibos which invigorates your system and brings you back to life with it's uplifting aromas and citrus twist. I'm often too busy sorting out Maggie's drink and snack that I forget that it might help me too and it most certainly does.
2. Take a moment…
As I said sometimes it's hard to remember to take a little life breather at this point in the day, whether I'm looking after Maggie or at my desk working but it's so good to get up and have a brief walk around or even just stare out of a window for a few minutes to regroup and put a spring in my step for the rest of the day.
3. Step out of the stress…
If I'm working and I've been so totally absorbed in what I've been doing for hours on end then, much as it pains me to do (I'm a hopeless slave to efficiency) I try and allow myself to step out of the stress and have a treat, whether that's scrolling instagram for 5 minutes purely to feel inspired rather than being on there in 'work-mode' or just looking up something online that I've been meaning to check out for a while, even reading an article I've bookmarked. Then I can return to what I was doing with a fresh head and eyes.
Winding Down
Nick and I have been in constant flux with our evening wind down, often making positive changes that have really helped and then dropping them and getting back into bad habits not long after. In many ways pregnancy forces me to slow down whether I like it or not. I'm beyond exhausted by the time we put Maggie to bed at 7pm but I've been trying to be more organised with having dinner ready as close to then as possible so we have more of an evening to spend wisely.
1. Be wary of screens…
Oh that old chestnut eh?! We've gone back and forth with screen bans post 9pm or picking a subtitled series to watch so we have to focus on one thing rather than attempt to work or be on our phones at the same time. The truth is when we have nights in we often do have little bits of work to do, for me because my time is limited whilst Maggie's awake during the day and for Nick because he often takes on freelance projects outside his 9-5. Sometimes we just have to accept that this is where we are at for now. Having said that I have to say the most sustainable change we've made is charging our phones in a different room to our bedroom at night. The aim is to put them away as we go and get ready for bed and then bid farewell for the night. Instead we've been trying to squeeze in some time to read a book before falling asleep because that gives our eyes a rest from the constant blue light of our screens and generally makes me fall asleep in no time at all. It's so much better filling my mind with something other than work to do lists or social media comparisons before I shut my eyes for the night.
2. Take a bath…
I forget about baths when I'm not pregnant but in both pregnancies I've craved them so much from the first to last trimester, whether thats because I feel poorly or have cramping and tightening in my expanding womb or just because my body aches from the extra strain of carrying a baby all day. Why not add a few drops of lavender oil or some epsom salts to help your body unwind after a long day? I want to make sure I don't forget about how soothing baths are post pregnancy!
3. Prepare your senses for a snooze…
I actually don't need all that much help falling asleep whilst pregnant but I can see how certain things have a real impact on the quality of my sleep. I have a calming pillow mist spray which works wonders and a little aromatherapy stick to rub on my temples before bed, all with oils designed to aid deep sleep. I've also been drinking Bedtime tea which is obviously caffeine free and designed to help our tired bodies relax. The blend of camomile, lemon balm, lavender flowers, rooibos and honeybush are naturally soothing and calming for a comforting cup before bed. These little things are so easy to forget but a bit of prep before bed will definitely have a positive impact through the night.
Thanks for reading and hopefully a few of those tips might help your generally wellbeing throughout the day because it's all too easy to be consumed with busyness and stress throughout the day, in whatever form that takes. Taking care of ourselves is always something that easily falls down the priority list but it definitely has long term effects and I'm guilty as charged! Trying hard to take my own advice where I let life run away without a thought. And if you don't want to go all in to start with then make a small change and try Tick Tock Tea's wellbeing range, available at Waitrose. Baby steps in the right direction!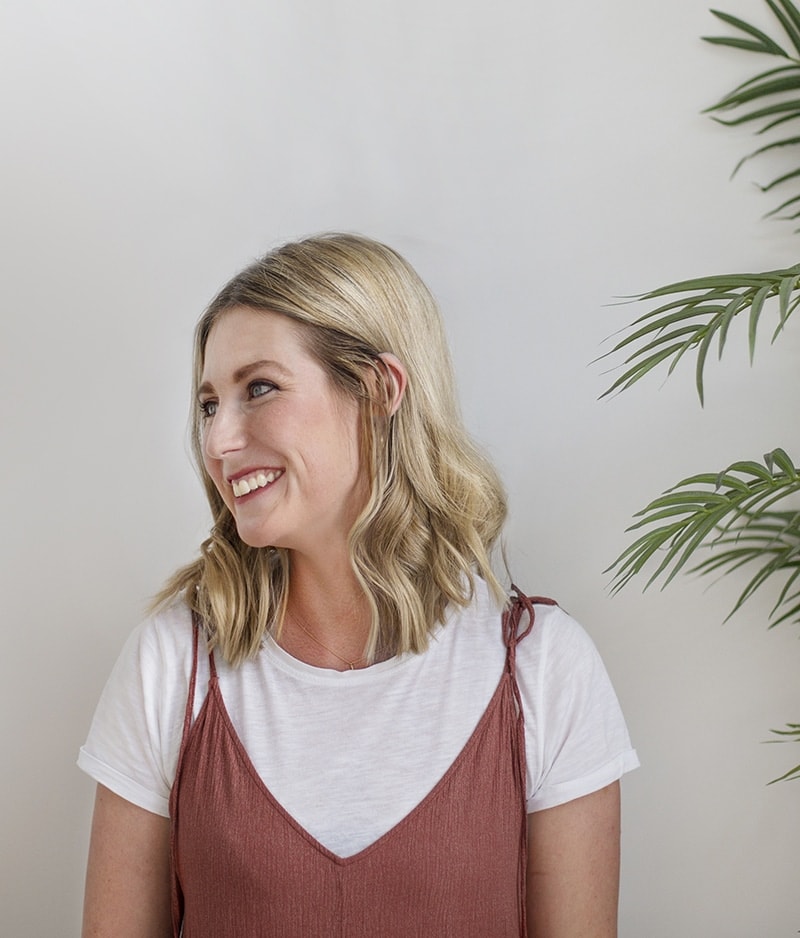 Hi, I'm Teri and welcome to my own creative corner of the internet. I blog about interiors, DIY projects, design inspiration and my general life so stick around have a read and say hi.
Work with Me
The Lovely Drawer is an award winning blog with a loyal audience that has grown over the years. I love working with brands small and large on exciting collaborations that can bring products alive in my own signature aesthetic.