Contains gifted items
Now we're well and truly out of the crazy newborn period and into slightly more settled territory,I thought it was a good time to share with you my newborn essentials. Having done it twice over I feel slightly more qualified to write a post like this because all babies are a bit different. Having said that, I can see what crosses over now. Newborn advertising is big business and there are so many things you're told you'll need but you really don't. I was surprised at how little you actually need when baby first comes along which is totally opposed to what baby brands would have you believe.  Even the word 'essentials' in this instance probably isn't spot on as these items are things to help make life a lot easier but lets be honest, you could survive without most of them. When I was expecting Maggie I got a handful of Mum pals to create lists of the things they 'really' used just to cut through the unnecessary rubbish that we might be tempted to waste money on. This isn't an extensive list but hopefully it might help expectant mums by shedding light on what really is useful and what can be put to one side. 
Bedside Cot
We've had the same one both times, borrowed from friends which is very fortunate as they are pretty pricey to buy. Thankfully you can also hire them to cut costs or you can have a scout about on gumtree or Facebook market place as they're the kind of thing people aren't going to keep forever. Ours isn't the most stylish one but it's been well loved, particularly this time around. I've never even been someone who does night feeds in bed as I don't want to wake Nick up and in the early days Lars could be very fussy and loud during feeds or nappy changes. Even so it was so handy to be able to have the side down and see what he's up to if he stirs, whether he just needed his dummy back or a hand on his chest to reassure him. I don't need to get out of bed or even fully wake up to do that. He's really great at going through the night now but he's a bit unsettled in the hour between 5 and 6. In the early days it was easy to reach in and put him on my chest and now I usually just hold his hand. The bed nest makes that so easy! You feel a little like you're co sleeping without going the whole hog.
Baby Carrier
Now not every baby loves a baby carrier but I haven't met many of them. Maggie didn't love it but she didn't hate it either, so it was still useful for trips out without the pram. It just so happened that she didn't mind being separate from me in general (sob). Lars on the other hand was more of a typical newborn and loved being carried. It was his happy place and any time he was out of sorts, we could wear him and within a few minutes he'd be asleep, snoring and perfectly content. It was particularly handy for a second child as I could get on with running around after a toddler at the same time and lets not underestimate how key it was for those standard unsettled newborn evenings. 6-9pm is notoriously miserable for everyone involved but by wearing Lars we still had our evenings to rest. Sometimes it was tiring and a little sticky (heatwave baby) but we could eat dinner in peace and watch a bit of telly while he slept peacefully. I won't claim that all babies will respond quite the same way to a carrier but they're certainly very useful and could help you to get some fresh air if your baby hates the pram, or make it possible to do a few household chores, cook a meal or tend to your other kids. It may even give you a little respite in the witching hour or shall we say 'hours'. Newborns are used to being tucked up inside a warm body, so it makes sense that they'd feel at home, snuggled up on you in a carrier. Our favourite has been the Ergobaby 360 for general use. It's kind to your back and will last from newborn to toddler with some little tweaks although I know lots of people prefer fabric slings for around the house. I didn't get on with them personally but we did also have the Babybjorn Miracle carrier which wasn't as comfy for long journeys and doesn't cover as wider age range, but does have lovely, unpadded straps which fit really well under cardigans or jackets for when you're out.
Medela Swing Maxi pump kindly gifted with no obligation to speak positively
Transportable breast pump
If you're a breastfeeding mama then this really does feel like an essential! You do need to be careful about pumping too early as it's a good idea to let your milk supply stabilise but if you're an overproducer like me then it's a speedy way to take a little of the pressure off. Equally for those that need to increase their supply, pumping will help to stimulate that. When you're ready you can build pumping into your day to keep up a supply for your own milk stash. That way someone else can look after baby from time to time and breastmilk can be stored in the freezer for up to 6 months. With Maggie I would always pump a full bottle before feeding her in the morning as my milk supply was at it's peak then but with Lars who tends to consume more / is incredibly impatient, I just pump a little after any feed where he doesn't drain the second side. This time I tried the Medela Swing Maxi pump as I knew I wanted a better one than first time around with Maggie. They kindly sent this one for me to try upon my request. It has two pumps that connect to the same little device so you can be extra speedy and not waste the let down on the opposite side. It also has the option of operating by battery which is ideal if you need to be away from baby for a couple of feeds. With my first pump I could only use it next to a plug which led to some awkward working situations, where as having the cordless option option is a game changer. The whole thing is compact and easy to pack into a bag so I can't recommend it highly enough.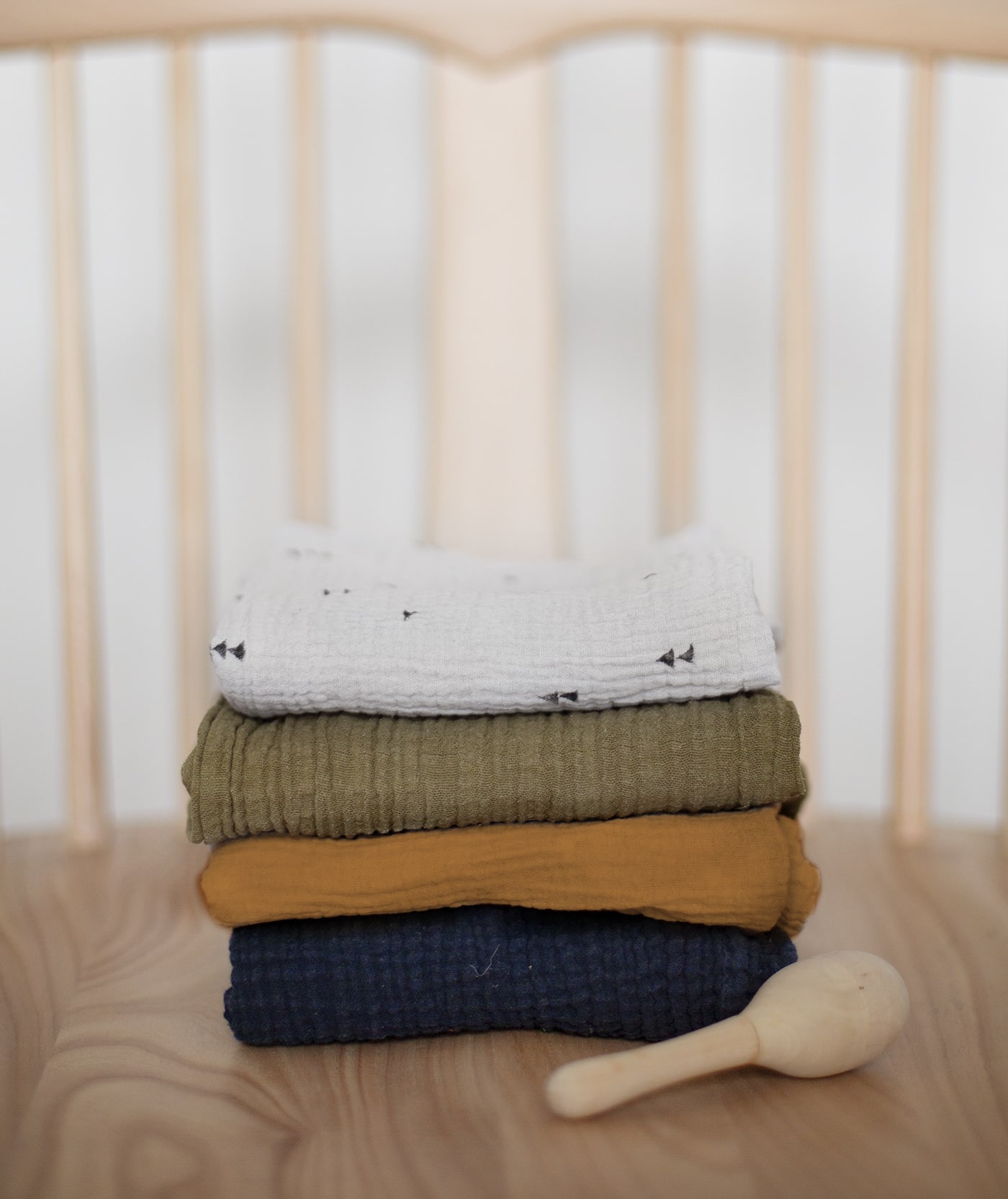 Muslins
I'm not sure you can have too many of these in the early days! Maggie was a freak baby who never ever sicked up after feeds, where as Lars always would without fail, if not at other points too. However with both of them I've churned through muslins at an alarming rate. I had breastfeeding thrush with Maggie which meant I needed to use a new muslin every time I fed, not to mention protecting my clothes and the feeding pillow from leaks (I'm an over producer). For Lars we need it to constantly catch milky sick whether that's post feed or to put underneath him when he's kicking about on the floor mat. You can also use them as an emergency changing mat or to shade them in the pram (although don't fully cover the hood). Equally they're very handy as a feeding cover if you're not confident getting your boobs out at the start. Every parent I've spoken to says the more muslins the merrier. Thankfully Granny made most of ours so we have an abundance!
Breastfeeding Snacks
Once again this one is for breastfeeding Mamas as that's my only experience so far. We all hear about how breastfeeding makes you hungry but I honestly thought people were just making it up in order to scoff more. I can wholeheartedly confirm that I was a ravenous beast. Sometimes it was even annoying because I'd finish a meal and 15 minutes later I'd need a snack. I was tired of eating! It was so important to keep healthier snacks at hand to make sure I wasn't fuelling myself and my growing baby on biscuits alone. I made sure I had lots of good fats to keep me going including nuts, organic raw cheese, avocados which I'd literally just season, add a squeeze of lemon or lime and spoon out of the skin. Bananas are a great fuelling carb but I don't like them as they are so I was often adding them to smoothies packed with other good things. Obviously food is dependent on how affordable things are for our situations but my advice would be fuel yourself with any good fats you can find rather than sugar. The best hack I found was homemade energy balls. I've craved sweet things post baby, both times around but I think the world of lactation cookies and all that jazz is just a recipe for sugar highs and lows so I decided to make my own energy balls. They cost and arm and a leg to buy and are often individually wrapped so making your own is a win, win! I just add organic cashews, medjool dates, a little raw cocoa, a dash of water and you can even add in some protein powder for extra clout. Blend everything and then roll into balls to put in the fridge to firm up and then you can just grab one in an energy emergency!
Quilt gifted by Little Blue Nest but no obligation to post
Large Blanket
Whatever the season it's so helpful to have a large blanket to wrap around them, put over them whilst sleeping or lie them on. Even though Lars was born in scorching temperatures I loved our light muslin blanket from Little Beacon. It literally came everywhere with us and was great at night when he only needed a light layer because our skin essentially was melting off our bodies in a heat wave! Now we use our gorgeous quilt from Little Blue Nest which is perfect for keeping him a bit more cosy. We used grow bags at night with Maggie all the way through until she turned two and whilst I see how they're useful from a safety point of view, they really aren't essential and happen to be really pricey! If you have a blanket that can be tightly tucked in around a baby it's totally fine, especially when they're in the same room as you.
Baby's first pram
Obviously you'll need a buggy of some sort but my advice would be really think through what your needs are and where about you live. Don't just get a model because it's sort after and the new, cool thing. I was totally overwhelmed when first shopping for a buggy. It's worth going to a shop and testing them out, even if you plan to order second hand as they all feel so different. We knew that ours would need to last for more than one child so we bought the seat and frame new and then I found the newborn bassinet attachment second hand as they only use this for 6 months max. If you live in the country, the suburbs or the city you're going to have different needs. You'll probably need a sturdier buggy with bigger wheels and good suspension if you're going to be pushing on uneven ground but if you're on pavements and trying to fit into small shops and cafes in the city then you can get away with smaller wheels and a smaller frame. If you're driving everywhere then it would be important to have a buggy that folds up well where as if you're on and off transport in the city then you may not be folding it up a lot but want to be small enough to fit into tight gaps or light enough to lift upstairs. For city living we've been very happy with the Bugaboo Bee but that's only because it suits our specific needs. It's also been really handy to have a pram that can have a buggy board attach. That's been a life saver with two kids only 22 months apart in age. 
Image via Sweetpeas and Saffron
Meal Prepping
It sounds so cliché but you will 100% thank your former self when baby has arrived. Meal prepping is the last thing you feel like when you're heavily pregnant but if you have any extra time, it's worth it! I just started cooking larger amounts of whatever meal we were having that night and froze half of it. Everything was labelled so we could easily grab what we felt like and I'd even taken the same approach for Maggie when we did it second time around because feeding a toddler can feel relentless at the best of times. It's worth rallying your pals around too. You could set up a meal train  for people to bring you food post birth. Often people want to bring gifts that you and baby don't really need so why not say you need food! You could even have a meal train set up for your baby shower rather than a gift list. Our church always create meal trains for families post baby so we dined in style on those for the first 3 weeks and then tucked into my freezer stock pile. It was a sad, sad day when those ran out too. Honestly you won't feel like cooking with a newborn and it beats draining your bank account ordering Deliveroo on repeat.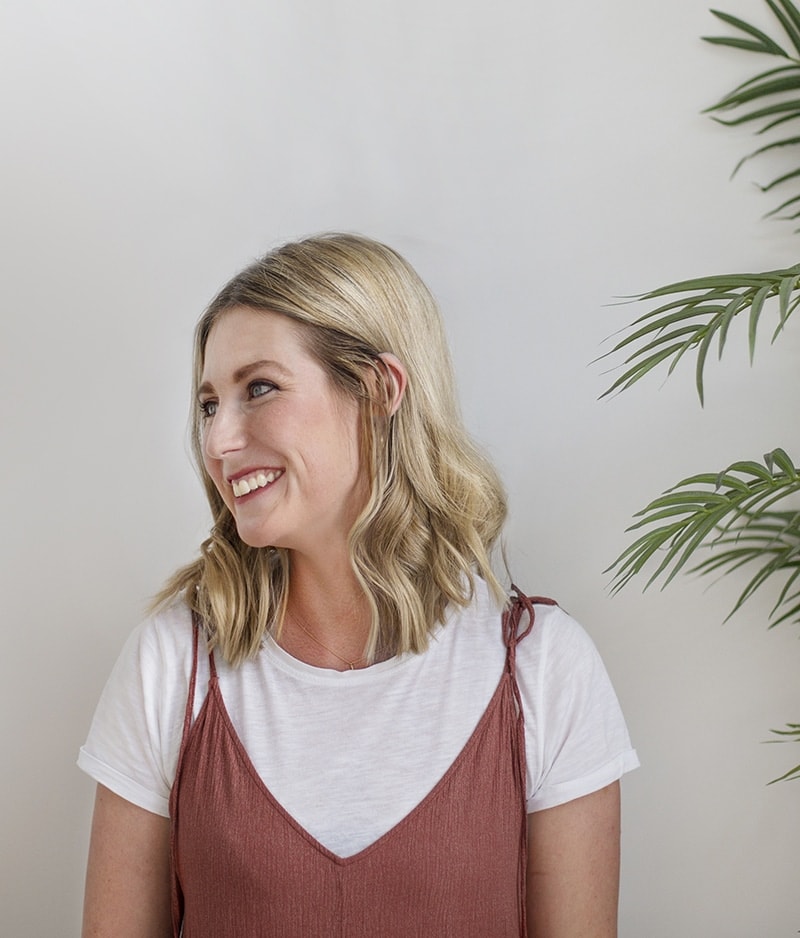 Hi, I'm Teri and welcome to my own creative corner of the internet. I blog about interiors, DIY projects, design inspiration and my general life so stick around have a read and say hi.
Work with Me
The Lovely Drawer is an award winning blog with a loyal audience that has grown over the years. I love working with brands small and large on exciting collaborations that can bring products alive in my own signature aesthetic.