It feels like a bit of a guessing game when it comes to toys for toddlers.Who knows what will be a hit or a flop and it seems silly to waste money when it doesn't do the job. I was a bit stuck as to what to buy or ask other people for when it came to Maggie turning one. She didn't seem hugely attached to any toys apart from her worse for wear cuddly lamb. She seemed to much prefer random household objects to actual toys which is so often the way. Anyway seeing as she's about to hit 18 months soon, I'd share with you the things that really floated her boat, some of which were birthday gifts, others Christmas gifts. Hopefully it might be helpful in buying for your little ones or even other toddlers around this age.
The list is fairly small and select as to be honest I'm a big believer in a streamlined approach to baby and toddler toys. They don't really need a ton, just a handful of toys they love and a stocked library of books. I've tried to pick out non-plastic toys as I don't love buying anything else for Maggie and ironically these are the toys she goes back to time and time again anyway. I think her little dolly is the only piece with plastic involved.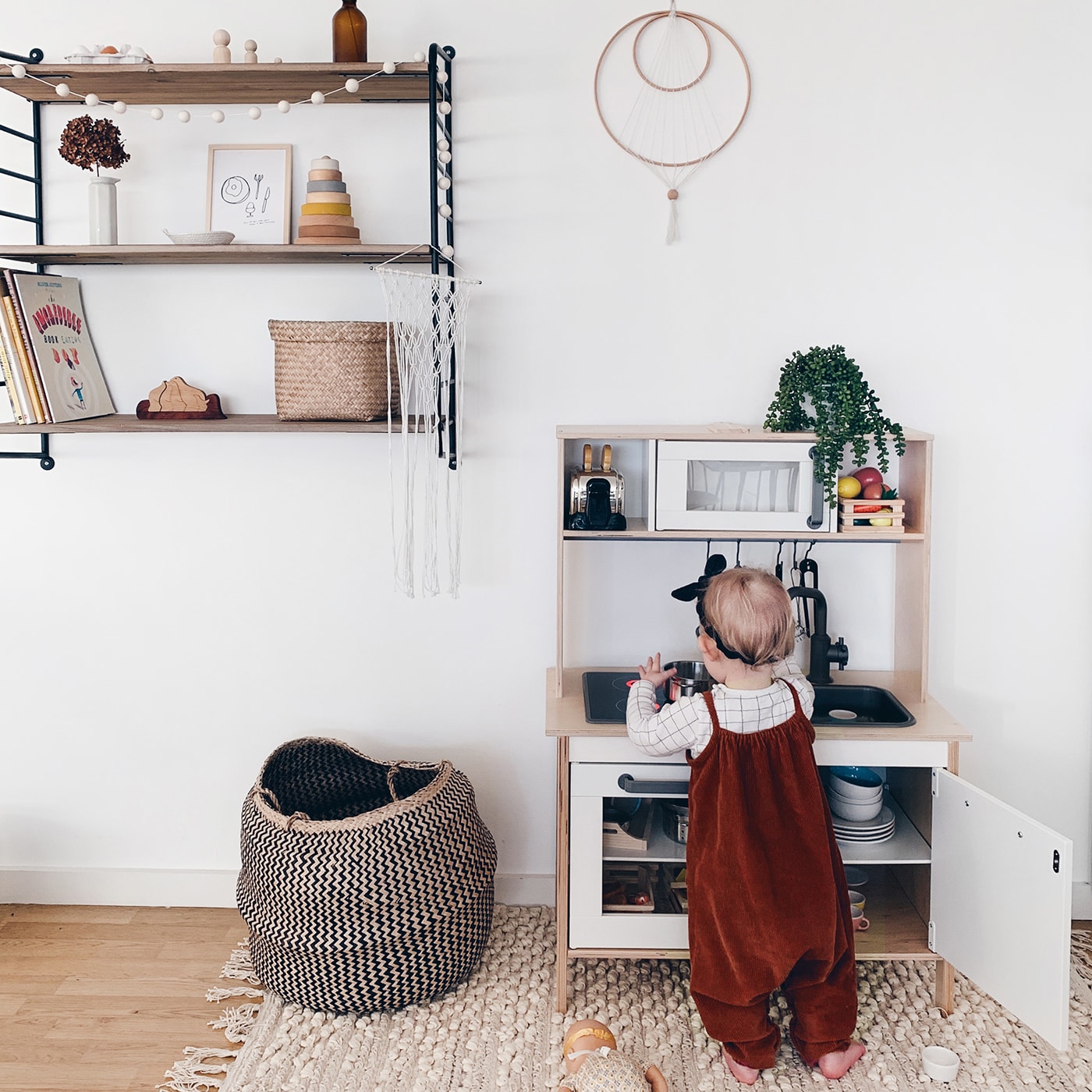 The Ikea Kitchen
I feel like this one is a total toddler staple and somewhat just a right of passage. It's great value for such a stylish little kitchen and the stove top even has buttons that light up the plates when they're 'hot'. There are also so many little hacks out there to pimp up your Ikea kitchen, from changing or spray painting the handles, to adding faux tile splash backs and adding extra hanging parts. Maggie wasn't yet walking when she first got this but she immediately loved opening up all the cupboards and pulling herself up on it. It's been so sweet to see how she's grown even more fond of it and actually playing with it, cooking up imaginary meals or washing the dishes. This one has longevity as it's something I've seen much bigger toddlers still very much loving. I know there are often some being sold on Gumtree if you fancy having a look.
The First Doll
Honestly this one has been the biggest hit by far! Maggie does love babies anyway but I think this age is perfect for their first doll and it's not just girls, boys often like baby dolls too. My Mum actually picked this one up from TK Maxx because she noticed it's outfit and hairband looked more 'me' than most of the pink and purple numbers out there and it's the perfect size too, smaller than a standard doll. I couldn't find this particular one on their website so you could order a Miniland doll instead. They also come in the smaller size as well as lots of different ethnicities. When Maggie opened her doll at Christmas her face was absolutely priceless and it's been attached to her ever since. She loves pretending to change her nappy, feed her milk or push her in the pram as if she's soooo past those things herself.
The Pull Along Toy
This is such a great idea when they've begun walking. It gives them a little interaction and whilst Maggie is obsessed with dogs, it doesn't have to be a canine friend. This little pup was a gift from friends and comes with a little sack telling you his name is Jack. I couldn't find this exact one anymore but there are still lots of beauts over at Sarah & Bendrix. I can happily spend hours perusing their site.
The Play Vehicle
I'm not sure if she loves this so much as she is so familiar with London buses but she can honestly play with this thing for about 20 minutes at a time. I'll notice she's gone silent and realise she's in the other room motoring her wooden bus around and taking the people in and out. The peg people are so sweet and the top deck even comes out so the people can sit inside. She's been known to stuff her doll in there to give her a tour of the living room.
The Wicker Pram
I get so many questions about this pram because lets be honest, it is a thing of beauty! I'd be very happy to have it sat in any room of the house for my own benefit. It's not cheap so when Granny bought it for Maggie's birthday I was really hoping she'd be into it. Thankfully she has definitely got the money's worth and it's gone down a storm with little boys who've visited too. One thing I would say is we did need to weigh it down to stop it toppling over when she wasn't yet steady on her feet but it seems fine now and doubles up as toy storage for all her soft friends, come the end of the day.
The Tea Set
I feel like all toddler's love pouring and pretending to drink tea. I guess we're starting them off in true British style eh?! Maggie actually has a set from Ikea which she loves but I've included this one instead as it's porcelain and so it's definitely breakable. We've got around it by putting a rug under her kitchen but I have to confess I've been eying up this tea set for months. One day I'll buy it for Maggie and she won't need to be so careful.
The Band
I was told how much fun Maggie had in the music section of creche and promptly ordered her some instruments for Christmas! I can't get enough of her wide eyed, manic expression when she starts shaking them! The tambourine even had to come with her on our journey out yesterday, treating passers by on our way to the past office. I searched long and hard for some neutral wooden instruments that weren't an array of offensive colours and this was one of the only sets that met my criteria.
The 'Hold-Everything' Basket
Maggie just loves a bag! I think she's observed me with my bags and Granny and Grandma's too and now she'd use anything to load up her items of choice and carry them around, handle hung over her wrist. We just formalised this idea with this pretty wicker basket. I now mostly acts as a very glamorous changing bag for her baby but dabbles in picnic items as well as hiding the remotes.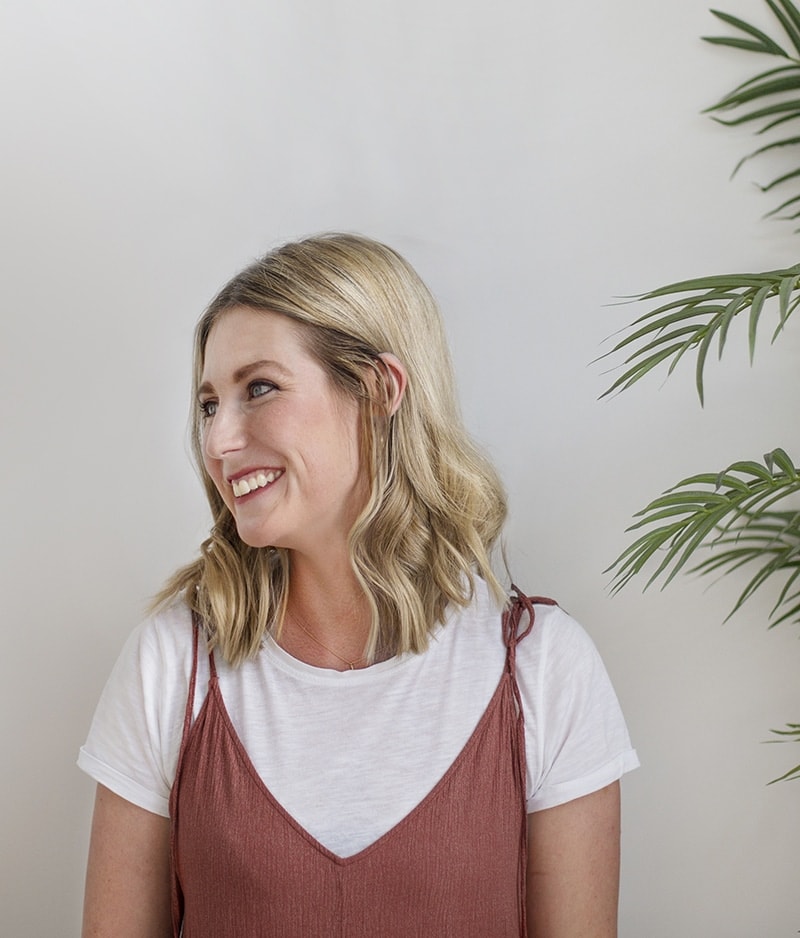 Hi, I'm Teri and welcome to my own creative corner of the internet. I blog about interiors, DIY projects, design inspiration and my general life so stick around have a read and say hi.
Work with Me
The Lovely Drawer is an award winning blog with a loyal audience that has grown over the years. I love working with brands small and large on exciting collaborations that can bring products alive in my own signature aesthetic.