So friends, I've finally gotten around to putting together our bedroom tour. Progress has been slow on getting rooms sorted in our new flat. Somehow these things just end up being a lot more drawn out than you think and then there are little touches you want to add that you put off for a while…and then a little more. Anyway I'm pumped to show you the rest of the pad, having only really shown you the dining area, but we'll start here.
It was important to get our bedroom in a fit state as a priority, and when I say fit state I mean feeling cosy and homey. There's nothing sadder than a cold, clinical bedroom with no personal touches. That's not the kind of place I'm going to sleep well in. 
As soon as we moved in we opted for the bedroom on the ground floor rather than upstairs. In part the bigger size was definitely a pull and the fact it was opposite the bathroom (I'm a serial waker in the night for the loo). The main selling point however was that it was on a different floor to our potential home office, which makes for a much needed divide in the whole work/life balance department. 
Our bed and linen didn't need any swapping and you may well recognise them from previous posts. I still love our gorgeous bed and linen sheets from West Elm. They make sleeping all the more dreamy! We did however do a little change up with the cushions and throw. All of those lovely pieces are from Next and I have to say I've been pleasantly surprised by the quality and they even came filled with the right size cushion pads. I love bringing in different textures to the bed so these really do the job nicely! 
Very conveniently our landlord left the giant white wardrobes at the end of the room. Particularly handy when we were surprised to face up to how many clothes we owned combined, despite two big clear outs before moving! Having said that we still needed some extra storage to stow away those random bits an bobs you have floating around in a bedroom so we found the set of drawers from Ikea which fit perfectly into the little patch of space at the end of our bed. 
bed | bedside tables | bed linen | patterned cushion | quilted velvet cushion | fluffy cushion | throw
 I was so happy to finally decide on some artwork and get things on the walls as that's a bit of a deal breaker when it comes to making a room feel like home. These ridge shelves made our lives very easy as they were already there on arrival. They were just crying out for some stacked frames and of course, greenery. My trusty mirror and circular shelf came with us from our previous flat, apparently revealing I have quite a thing with circles. I've had so many compliments on the black circular shelving when it was a total bargain from Flying Tiger! The macrame wall hanging was a little Christmas project as I've been hooked ever since having a go with the We Make kit. It made me realise how long it had been since I'd just made something for fun rather than for work.
All in all I love the space and it feels like my happy place at the end of a day. That's what it's all about eh? Hope you enjoy having a little snoop. I do love a room tour myself! No before photos were really necessary as it was literally just this room but empty, the perks of renting in a new build!
drawers (in white) | washing basket | 'gelato' print (my own version) | circular shelf | large white plant pot
Thanks to West Elm who gifted me the bed and linen and Next who gifted me the cushions and throw. All chosen by moi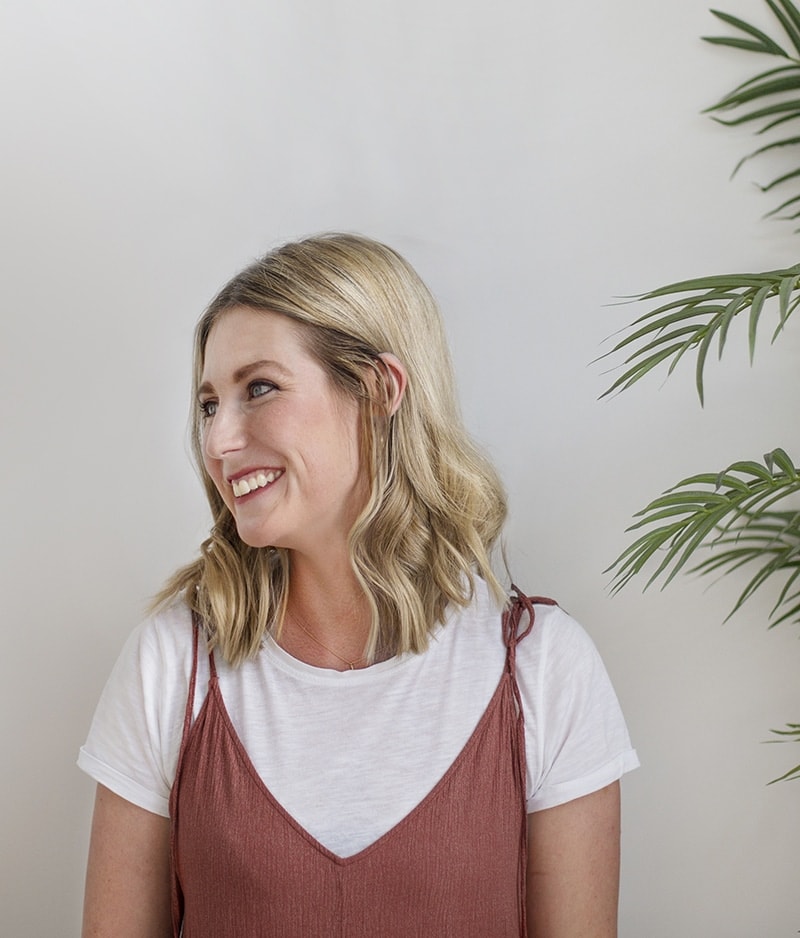 Hi, I'm Teri and welcome to my own creative corner of the internet. I blog about interiors, DIY projects, design inspiration and my general life so stick around have a read and say hi.
Work with Me
The Lovely Drawer is an award winning blog with a loyal audience that has grown over the years. I love working with brands small and large on exciting collaborations that can bring products alive in my own signature aesthetic.