Yay! I'm getting back into the DIY swing of things finally which I'm so happy about because they are my favourite posts by far. Definitely the most time consuming, but my favourite all the same! 
Today I'm sharing a little DIY nail kit that's perfect as a travel size so you can tend to your nails when you're out and about…we all have those minor emergencies right?! 
I used this gorgeous leather for a previous DIY commission and have had the leftovers chilling out in my drawer ever since, whilst I've been mulling over what on earth I should use it for. It's too beautiful to waste that's for sure. You can definitely use faux leather instead but I happened to scout this out in a local fabric store basement. I thought a blush leather was a long shot but he lead me to a pile of off cuts from real hides and announced he'd give it to me for £10 rather than the usual £40 as it had some marks and imperfections. I basically threw the money at him and ran out the shop before he could change his mind! 
Materials:
A small collection of items for your nail kit: Scissors, Nail clippers, Nail file, tweezers

Elasticated band (95mm)

A piece of leather for the outside of the kit (230mm x 175mm

A long piece of leather for the wrap around strap (length optional)

Felt for the inside of the kit (230mm x 175mm)

A piece of card (100mm x 150mm)

Thread that matches your elasticated band and leather colour

A ruler and pencil for measuring and marking

A paint brush

Leather paint

A pair of scissors

Pins
First you will need to get your felt, elasticated band, pins, pencil and ruler. Measure and draw a faint line down the centre of the felt with your pencil. You will stitch over this line later. Place the top of the elastic band about 75mm down the centre of the felt and 15mm in from the centre (on the right hand side). Pin in place. This will be the section you keep your items in. Using your ruler and pencil on the felt, make little marks that will be covered by the band to measure where you will stitch. The squares either end, finishing the band off are 15mm. All of the raised areas to place objects in are also 15mm of elastic band but stitched at a 10mm distance to create the raised effect and leave room for the item. For the nail file, you need the raised area closer to the felt so it lays flat. The bottom section of elastic band was for the nail file which you may also find needs to lie slightly closer to the felt.
Once you've finished all of your sections for the items, place the felt onto the back of the leather you will be using and stitch along the top, left and bottom sides. Do not stitch down the right side as you will need to insert your cardboard and thread later.
Next you need to stitch down the centre of your felt following the faint line that you created earlier. I used a close zig zag stitch to create a bind and to ensure the cardboard stays in place once inserted. When inserting your cardboard you should glue one end of your thread onto the board. This will ensure it stays exactly where you want it when stitching down the right hand side. Once that's in just stitch down the right hand side to close in the cardboard and hold your leather thread in place.
The final step is to paint your pattern onto the leather. You will need your leather paint, paint brush and completed nail kit (facing down and open flat). This simple grid design is so easy to paint on and the beauty of doing it post stitching is that you can get all the lines relatively parallel with edges for an even finish. Each line may need a double coating of the paint depending on how thick you apply it first time around. Leave it to dry for at least 30 minutes and you're finished! 
Give this easy DIY travel nail kit a go. It's far prettier than any I've recently found in the shops! I recently took a little browse on the internet and felt like I wanted to vomit with all the polka dots, metallic butterflies and the like. Travel in style lovely people!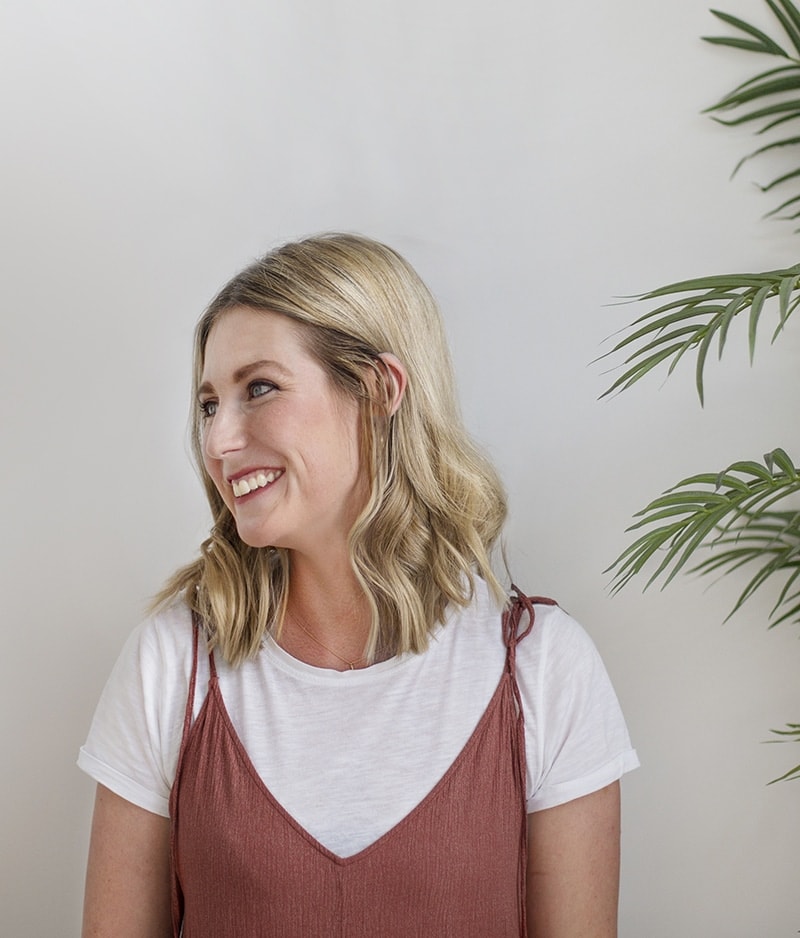 Hi, I'm Teri and welcome to my own creative corner of the internet. I blog about interiors, DIY projects, design inspiration and my general life so stick around have a read and say hi.
Work with Me
The Lovely Drawer is an award winning blog with a loyal audience that has grown over the years. I love working with brands small and large on exciting collaborations that can bring products alive in my own signature aesthetic.