Hi guys! Sorry that this wasn't posted when promised. Something very strange was going on with my blog and it was having some serious blog doctor attention. Anyway all is back to normal and so I can get on with posting the second half of the room makeover challenge in association with Direct Blinds. Here's the brief in case you've forgotten and here you'll find the ins and outs of  the £50 transformation. So 'where did the money go?' you may be asking. Well here's the break down…
Small table – £3.00 from Furnish charity shop

Vase – £1.00 Age concern charity shop

Bowl – (originally for a hanging basket) £1.00 Pound World

Wool – £6.00 Ebay

Cardboard ampersand – £3.00 Ebay

Doweling rod – Free Found on the on my road in a pile of items being thrown away. You could also use a long found stick.

Shelves – £12.00 Ikea

Stools – £6.00 Ikea

Mini Cacti – £4.50 Ikea

House plant – £1.00 Ikea

Light cord – £4.00 Ikea

Montana spray paint in mint and pale pink – £5.98 Ebay

Gold metallic spray paint – £1.95 Ebay

Table cloth – Free old white table cloth I had in the cupboard

Black pixar lamp – Free already own but was positioned awkwardly in the room next door and so moved it.

Both black frames – Free already hung in that room but with different pictures

Flowers – Free picked from our back garden space

Candle and saucer – Free already in that room
Total – £49.43
Below are some of the objects before they'd been made all pretty. All of the projects I did for this room are very easily recreated and don't take too much time either.
I knew that a bright wall hanging would make a focal point with impact. I just loop tied sections of the wool around the doweling rod and trimmed the bottom into an arrow shape, finishing each piece off with a knot. I created new artwork for the wall and shelves, one using cut out shapes from an old magazine and the other using ink to paint a phrase. If you don't have ink you could use black acrylic instead. If you aren't confident with a paintbrush then keep it simpler and spell out your phrase in capital letters.
Spray paint is one of my favourite ways to give something a new lease of life. I honestly feel like I should be sponsored by a spray paint brand. Nick often asks what I plan to do with whatever my latest random purchase is and then he stops short, knowing the spray paint cans will be merrily making their way out of the draw. The sprayed colour worked a treat on the stools to break up some of the white. I also attacked the cardboard ampersand, the vase and the small table with my cans (it's just like Pringles I'm telling you). I made sure I sanded the table before applying the spray paint which helped to get an even finish. I also sprayed the hanging basket and then cut a circle in the wire at the bottom so I could turn it upside down and secure to the Ikea fabric cable. A really easy and cheap way to create a statement light.
I added some pattern to a plain white table cloth that was tucked away, sad and lonely in a cupboard. Most people have one of these lying around somewhere. I have a huge stash of all sorts of arty materials and so I used some black fabric paint for this however you could also use black acrylic paint which you may be more likely to have. If so then simply prewash the table cloth without using fabric softener to prepare the surface. Then you can just scalpel out a triangle or shape of your choice from an old eraser or even a potato and stamp away to your hearts content.
Shelves added interest at different levels to a very plain section of wall and plants really bring the room to life. As soon as there's some greenery in a room I feel like it becomes more homey.
All in all I'm happy with the results. The room is definitely brighter and full of personality, with some quirky one off pieces. It's much more in keeping with the rest of our flat now. Anyone out there share a spray paint addiction such as my own?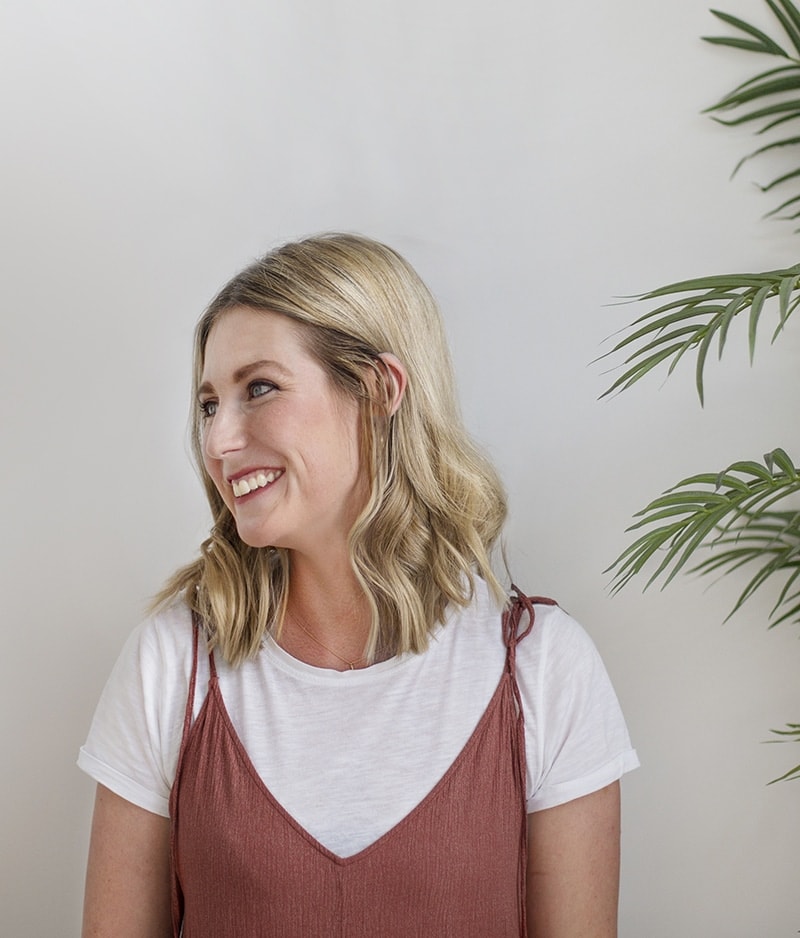 Hi, I'm Teri and welcome to my own creative corner of the internet. I blog about interiors, DIY projects, design inspiration and my general life so stick around have a read and say hi.
Work with Me
The Lovely Drawer is an award winning blog with a loyal audience that has grown over the years. I love working with brands small and large on exciting collaborations that can bring products alive in my own signature aesthetic.