The beginning of September marks the start of Autumn which usually sends me into a bit of a spin. I'm a creature that craves light and warmth in abundance so sometimes the transition can be a bit tricky for me…any one else? In the past it's even made me quite down, grieving those long Summer days while everyone harps on about scarves and pumpkin spiced lattes as if they're a decent substitute. Having said that I usually just need to remind myself that Autumn means things get cosy again, giving us a whole new appreciation for 'staying in'. Cue the blankets, candles and warm cups of tea making they're way out of hibernation and back into our home. When that's on the cards the changing of the season doesn't sound half as bad. While the leaves will start to turn a rainbow of firey shades I'll probably still be lamenting the lack of Summery blooms I see on my walks but that doesn't mean I need to go without flowers in my life!
I was so excited to hear about the Bloom and Wild x Nikki Tibbles collaboration launched at the start of September and to receive one of the beautiful 'Wild At Heart' boxes myself, not only keeping blooms alive and looking great in my home but also adding my first little flourish of Autumn vibes into our bedroom. I'm not going to lie I've already been a fan of Bloom and Wild flower delivery for many years, loving their clever flat boxes for easy peasy delivery as well as the delicate floral combinations. I've sent and received a fair few myself. This partnership brings together unique innovation and up to the minute technology from Bloom & Wild with the established floral visionary that is Nikki Tibbles, who's worked on countless high profile commissions. There are three boxes in the collection, each one distinctly different and yet all of them representing the richness of this new season and inspired by Floriography, the language of flowers made popular in the 19th Century. Did you know that different flowers had different meanings and therefore were delivered to family, friends and love interests to discreetly send messages. I love that idea!
I was sent the gorgeous 'Woodland Walk' bouquet which is a very different colour palette for me to style in my home and yet I'm really enjoying how unmistakably Autumnal they are. What I particularly like about Bloom and Wild's flat packages is the chance to get creative with arranging the flowers myself. If you're a little intimidated by that then each box comes with some arranging tips from Nikki Tibbles herself but personally I love the freedom and with such a beautiful assortment of flowers it's pretty hard to make them look ugly. I kept the aesthetic relatively organic with greenery and those deep red leaves shooting out in all directions, inspired by my day dreams of walking through an actual woodland (hmmm yes please). Crossing the stems in the same direction to create a sort of spiral will help to keep your bouquet looking wall spaced and even. I also opted for a shorter vase with a wider opening than usual which helps to give the arrangement fullness.
Our bedroom is lovely but 'cosy' probably isn't the word you'd match with it and along with that I've killed every single plant that's made a home in there so far. It seemed only right to nestle this beautiful Autumnal bunch on our drawers to add back some life. I chucked away a very sad looking vase of eucalyptus leaves and drafted in all the things I love about this new season…a sweet smelling candle, ginger tea and some luxurious hand cream to pre-empt those crisper days drying out my skin. This relaxing scene is already helping me embrace the seasonal change. Create a little cluster of Autumnal goodness in a nook of your home and see if it doesn't set you up for the cooler, darker times ahead.
This post was sponsored by Bloom & Wild and this beautiful bunch of flowers were kindly gifted to me. All images, ideas and opinions are very much my own.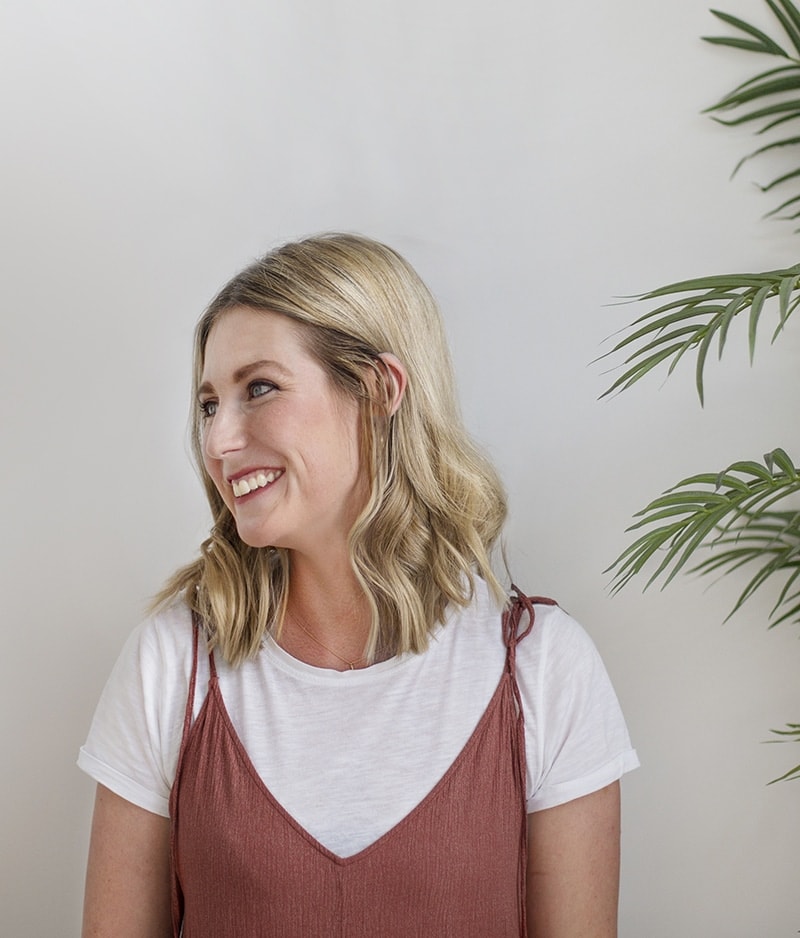 Hi, I'm Teri and welcome to my own creative corner of the internet. I blog about interiors, DIY projects, design inspiration and my general life so stick around have a read and say hi.
Work with Me
The Lovely Drawer is an award winning blog with a loyal audience that has grown over the years. I love working with brands small and large on exciting collaborations that can bring products alive in my own signature aesthetic.