This is a paid collaboration with Breville
Our kitchen…something you don't see much of over here or on my Instagram feed. Why? No, we're not hiding anything grotesque like 90's style embossed tiles or old appliances that look more dump-worthy than retro. No, there's nothing wrong with our kitchen, it's just a bit 'blah'. It's perfectly tasteful and inoffensive but the black marble style worktops and chrome accents aren't really my style and as we're renting, we're unable to change it in any large-scale way. For far too long I've neglected the kitchen area, focusing on putting my stamp on every other part of the flat, but it's about time it was more than just practical!
I've partnered with household appliances brand, Breville, to introduce you to their super stylish new collection which sparked my desire to make our kitchen a little more stylish. Say hello to the Breville New York Collection kettle and toaster. I have to say I've never said, 'now that's a good-looking kettle and toaster' before but in this instance, I most certainly am! The statement illumination on both appliances is inspired by the bright lights of the Big Apple and paired with the gloss white stainless steel and muted gold finish, the overall look is spectacular. Once again, never thought I'd say that about a toaster and kettle, but here I am.
Our kettle has bothered me ever since we got it, adding yet more chrome to the kitchen (help me please) and we haven't had a toaster in about three years. We chucked our old one away when I discovered I had a severe gluten intolerance and couldn't risk contamination from all the naughty crumbs inside. Somehow, we've never gotten around to getting a new one which is a massive pain if we ever want anything toasted. I can't tell you how many things I've burnt to a crisp under the grill having totally forgotten about them.
The New York toaster lights up at the base while the toast is being prepared and there's a 'lift and look' feature that lets you check your toast during toasting. Pretty snazzy! The deep variable width slots mean that it will accommodate any size toast you fancy, so you won't be groaning about getting your bagels stuck. There's also a fully removable crumb tray which I've really been enjoying because crumbs on the worktop used to be a big bug bear of mine. Now I just need to reign in all the coffee debris from Nick grinding his beans each day!
The New York kettle is super-efficient, with its 1.7L capacity which is great for us as we frequently have lots of people in our home. It has a non-slip base, easy pouring function and statement illumination at the water window, which is reminiscent of the New York skyline. This beauty has come at an optimal time for yours truly as whilst I seem to go off hot drinks when I'm pregnant, as soon as baby is out I'm chugging cups of tea all day long. I can't explain it but there you go. Our new kettle has become my best (very stylish) friend.
Our home pairs well with the New York loft style of these appliances. This is because of our mezzanine and floor to ceiling windows which mean the flat really does look like a loft-style apartment you might find in New York. We have countless people commenting on it and I always take it as a massive compliment because I love that vibe! The whole thing is open plan, so the new kettle and toaster look right at home. So how did I up my 'kitchen game' to compliment the new Breville appliances? I'll share my top refresh tips for making some small and simple changes to your kitchen.
Open shelving – 

Make use of the wall space above your kitchen worktops and cupboards and rather than putting in more cupboards, use open shelving instead. This way you can make it a design feature and a way of styling and displaying kitchen items you like. I wouldn't have chosen ours (renters club woes again) but it's still pretty handy for hanging utensils and displaying various pots and plants.

GREEN FRIENDS – My answer to pulling any space together is plants! Try trailing plants from shelving or hooks on the wall to keep them away from the surfaces. It really lifts a space and takes it beyond functional. If your kitchen is a bit of a hostile environment for plants, then invest in some convincing faux plants instead. Three of my five are fake -can you guess which?
DON'T COMPROMISE – When it comes to appliances you obviously need to think about performance and usability but don't let that be the only thing the tips the scales because these are things you have to look at day in and day out. Choose something that will enhance the look of the kitchen rather than detract. That way everything ties together and makes the space more enticing. The Breville New York range is a joy to look at and enhances my 'loft-style' interiors look.
SURPRISING TOUCHES – I love wall art and have it all over our flat, but I always forget that you can add it to the kitchen too. Splash a little personality over the walls, maybe even keep it related to food? I can't believe it took me this long to fill this space with a piece of art!
DECLUTTER – Where possible, try and make your worktops as minimal as possible. There are certain things we use all the time but I realised our coffee machine, neglected knife block and slow cooker don't need to be sat on the side taking up space. I only leave out the most stylish appliances, like the Breville New York

Collection

. As soon as worktops are more spacious, they'll look more intentionally ordered and as with most rooms in the house that helps me to feel a bit clearer headed and ready to cook.

FAKE IT – Now I haven't tried removable tiled wallpaper yet myself, but I'm hoping to when I have a spare kid-free moment. It's perfect for covering splash backs and updating a kitchen without the commitment. It's ideal for renters or even just a money saving tip for home owners.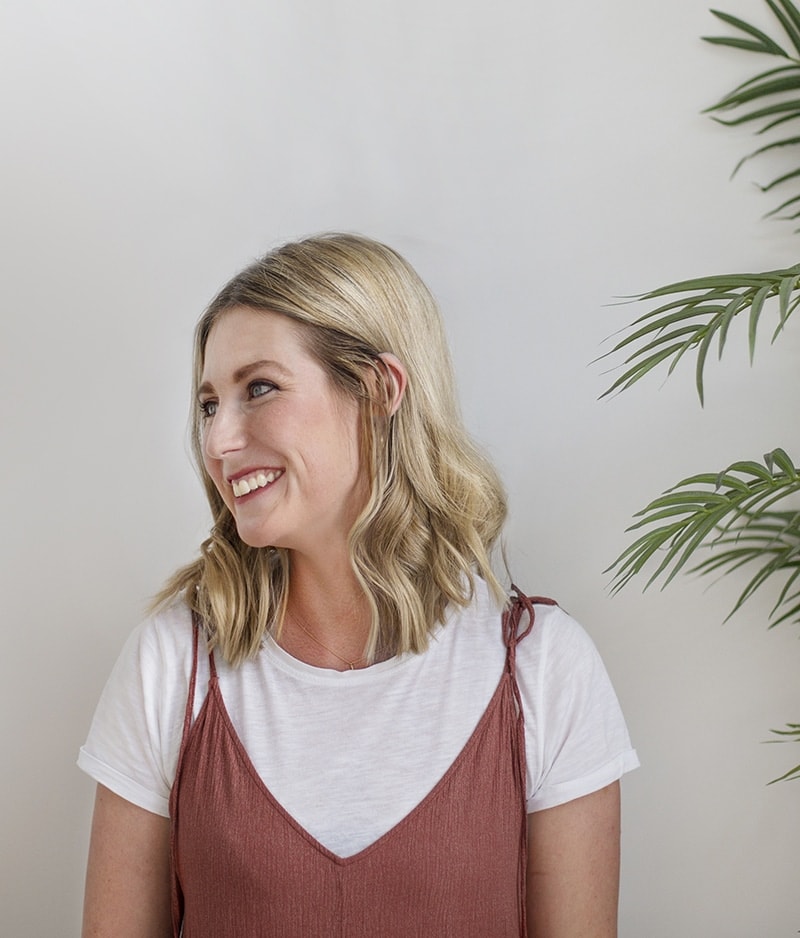 Hi, I'm Teri and welcome to my own creative corner of the internet. I blog about interiors, DIY projects, design inspiration and my general life so stick around have a read and say hi.
Work with Me
The Lovely Drawer is an award winning blog with a loyal audience that has grown over the years. I love working with brands small and large on exciting collaborations that can bring products alive in my own signature aesthetic.