styling & images from Lobster & Swan
It's Monday and back to work for many which may sound bleak but it's also day 7 of the 12 styled days of Christmas with West Elm and we're ready to dish you up a fresh dose of festive inspiration. Today I'm welcoming the lovely Jeska from Lobster & Swan to join in the fun with her gorgeous table top. She's one stylish lady. which you could probably tell exclusively from a glance at her shop Future & Found but it doesn't stop there. Her blog is an endless stream of simple beauty, mixing old and new to create the prettiest scenes and her styled table is no exception, she's even included a recipe and a DIY fro you to try. Head over to her blog for even more. Over to Jeska…
What's the idea behind your table?
When I found this vintage style cocktail shaker at West Elm, I knew a delicately boozy element had to be incorporated. This table is all about seasonal herbs and flavours, foods that are easy to make and drinks that are easy to shake! Then, more time can be spent socialising with your guests and not trapped in the kitchen. The cocktail recipe I chose includes infused herbs that are cut from our garden and the place cards are dyed with locally grown beetroots. I am a big fan of sparkle – so this time of year gives me free reign to go wild for all that glitters and glows. Candles are ablaze all year round in our home, but in December I love to light as many as possible. I also have quite a collection of fairy lights that I like to drape all over the house – so this glowing scene is all about sharing a simple supper with a few favourite friends.
How is this idea personal to you / how does it relate to how you celebrate the festive season?
We usually celebrate with friends on Christmas eve, time to chat excitedly about the year and make plans for the festive season over a few celebratory drinks, but only a couple, we like to be clear of mind on Christmas day when we go off to visit our families.
Glitter star garland | mercury votives | Arrow Cocktail Picks | Wooden Cut Out Tree | Ivy and Birch Moss Pot Candles
How will you be spending this Christmas?
After the chaos that has been running a store over the festive months – Dean and I are off to Southern Ireland to spend a few relaxing days with family and my little nephew who has just started walking. Feet up, cake on plate and wine in hand and then a couple of days hiking to walk off some of that delicious home cooked food!
What's top of your Christmas list this year?
Feeling pretty happy and lucky with all that we have, so top of my list is the floor cushion closest to my mum's log burner. One of the comforts that is missing from our own half renovated home!
Gin and Beet fizz (adapted from My Diary Of Us)
Ingredients: Serves 4
1 Cup of Fresh Beet Juice – available in a carton if you don't have a juicer.
1/2 Cup of Fresh Squeezed Grapefruit Juice (see above)
8 Tbsp. Rosemary Simple Syrup*
6 Oz. Gin
Ginger beer to finish – I used Fever Tree – for a less sweet version use soda water
Gently shake the beet juice, grapefruit juice, rosemary syrup, and gin together (this is a party dress destroyer so be careful or wear black!) and pour over two glasses filled with ice. Top with ginger beer (or sad water) and garnish with a rosemary sprig.
*Bring 1 cup water and 1 cup sugar to a boil along with 3 rosemary sprigs and then turn off heat and let steep for 10 minutes. Strain, cool and store in a jar or bottle.
Beetroot Dipped Place Cards.
1 sheet of watercolour paper with raw edge
Washed Beetroot peelings and stalks (left over from accompanying recipes).
1 cup warm water
1 cup cold water
Blender or juicer
Apron
Kitchen towel or cloth
Calligraphy pen
String
Before you do anything grab an apron. In a blender whizz the beetroot skins, stalks and warm water. You should end up with a frothy dark pink sludge! If you have a juicer you can juice everything instead and leave out the water. Pour dye out into a shallow dish.
Cut your paper into desired size for cards with raw edge at the bottom and dip in cold water, shake of excess and then slowly dip into beet mixture gently laying the cards down to rest on the outside of the dish to keep the tops white. Repeat with all the cards and leave submerged for about 10 minutes.
Carefully remove each card and using a cloth gently wipe away the excess dye and any foam, then leave to dry. Once dry write on names or initials with a calligraphy pen. Then punch a hole in the top edge and loop with string.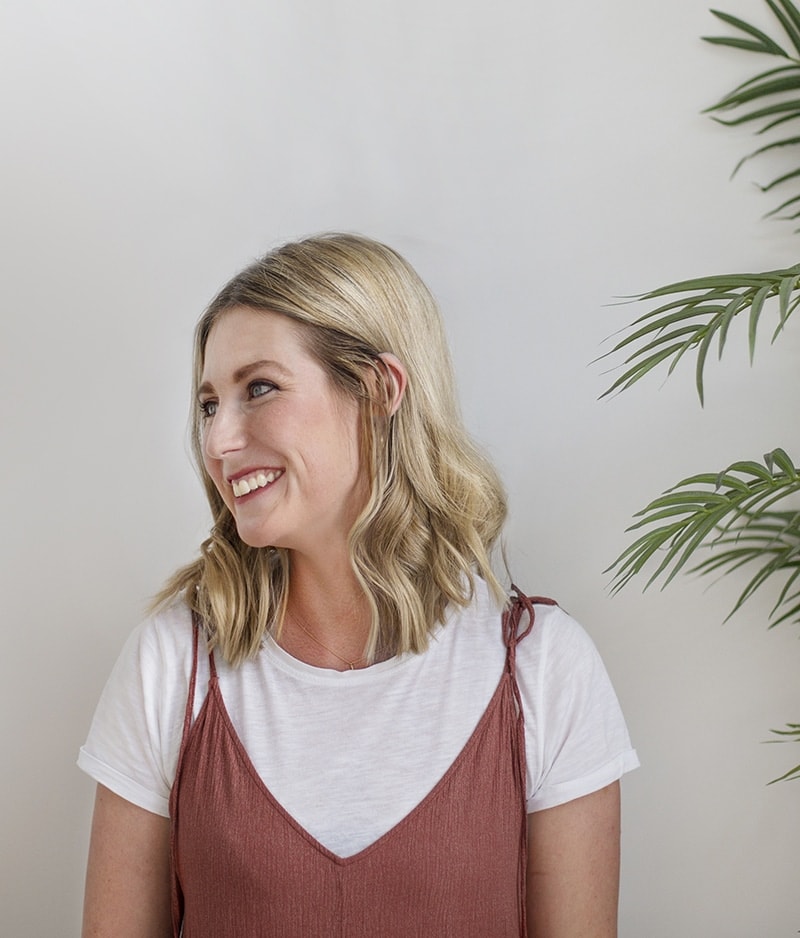 Hi, I'm Teri and welcome to my own creative corner of the internet. I blog about interiors, DIY projects, design inspiration and my general life so stick around have a read and say hi.
Work with Me
The Lovely Drawer is an award winning blog with a loyal audience that has grown over the years. I love working with brands small and large on exciting collaborations that can bring products alive in my own signature aesthetic.