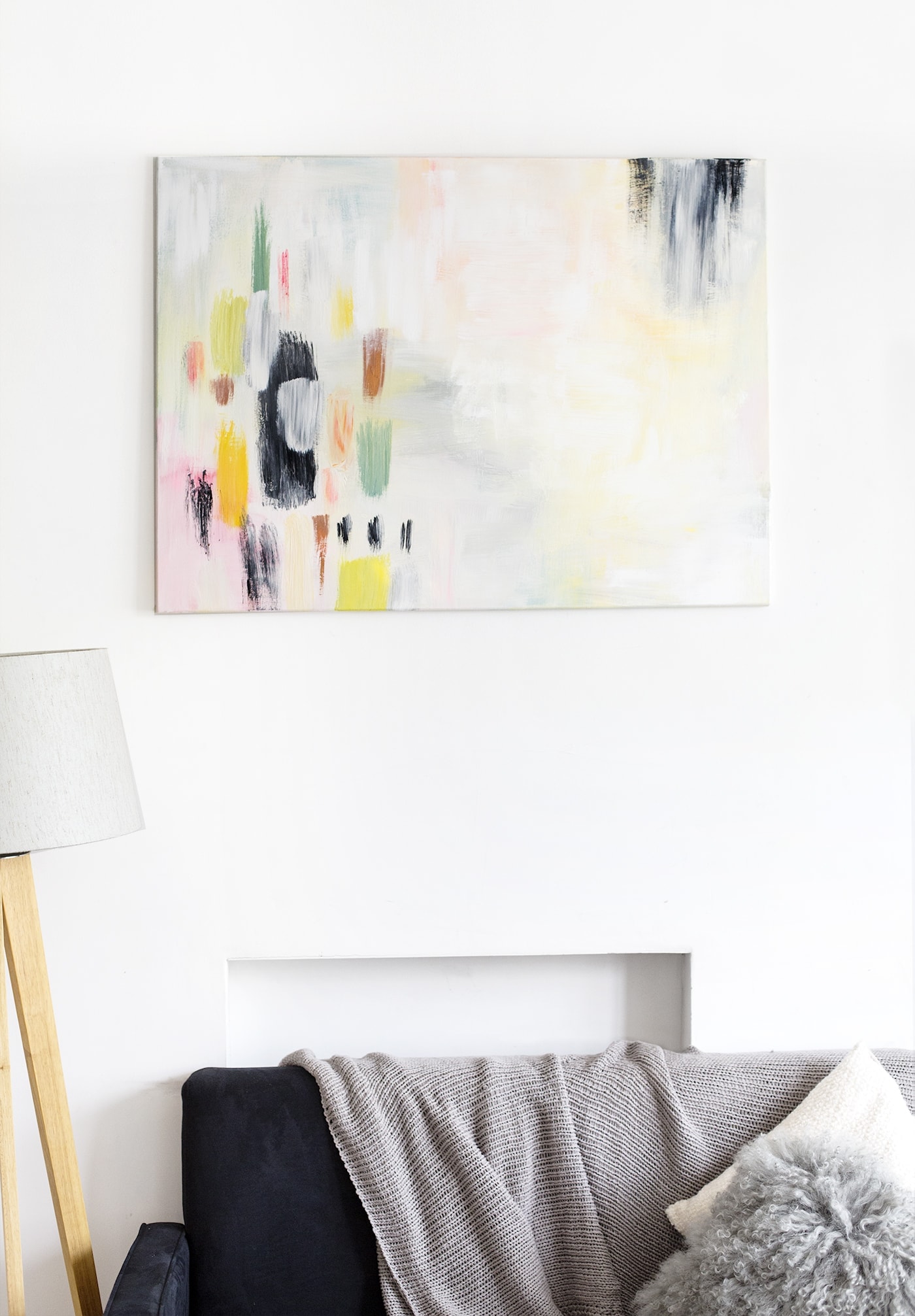 One thing I was very pleased to hear when we moved into our rented flat was the go ahead to hammer nails into the wall, not a given when you don't own your home. I had been so sad not to have the option in my previous rented homes, always lamenting the limitations on personalising the walls and make the space my own. There were plenty of blank white walls to fill when we arrived. The previous tenant was student lad who's idea of decorating was blue tacking a few sparse music posters to the wall.
My first priority was the giant space above our second sofa that was literally crying out for some art! It's the perfect place for a focal piece as it's where your eyes are drawn to as soon as you walk in the front door. Being creative I decided to solve the problem myself by whipping my paints out and filling a large canvas with a balance of colour. This then became that focal point I was after and literally transformed the living area with an injection of personality. I've often picked out various shades from the canvas palette to add matching pops of colour in the form of cushions or home accessories.
I've also had a lot of fun with our gallery wall. Its always been a mixture of art and photos, however I've switched it up over time. It's a great way to fill a wall and create a little collection, once again matching some of the tones throughout but also incorporating a few different styles of artwork.
Another more modern take on displaying art is simply leaning framed art against a wall, whether on a sideboards, shelf or even the floor. This is a must for any of you renters who don't have such a lenient landlord. Pick a few different sizes, use a variety of frames and then layer up with complimenting artworks. I love this laid back approach.
Having art in my home is very important, whether it's my own piece or someone else's. I generally think it's a little window into someone's taste and style. I learn a lot about people by seeing what they've chosen to hang on their walls. Art can often attach itself to memories. Some pictures may prompt a certain feeling or take you back to a point in your life. It can well up emotions whether it's a feeling of calm, strength, positivity etc. Art is what makes a house look like a home in my opinion. Otherwise it ends up looking more like a shop showroom than a space that belongs to someone.
You may well have heard of The Affordable Art Fair but if you haven't already then let me introduce you. It's a great event for those who love the idea of art in their home but feel somewhat intimidated by the prospect of choosing as well as the hefty price tags that are often attached. You don't need to be an experienced art collector, an expert in contemporary art or have a bulging bank account to make the most of this fair. The event takes place in Battersea this week (20-23rd October) and promises price tags starting from £100 so there's something to suit any budget. It's an exciting and diverse collection that offers many established artists alongside emerging talent. It's all round a great first foray into the world of art for your home, with such a variety under one roof.
Some great advice to help you hang your artwork comes from Luci Noel, Affordable Art Fair of Battersea Director.
"Make the most of your space. If your ceilings are high, try positioning art above a doorway. Hallways are great places for artworks, especially if your collection is growing. Hanging art considerable higher or lower than the conventional eye level will make people wonder about its content or meaning.
 "The rule of thumb is that the centre point of a piece should be about 165 centimetres from the floor – the average eye height. But be flexible, if your artwork is particularly large or if you are hanging it above a piece of furniture, you may need to have it higher than that'
 I've pulled out six of my top picks from the collection. Why not try a statement piece like one of these.
Fuselage by Ben Edmunds. Oil on Canvas, 188 x 170cm. £2,800 at the Recent Graduates' Exhibition at the Affordable Art Fair Battersea.
Slow Dive by Bonnie and Clyde. Silkscreen, giclee, glazes and diamond dust on somerset paper, 73 x 100cm, edition of 60. £550 at Liberty Gallery at Affordable Art Fair Battersea
Mwah Mwah Electrical Boxes by Callum Farrell. Acrylic on canvas, 30 x 25cm. £400 at the Recent Graduates' Exhibition at the Affordable Art Fair Battersea.
Zing by Frea Buckler. Screen Print, 30 x 30cm. £180 at Smithson Gallery at Affordable Art Fair Battersea
Origin by C. Preston. Origami paper on card, 60 x 60cm. £695 at The Art Movement at the Affordable Art Fair Battersea.
Indian Summer Triptych by Laura Fishman. Acrylic on canvas, 101 x 76cm. £1,350 at Mint Art Gallery at Affordable Art Fair Battersea
This post was written in collaboration with The Affordable Art Fair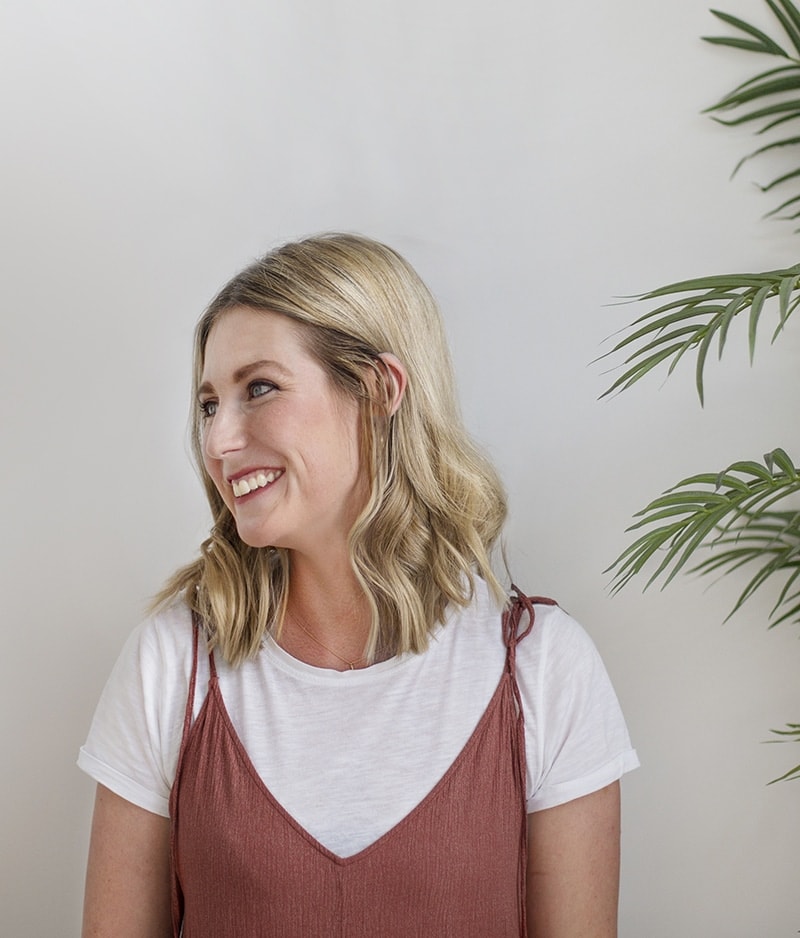 Hi, I'm Teri and welcome to my own creative corner of the internet. I blog about interiors, DIY projects, design inspiration and my general life so stick around have a read and say hi.
Work with Me
The Lovely Drawer is an award winning blog with a loyal audience that has grown over the years. I love working with brands small and large on exciting collaborations that can bring products alive in my own signature aesthetic.