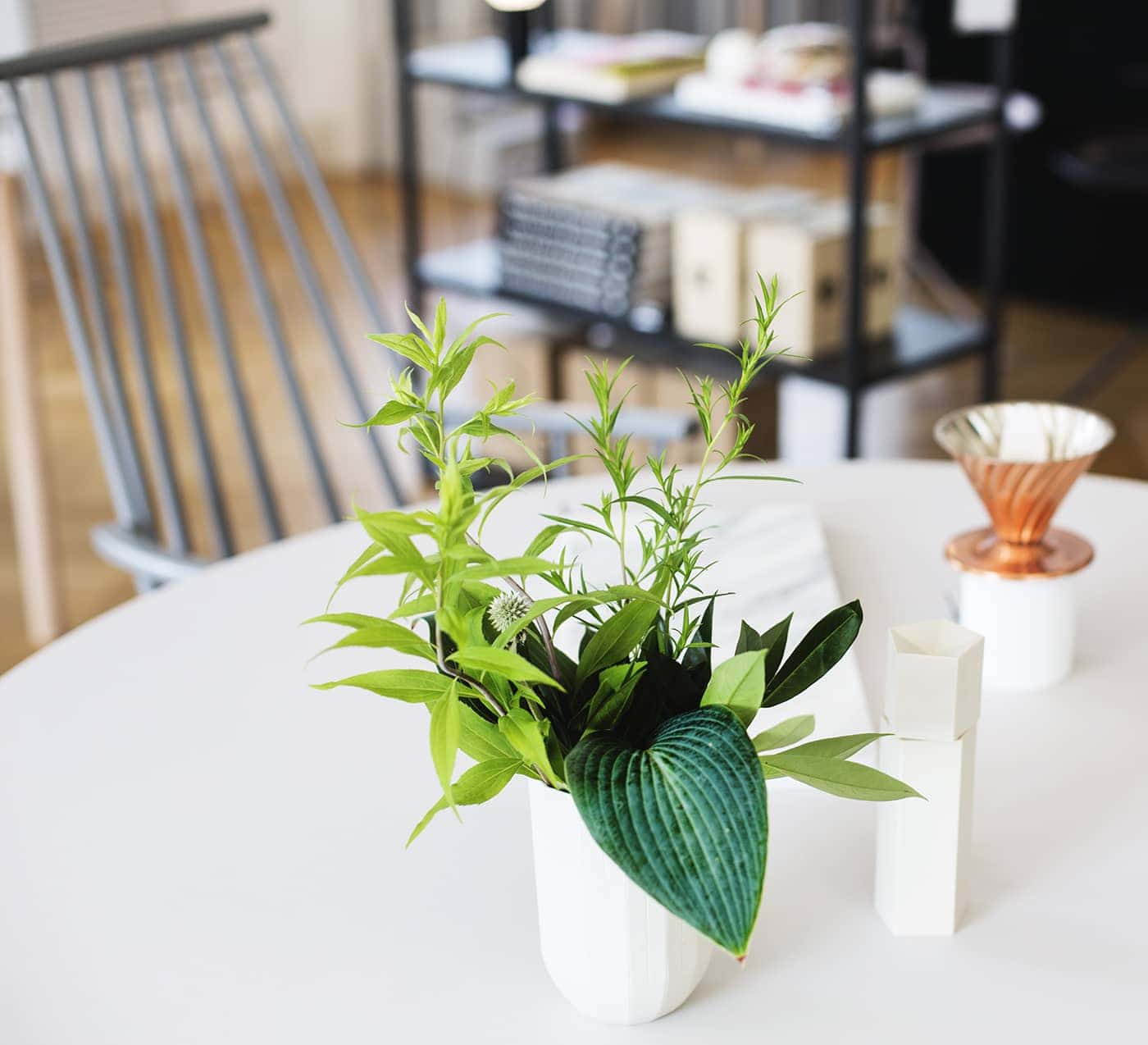 As promised, here is part 2 of our trip to Copenhagen and as you will have sussed by the end of the post, my camera was glued to me during all light hours (of which there are a lot in Danish Summers). This city was magical and as I said previously, everything oozes style, even their public toilets. I often wondered if Copenhagen would disappoint, having spent so long wanting to visit but it didn't! Not even a smidgen. Aside from the visual feast, I really appreciated the general laid back vibe of the city. Apparently it's a combination of their healthy work ethic, combined with their active lifestyles but whatever it is, it was noticeably different to the London hustle we're used to.
We arrived on a Tuesday afternoon, having spent quite a while trying to work out how to tell the overground train line from the metro. Even with a 50/50 shot, we got it wrong, but the centre wasn't far from the airport at all. As I said before, we were staying in Frederiksberg and there just so happened to be a Coffee Collective almost opposite our Airbnb. Highly convenient for Mr Muncey after airports filled with coffee options below par for any discerning coffee snob. This one is also the biggest in the city and has their roastery attached. Nick actually went to one of their roastery tours at the end of the week, which literally goes on for hours. You get a free bag of their beans by the end along with lots of fun facts so any of you coffee lovers out there may want to give it a go. It runs on the first Friday afternoon of each month. Unsurprisingly we also visited two more of the Coffee Collective shops during our stay, one of which did the most amazing kumbucha (perhaps the best I've tried) and the other sold espresso soft serve ice cream! Even the two small spoonfuls I had blew me away into a caffeinated heaven. That stuff is gold people!
For dinner we wondered towards the Meat Packing District to BOB, which stands for Biomio Organic Bistro. Ignore the deceptive exteriors that look more like a shady, American diner and head on inside where you can enjoy their more fitting Danish interiors and some really great organic food. I have to say I loved how health conscious the whole city was, which made it very easy for me to eat out. With so many limitations on what I can eat, it really does often feel like a trauma and I usually feel like I'm missing out but not here. Copenhagen are big into organic foods, striving to be the first fully organic city in the world and they aren't into highly processed foods on the most part which is where things usually get complicated for me. They also didn't seem to be as hung up on grains as us Londoners are, so that opened up a whole new world of options for me. BOB had a lovely laid back atmosphere, perfect after a day of travelling and yet the food was top quality. I had the fish of the day with crushed potatoes and veg and Nick had a big, juicy burger with a home made bun. We also couldn't help noticing how amazing the bowl of muscles looked on the table next to us FYI. We strolled home after admiring the gorgeous light as the sun went down and at this time of year (end of June) that happens to be at about 10.15pm. I kid you not!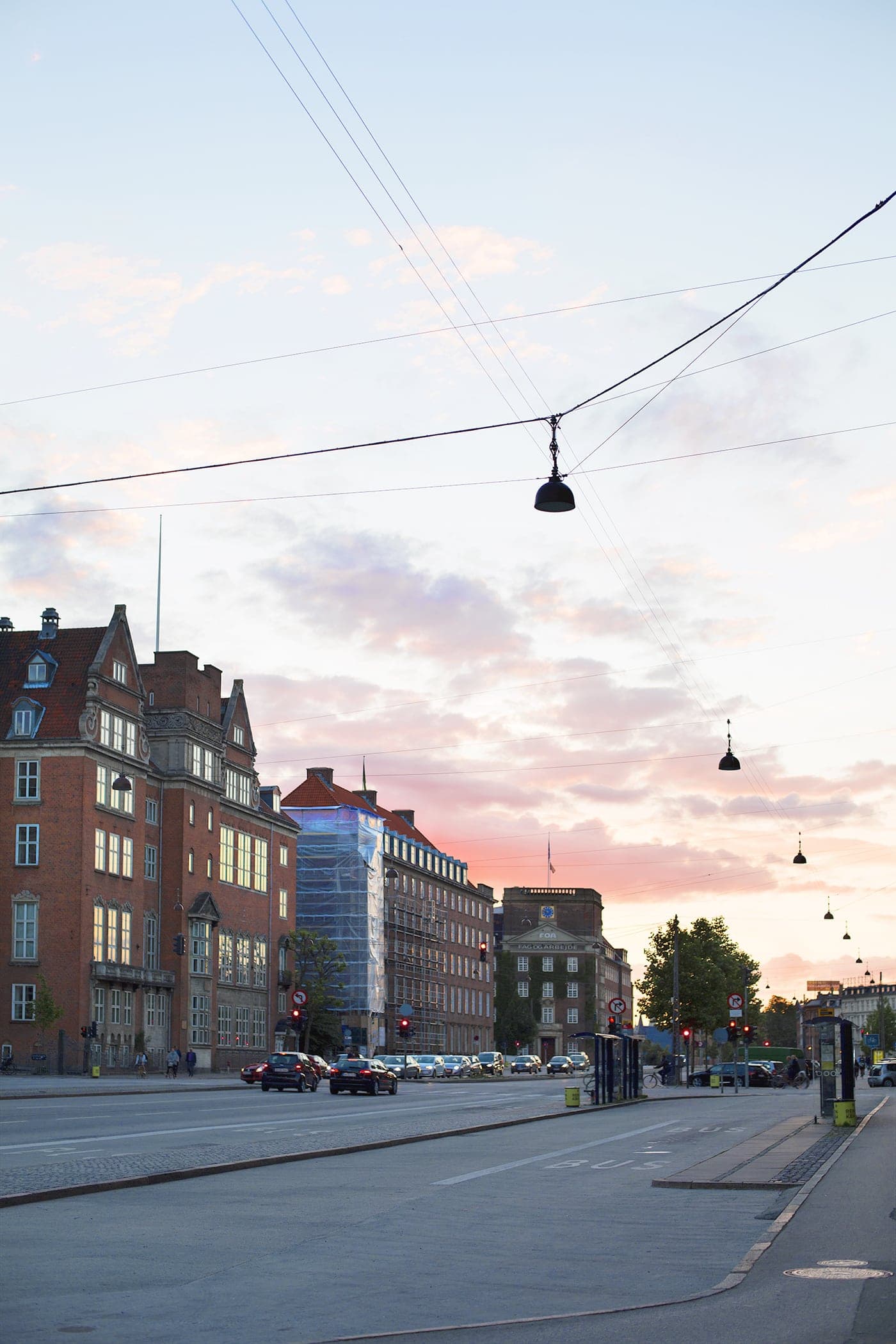 The next day we woke up to pouring rain, the kind that sends you straight for tights and trainers and ruins your hair, even under an umbrella. On that note, some shop perusing was in order so we headed to Jægersborggade, a street full of quirky little shops. My main pull was actually to scout out Kaktus (no surprises there) but they were closed for a festival. I ended up finding some sweet homeware and stationery shops instead and a gorgeously minimal jewellery shop called Ladyfingers. I was disappointed to find that Istrid was shut too. It's an ice-cream shop with ice-cream made with liquid nitrogen, giving it a unique, silky texture (or so I've heard). It's mostly organic and they even do ice-cream cocktails post 4pm so if you happen to be in Copenhagen post June then you should give it a whirl on my behalf.
By this point it was well and truly lunch time and we'd found out that there was a fully paleo chain of eateries in Copenhagen, aptly called Paleo. I'm essentially eating a paleo diet now so this was literally a dream come true. I've never, ever been somewhere that's exclusively paleo, which meant I could have anything I wanted! I'd forgotten what it was like to be stumped with choice but I certainly didn't mind. We shared a coconut chicken curry with cauliflower rice and a egg white tortilla wrap with pulled pork, coleslaw and parsley pesto. Obviously I got one of their juices and two desserts to share as well…just because I never usually have the option. Copenhagen is an expensive place to eat out but this was a slightly more purse friendly option than most.
Thankfully the rain bid us farewell at this point so we headed over to the centre without getting drenched. It was essential that we stopped by the HAY flagship store and when I say stopped by, I mean literally moved in for 2 hours. If you love Scandi interiors then you need to have a wonder around this place. It's a little slice of heaven in an already stylish city. We spent long enough as it was just in the stationery department but everything was totally dreamy. As you can tell, I fell hard for this pink chair. Can you tell by my 'crazy stalker' eyes?? Unfortunately budget and luggage allowance didn't allow for any furniture purchases so a little bag of stationery had to suffice, all in the name of blogger props.
As soon as we stepped outside we realised the Autumnal weather had most definitely turned to Summer. Suddenly my tights and leather jacket seemed more than a little excessive but rather than care less we realised it would be a perfect time to head to near by Nyhavn for a wonder round the harbour. This part of the city is probably what most people associate with Copenhagen, with it's staple scenes of boat masts and quaint colourful buildings in a row. It was bustling when we arrived with the cafes and bars overflowing onto the streets. It really is beautiful, especially in the sunshine and a bloggers dream with all those coloured shop fronts! 
Rather than fight our way through the crowds for a drink we headed a short walk away to Democratic Coffee, another spot mainly for Nick but they did some nice tea. The coffee shop is attached to the library and has seating in amongst the books and magazines, perfect for a little bit of quiet with plenty of reading material. Our barista was from Leeds funnily enough. His northern accent seemed so out of place behind this Danish counter but Nick won our guessing game; a poor show from me having spent almost 4 years in Leeds myself.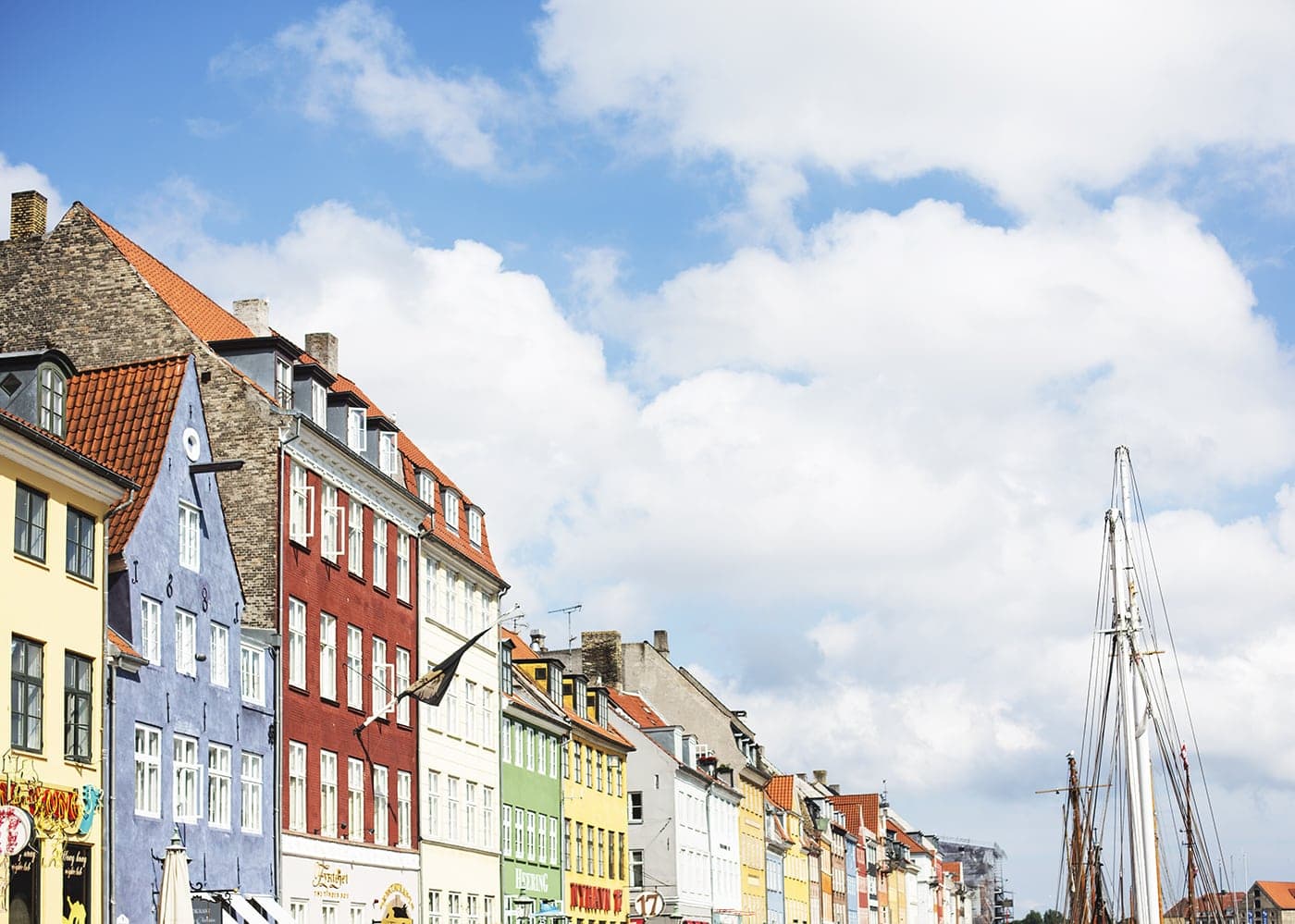 Having heard great things about the street food in Copenhagen and with a seriously sunny evening ahead of us, we took a stroll to Paper Island. Even the walk itself was interesting, down lanes filled with colourful street art, having a nosey in the house boats and enjoying their quirky canal bridges. They lift up to 90 degrees! It's quite a show to see two roads bolt upright in the air. We arrived in golden hour to hundreds of people lining the riverside, chilling out and having a tipple on a Wednesday night. The warehouse is literally packed with food options to the point where we had to loop the place three times over to make anything that resembled a decision. There was food from every corner of the globe, along with their beautiful Smørrebrod, their national dish which is essentially an open sandwich but I would argue is closer to a work of art! I finally settled on Brass for an organic gluten free egg wrap filled with vegetables and succulent braised pork coupled with THE most mouth watering chips from Copper & Wheat, doubled fried in duck fat (actual dribble coming from my mouth in memory). I loved that the warehouse wasn't just filled with bearded hipsters as per any East London street food get up. Instead there were all types of people and all ages, even a super cute couple in their seventies, tucking into their Korean chicken. To finish up we got cocktails to have by the river. The cocktail bar specialises in mojitos and even though mine was a mocktail, I spiced things up with a passion fruit twist.
On day three we made a B line for shelter in Torvehallerne as the pesky rain had returned. It's a food market full of tasty treats and tempting smells, as well as an adundance of blooms and fresh fruit and veg. I also discovered the Kaktus stall which was a happy find after the disappointment of the shop being closed. Obviously a whole stall full of cacti was glorious, especially for a plant killer such as myself. The only problem was I really couldn't work out how on earth to transport such a spiky critter back home in my luggage.
Unsurprisingly we stopped for lunch. Nick opted for a puffy sourdough pizza and I found another Paleo eatery in amongst the stalls and played it safe. That rainbow box of cauliflower rice, chicken, avocado, chilli, pesto, toasted almonds, parmesan and seed bread was a total dream! I also couldn't resist a cold pressed watermelon juice.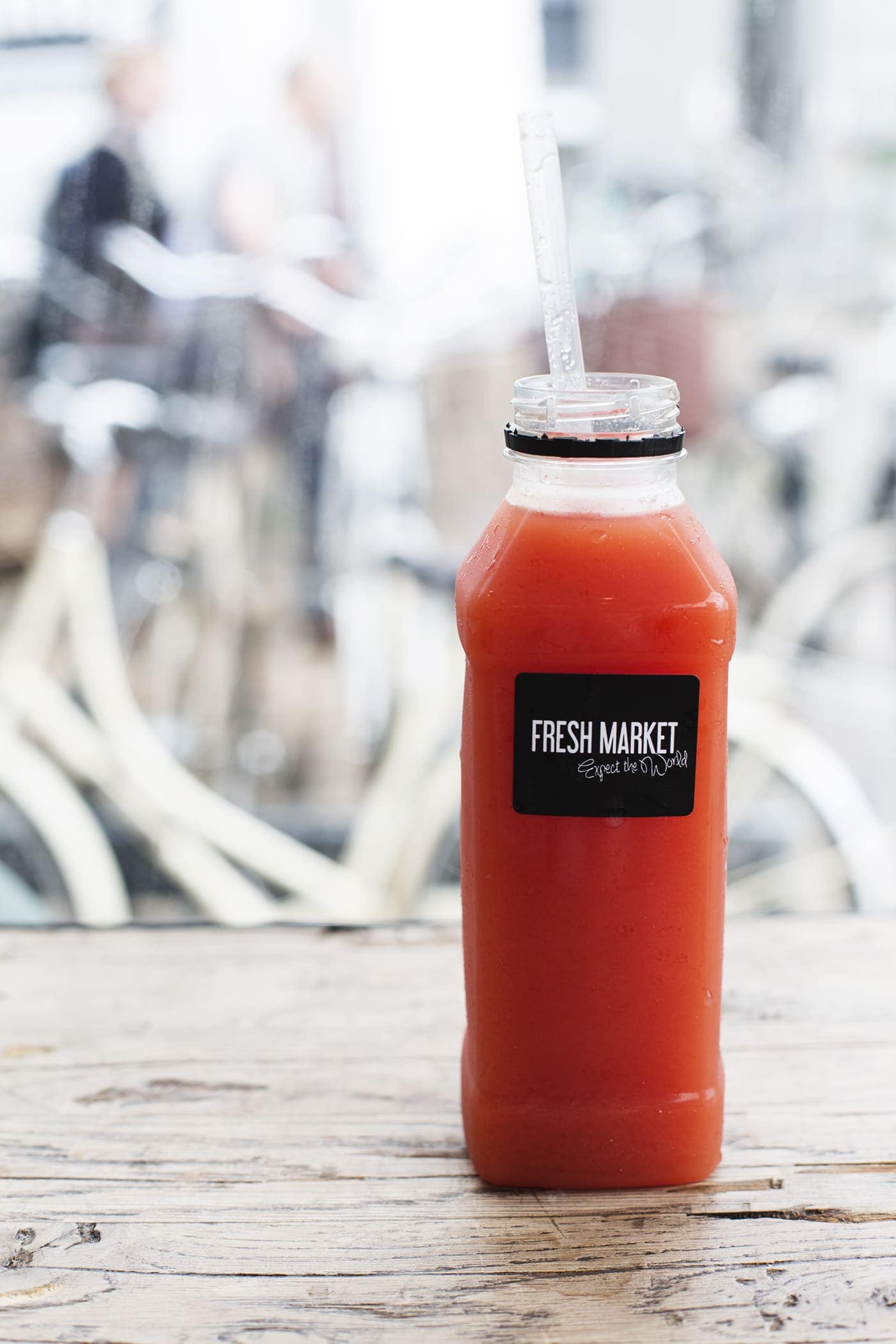 We'd really been hoping the rain would clear and the clouds would part but alas, it was still soggy instead. This seemed like the right time to go have a gander in the Design Museum and to be honest even if the weather is perky, I'd still whole heartedly recommend a visit. The whole place is packed with the largest collection of Scandinavian design from over the last century and my most favourite thing was, there were soooo many chairs! I have this thing with Scandi chairs and it seems I can't get enough of them. I spoke to a girl recently about how she didn't enjoy the museum and her words were, 'It was just a load of chairs'. To that I replied, 'Exactly and that's why we're very different.' Don't worry if you aren't as bigger fan of chairs as I am as you'll also find textiles, vinyl covers, art and lighting.
Just like magic the rain had cleared by the time we'd ODed on chairs and realising we were next to a park we had a little walk round and quite by accident ended up at The Little Mermaid statue. Despite this often being the symbol of Copenhagen, I had previously had no intention of looking it up while we were there. To be honest, it was nice to run into it but I wouldn't go out of your way to see it folks. It's teeny tiny and totally overrun with Japanese tourists, wielding selfie sticks. I was much more taken with the pretty meadow flowers framing the paths, casually matching my bomber jacket because that's how I roll. Real life camouflage.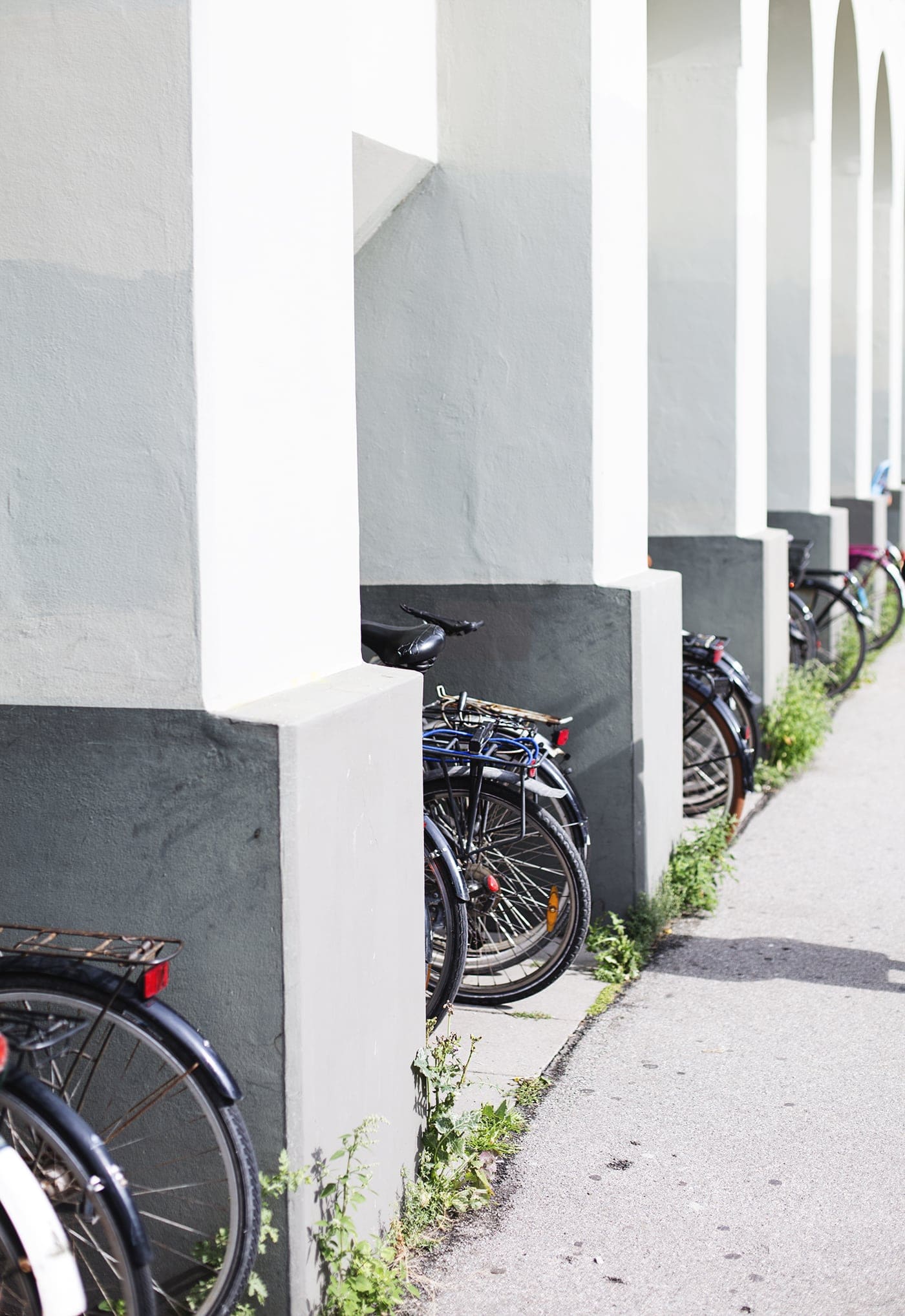 Soon I'll share the final part of our trip with you as there was just too much to fit in one post of exploring!! In fact editing the photos down has been a tricky job in itself!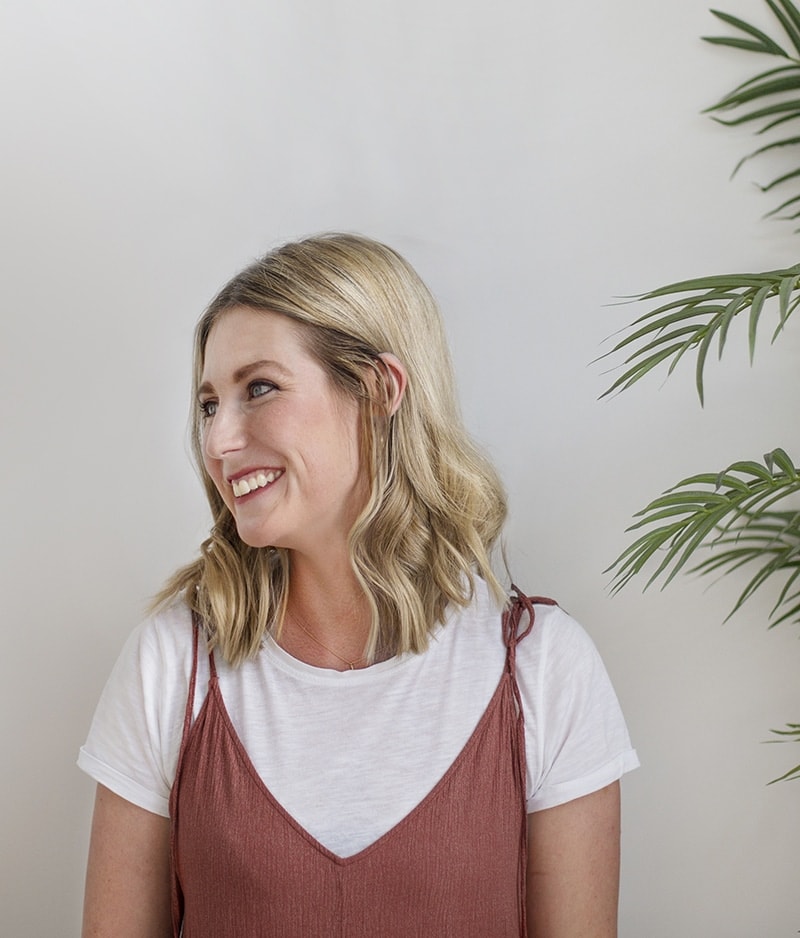 Hi, I'm Teri and welcome to my own creative corner of the internet. I blog about interiors, DIY projects, design inspiration and my general life so stick around have a read and say hi.
Work with Me
The Lovely Drawer is an award winning blog with a loyal audience that has grown over the years. I love working with brands small and large on exciting collaborations that can bring products alive in my own signature aesthetic.