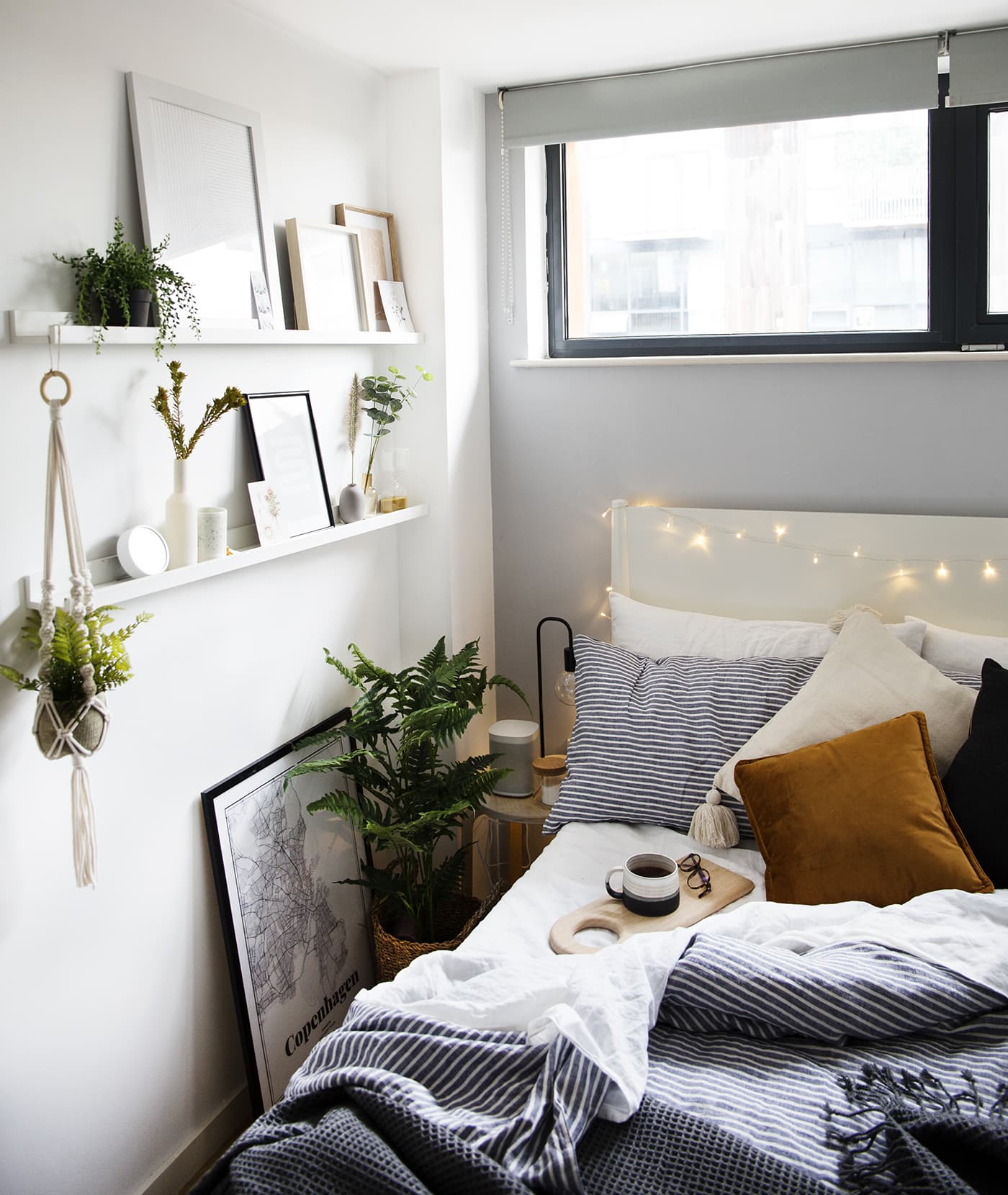 You don't have to be too beady eyed to notice I've slowly been working my way back through our homerestyling each room to my current tastes and changing needs (a certain little person) and the last place to get my attention is the bedroom. I've never been totally happy with the space as it felt a little too sparse and minimal for a bedroom. Bedrooms are meant to be cosy and inviting right? My aim was to inject some life and personality into the room, somewhere I actually want to spend some time aside from being horizontal and asleep.
Even before thinking about the furnishings themselves we'd been lacking music in this room. Music is such a huge part of our home experience, punctuating our day and capturing memories and yet we had no way of listening in the bedroom, short of turning the music in the rest of the house up super loud to reach us or listening to naff sound quality on our phones. We love our existing Sonos speakers in the living room and studio and so I was beyond excited to hear about their latest collaboration with the Danish dream home brand that is HAY!
When they approached me about working on a project with them it was one of those beautiful collisions with two brands I admire so much coming together to create exactly what I'd been looking for. Sonos is deeply focused on the dimension of sound in the home and aspire to create a system that fits customers' home design choices. Combining their values and technology with HAY's signature aesthetic the new speakers take shape. The design is smart and explores the curiosity of colour in the home and yet embodies that without compromising on acoustics, connectivity or the listener experience.
The Sonos x HAY collection comes in five different colours that match the HAY palette perfectly. These colours are not to claim attention but are designed to naturally blend in with the interior surroundings, depending on the what each home looks like. The selection includes yellow, green, red, pink and grey. I was of course given the grey. Are you surprised? This is probably the most versatile colour of them all but particularly fits into my heavily monochromatic home with such ease. I was excited to bring this stylish speaker into our bedroom to bring us music and maybe even audiobooks to listen to while I get ready in the morning.
I really like the way the colour stretches over the entire speaker and doesn't even have the Sonos logo on the front like the former models. This means it camouflages into the room so well. I'd already bought some bits and pieces to update the room so it was fun to see it come together with the Sonos x Hay speakers at the heart and yet well blended at the same time. As you may know from my rants about how ugly and large TVs are, I'm not a fan of technology being the focal point of a room. Personally I don't think it should be the first thing that grabs your eye when you walk into a space. So I love that the Sonos x HAY speaker is a stylish object in its own right but also doesn't win your sole attention at first glance.
cream tassel cushion | waffle blanket | basket | faux fern | personalised map print | linen bedding | grey mini vase | amber mini vase | side table | hourglass | faux pot plant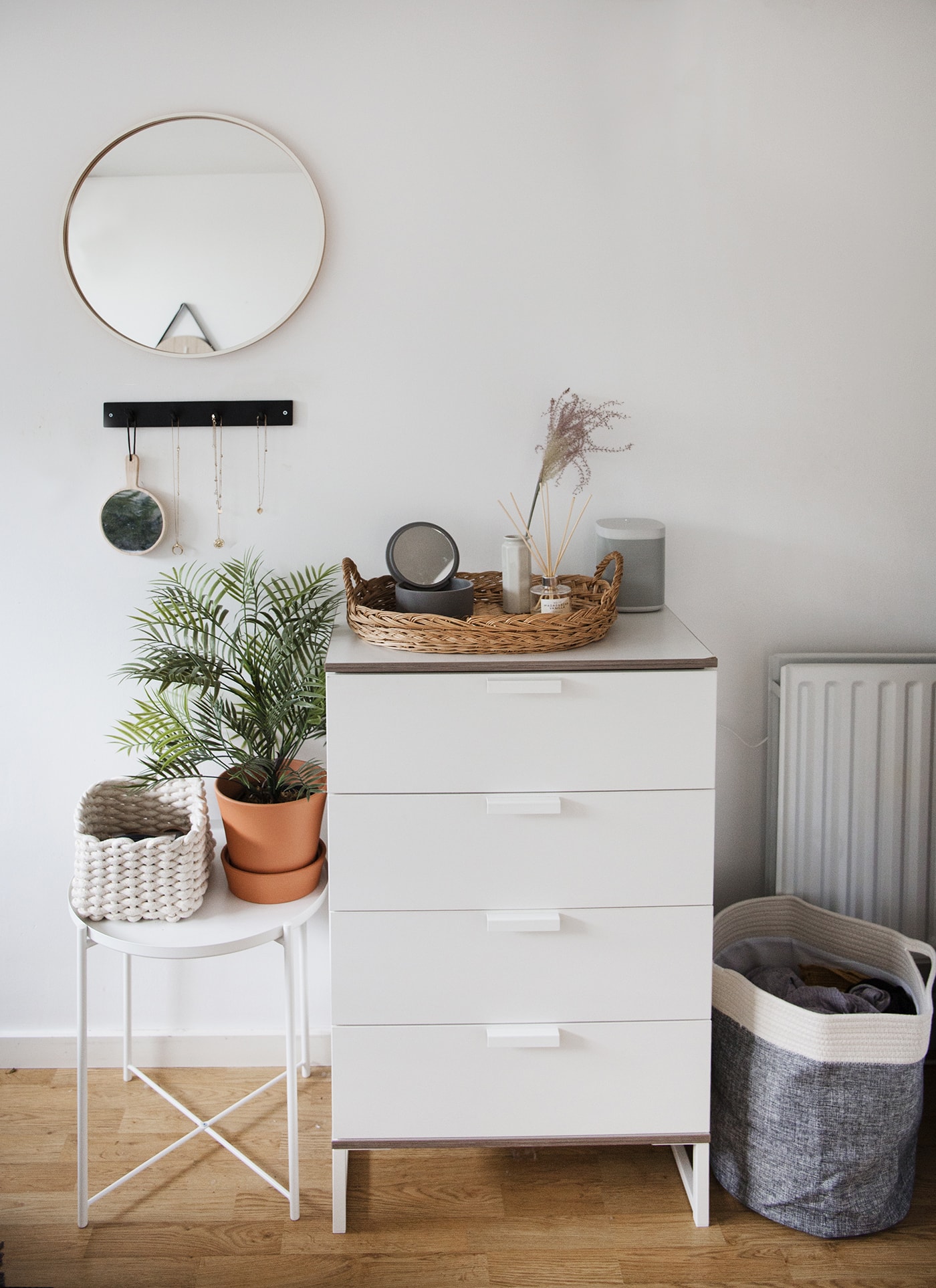 Project: get cosy and add personality was about layering textures and tones throughout the room. I wanted to do away with it being totally monochrome and instead add in some ochre and brown tones, some peaches and greens. On the bed I love the mix of linen bedding with the waffle blanket and the velvet pillow. The shelves have been brought to life with artwork in all different sizes from the more formally framed to little postcards I've collected and I made it my mission to find vases slim enough to sit on the narrow ledges. Rather than just filling them with greenery I found some other interesting plants to add into the mix and then mixed these with the ferns and trailing succulent, all of which are artificial as its a know fact that I can't keep plants alive and I have to say our bedroom can be quite dark.
I finally organised the top of our drawers which had been a big ol' miscellaneous pile of things for a long time and contained all the trinket boxes in the wicker tray to give the illusion of it all being super organised. The hooks on the wall are such a simple addition but finally give me a straightforward way to store my necklaces. They've essentially lived in a tangled ball for the last year!
I've been playing around with where to keep my new Sonos speaker as it works well on top of the drawers in my 'getting ready space'. As I mentioned I love listening to audiobooks as I get ready in the morning because sitting down to read a book is a scarcely visited activity since having Maggie. At the same time I also love having the speaker by the bed in the heart of the room. Since having it we've actually been falling asleep to piano music which is really lovely. When controlling the speaker from the Sonos App you can set it to sleep timer mode which means you can set a length of time it will play for before stopping.   
I'm so happy to have finally given our bedroom a little TLC and made it feel more welcoming and more lived in, in the best sense of the word. The Sonos x HAY speaker fits perfectly with the aesthetic and brings style and music into a space that was desperately in need of some life. The speakers are available to buy today! So go and pick your colour now. What will nestle into your home best?
This is a paid collaboration with Sonos who also kindly funded the room update.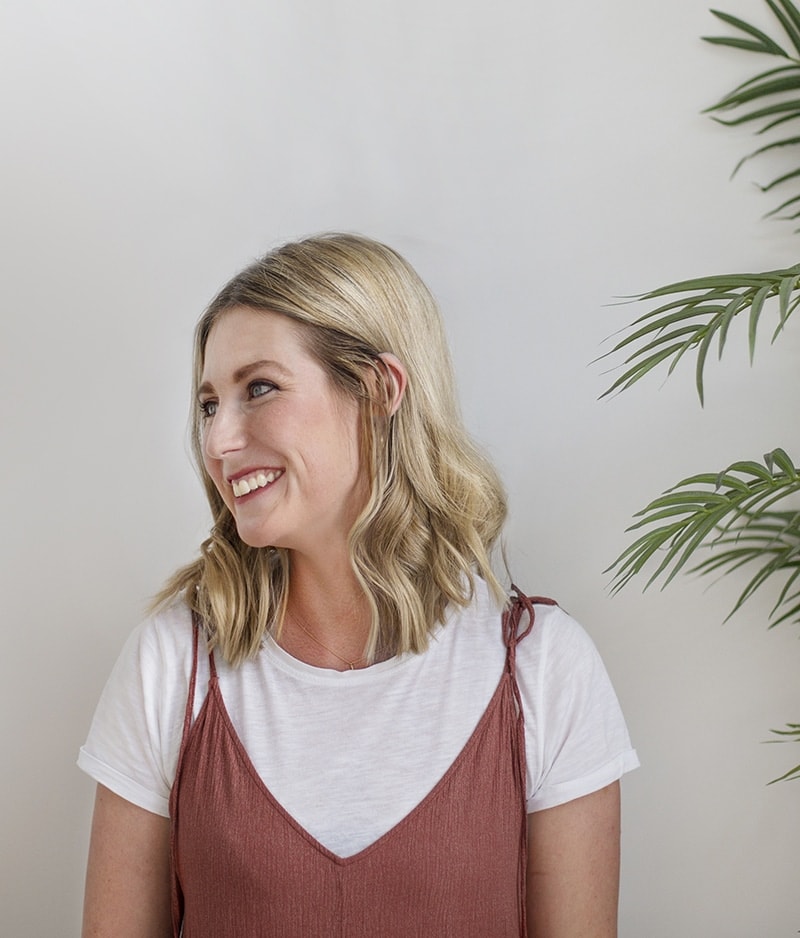 Hi, I'm Teri and welcome to my own creative corner of the internet. I blog about interiors, DIY projects, design inspiration and my general life so stick around have a read and say hi.
Work with Me
The Lovely Drawer is an award winning blog with a loyal audience that has grown over the years. I love working with brands small and large on exciting collaborations that can bring products alive in my own signature aesthetic.